ENTWICKLUNGSSTADT widmet sich allen Themen, die mit der Entwicklung und Veränderung der einzigartigen und widersprüchlichen Metropole Berlin zusammenhängen.
Städtebau, Architektur, Gesellschaft, Kunst und Sport: Berlin wird niemals aufhören, sich fortwährend neu zu erfinden, im Kleinen wie im Großen. Genauso wenig werden seine Bürger, Institutionen und Funktionsträger aufhören, unerbittlich und oft unversöhnlich über die Zukunft dieser Stadt zu streiten. Große Visionen werden Wirklichkeit oder bleiben auf ewig Luftschlösser.
Bei der Zusammenstellung der Inhalte für ENTWICKLUNGSSTADT greifen wir immer wieder auf ein Experten-Netzwerk zurück, welches uns bildliche oder textliche Inhalte zuliefert. Sämtliche Gastbeiträge werden als solche auch gekennzeichnet und ihre Urheber auch namentlich genannt. Bezahlte oder gesponserte Inhalte werden entsprechend gekennzeichnet.
Für Anregungen und Ideen sind wir allzeit dankbar. Nehmen Sie, nehmt Ihr jederzeit gern Kontakt mit uns auf.
Referenzen / REFERENCES
DELUSE ARCHITECTS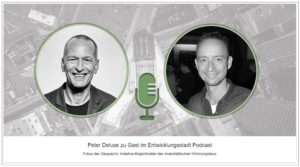 Exilmuseum Berlin
Hillig Architekten
EMMI LUEBESKIND STIFTUNG
PASSENGER X
ENTWICKLUNGSSTADT is dedicated to all topics related to the development and change of the unique and contradictory metropolis of Berlin.
Urban planning, architecture, society, art and sport: Berlin will never stop reinventing itself, on both a small and large scale. Neither will its citizens, institutions and officials stop arguing relentlessly and often irreconcilably about the future of this city. Great visions become reality or remain pipe dreams forever.
When compiling the content for ENTWICKLUNGSSTADT, we always fall back on a network of experts who supply us with visual or textual content. All guest contributions are marked as such and their authors are also named. Paid or sponsored content will be marked accordingly.
We are always grateful for suggestions and ideas. Please feel free to contact us at any time.