Rund sechs Millionen Menschen leben heute in der Metropolregion Berlin/Brandenburg. Nicht nur im Innenstadtbereich der Hauptstadt spielen die Themen Nachverdichtung, Ausbau der Infrastruktur oder Schaffung von Bildungs- und Sportangeboten eine große Rolle.
Auch und vor allem im so genannten "Speckgürtel", den Randgebieten am Berliner Stadtrand und den umliegenden Regionen, gibt es eine seit Jahren stärker werdende Entwicklung von Wohn- und Eigentumsflächen, von Verkehrs-, Büro- und Gewerbeprojekten.
Sechs Millionen Menschen leben in der Metropolregion
Dies bedeutet auch, dass täglich mehrere Millionen Menschen über die Landesgrenzen der beiden Bundesländer Berlin und Brandenburg pendeln oder Menschen von Berlin nach Brandenburg ziehen – und umgekehrt. Unterschiedliche Rahmenbedingungen etwa für Kinderbetreuung, Feiertage oder den öffentlichen Nahverkehr stellen die Menschen häufig vor kleinere und größere Herausforderungen.
Da vor 25 Jahren das Vorhaben, aus Berlin und Brandenburg ein gemeinsames Bundesland zu machen, am Veto der Brandenburgischen Bevölkerung scheiterte, tun sich in einer der aufstrebendsten Metropolregionen Europas immer wieder unbequeme, bürokratische oder rechtliche Hürden auf.
Weiterentwicklung der Hauptstadtregion im Fokus
Ungeachtet dessen entwickelt sich die Region aber unvermindert weiter. Heutige Prognosen gehen davon aus, dass vor allem die Randregionen in und um Berlin weiter wachsen werden, dass neue, städtische Siedlungsgebiete entstehen und Areale, die heute noch ländlich geprägt sind, perspektivisch von der wachsenden Infrastruktur vereinnahmt werden.
Diese Entwicklung wollen die beiden Bundesländer Berlin und Brandenburg nicht dem Wildwuchs überlassen und haben somit das Vorhaben "Strategischer Gesamtrahmen Hauptstadtregion" ins Leben gerufen.
Digitales Beteiligungsverfahren endet am 17. Januar
Ziel des Vorhabens ist es, "Leitideen für die Entwicklung der Hauptstadtregion Berlin-Brandenburg in diesem Jahrzehnt zu formulieren, für laufende gemeinsame Vorhaben einen einheitlichen Rahmen zu schaffen, neue gemeinsame Vorhaben auf den Weg zu bringen und die ressortübergreifenden Bezüge zwischen den Vorhaben zu stärken."
So liest es sich zumindest auf der offiziellen Internetpräsenz des Projekts. Die beiden Regierungen haben demzufolge insgesamt acht Handlungsfelder definiert, die Gegenstand des Strategischen Gesamtrahmens sein sollen:
Siedlungsentwicklung und Wohnungsmarkt
Mobilität
Wirtschaft, Fachkräfte, Energie und Klimaschutz
Ehrenamtliches Engagement, Medien und Demokratieförderung
Natürliche Lebensgrundlagen und Lebensqualität
Digitale Transformation
Wissenschaft, Forschung, Kultur und Bildung
Weltoffenheit, internationale Vernetzung und Zusammenarbeit mit Polen
Bis zum 17. Januar haben Bürgerinnen und Bürger noch die Möglichkeit, ihre Ideen im Rahmen eines digitalen Beteiligungsverfahrens einzubringen.
Die Rückmeldungen aus dem Beteiligungsverfahren sollen für den weiteren Prozess der Erarbeitung des Strategischen Gesamtrahmens geprüft und berücksichtigt werden. Eine weiterentwickelte Fassung des Strategischen Gesamtrahmens soll dann auf einer gemeinsamen Kabinettsitzung beider Länder im Frühjahr 2021 verabschiedet werden.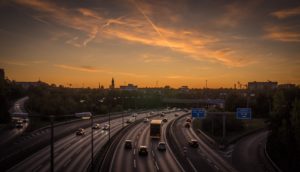 Eines der Themen des Vorhabens "Strategischer Gesamtrahmen Hauptstadtregion": Die länderübergreifende Infrastruktur zwischen Berlin und Brandenburg
Around six million people now live in the Berlin/Brandenburg metropolitan region. It is not only in the inner city area of the capital that the topics of redensification, expansion of infrastructure or the creation of educational and sports facilities play a major role. 
Also and especially in the so-called "Speckgürtel", the peripheral areas on the outskirts of Berlin and the surrounding regions, there has been an increasing development of residential and owner-occupied areas, of transport, office and commercial projects for years. 
SIX MILLION PEOPLE LIVE IN THE METROPOLITAN REGION
This also means that several million people commute across the borders of the two states of Berlin and Brandenburg every day, or people move from Berlin to Brandenburg – and vice versa. Different framework conditions, for example for childcare, public holidays or local public transport, often present people with smaller and larger challenges. 
Since the plan to make Berlin and Brandenburg a joint federal state failed 25 years ago due to the veto of the Brandenburg population, inconvenient, bureaucratic or legal hurdles keep cropping up in one of the most up-and-coming metropolitan regions in Europe. 
FOCUS ON FURTHER DEVELOPMENT OF THE CAPITAL REGION
Regardless of this, however, the region continues to develop unabated. Current forecasts assume that the peripheral regions in and around Berlin in particular will continue to grow, that new urban settlement areas will emerge, and that areas that are still rural today will be absorbed by the growing infrastructure in the future. 
The two federal states of Berlin and Brandenburg do not want to leave this development to uncontrolled growth and have therefore launched the "Strategic Framework for the Capital Region" project. 
DIGITAL PARTICIPATION PROCESS ENDS ON JANUARY 17
The goal of the project is "to formulate guiding ideas for the development of the Berlin-Brandenburg capital region in this decade, to create a uniform framework for ongoing joint projects, to launch new joint projects and to strengthen the interdepartmental links between the projects."
At least, that's how it reads on the project's official website. Accordingly, the two governments have defined a total of eight fields of action that are to be the subject of the overall strategic framework: 
Settlement development and housing market
Mobility
Economy, skilled workers, energy and climate protection
Voluntary engagement, media and promotion of democracy
Natural resources and quality of life
Digital transformation
Science, research, culture and education
Openness to the world, international networking and cooperation with Poland
Until January 17, citizens still have the opportunity to contribute their ideas as part of a digital participation process.
The feedback from the participation process will be examined and taken into account for the further process of developing the overall strategic framework. A further developed version of the overall strategic framework is then to be adopted at a joint cabinet meeting of the two states in spring 2021.