Im November 2019 war die Grundsteinlegung für das Gebäude mit dem klangvollen Namen "Palais am Brandenburger Tor" erfolgt, um dessen Errichtung es im Vorfeld längere Diskussionen gegeben hatte.
Grund für den Disput war die Höhe des Neubaus, da er den direkt angrenzenden Häuserblock zwischen Hannah-Arendt- und Behrenstraße ungestüm verdeckt und für die dortigen Anwohner eine unschöne Schattensituation entstehen lässt.
30 Meter hoher Neubau sorgt für Ärger bei den direkten Nachbarn
An der Cora-Berliner-Straße entsteht ungeachtet dieser Diskussion seit mittlerweile eineinhalb Jahren nach Entwürfen der Leipziger Architekten Fuchshuber, die auch das ehemalige Kaufhaus Hertzog einige Meter weiter an der Leipziger Straße neu erdacht haben, ein 30 Meter hoher Neubau, der 134 Wohnungen sowie Läden und Gastronomie beherbergen soll.
Der Neubau entsteht an der Stelle, an der zuvor fast zehn Jahre lang eine unansehnliche, aus Holz zusammengezimmerte Imbiss-Ladenzeile gestanden hatte. Nach Abschluss der laufenden Bauarbeiten soll in der Cora-Berliner-Straße ein verkehrsberuhigter Bereich entstehen, der nur Fußgängern und Radfahrern vorbehalten sein wird.
Öffentlicher Balkon und verkehrsberuhigte Straße geplant
Der Abschluss der Bauarbeiten ist für 2021 geplant. Derzeit läuft bereits die Umsetzung der Fassadenverkleidung aus hellen Sandsteinelementen und großformatigen Fensterfronten.
Im 2. Obergeschoss des Gebäudes wird es einen öffentlich zugänglichen Balkon geben, der den Besuchern und Touristen zukünftig einen ganz neuen Blick auf das vom US-Architekten Peter Eisenman entworfene "Mahnmal für die ermordeten Juden Europas" ermöglichen wird.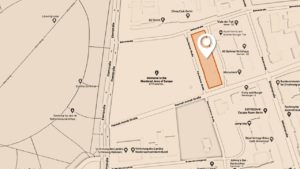 In November 2019, the foundation stone was laid for the building with the sonorous name "Palais am Brandenburger Tor", the construction of which had been the subject of lengthy discussions in the run-up.
The reason for the dispute was the height of the new building, as it impetuously obscures the directly adjacent block of houses between Hannah-Arendtstrasse and Behrenstrasse and creates an unattractive shadow situation for the residents there. 
30-METER-HIGH NEW BUILDING CAUSES ANNOYANCE FOR DIRECT NEIGHBORS
Despite this discussion, a new 30-meter-high building has been under construction on Cora-Berliner-Strasse for the past year and a half according to designs by Leipzig architects Fuchshuber, who also redesigned the former Hertzog department store a few meters away on Leipziger Strasse, and is to house 134 apartments as well as stores and restaurants.
The new building is being constructed on the site where an unsightly row of snack stores made of wood had previously stood for almost ten years. Once the ongoing construction is completed, Cora-Berliner Street will be a traffic-calmed area reserved for pedestrians and cyclists only.
PUBLIC BALCONY AND TRAFFIC-CALMED STREET PLANNED
Completion of construction is scheduled for 2021. Currently, the implementation of the facade cladding of light sandstone elements and large-format window fronts is already underway. 
On the 2nd floor of the building there will be a publicly accessible balcony, which in future will give visitors and tourists a completely new view of the "Memorial to the Murdered Jews of Europe" designed by US architect Peter Eisenman.