An der so viel geschmähten, überdimensionierten Leipziger Straße ist ein Bauprojekt abgeschlossen worden, welches seinen Besuchern und zukünftigen Nutzern zumindest eine Ahnung davon gibt, welch städtebaulicher Glanz an dieser Stelle – vor den Zerstörungen im Bombenhagel des Zweiten Weltkriegs – in Berlins Mitte einst seine Wirkung entfalten durfte.
Das Kaufhaus Hertzog: Einst Berlins größtes Kaufhausensemble
An der Brüderstraße nämlich ist ein auffälliger Altbau wieder hergerichtet und von Grund auf modernisiert worden. Es ist der einzige verbliebene Flügel des einstigen, berühmten Kaufhauses Hertzog, welches die Bombardierungen der Alliierten im letzten Weltkrieg nicht überstanden hat. Das ehemalige Kaufhaus Hertzog, gegründet 1839, war das größte Berliner Kaufhausensemble.
Der übrig gebliebene Flügel des ursprünglich sehr viel größeren Kaufhauses, der nun wieder nutzbar gemacht wurde, überstand das Inferno nur aufgrund seiner für die damalige Zeit noch ungewöhnlichen und hochmodernen Stahl- und Betonbauweise.
Nur ein kleiner Teil des Kaufhauses überstand den Bombenhagel
Errichtet wurde das Gebäude in den Jahren 1908 und 1909 vom Architekten Gustav Hochgürtel. Der Komplex wurde in den vergangenen Jahren aufwendig als Standort für anspruchsvolles kreatives Gewerbe saniert, nach Plänen des Leipziger Architekturbüros Fuchshuber.
Dabei wird der zukünftige Reiz des Hauses im Zusammenspiel von historischer, zum Teil noch gut erhaltener Bausubstanz und klarer, moderner Ausstattung liegen.
Es entstehen Flächen für Büros und Wohnungen
Im historischen Altbau und einem direkt nebenan errichteten und mit dem Altbau verbundenen Neubau sollen Wohnungen und Büroflächen entstehen. Noch ist nicht offiziell bekannt, welches Unternehmen die hochwertigen Flächen beziehen wird.
Sicher ist jedenfalls, dass das herrschaftliche Gebäude nicht lang allein die Stadtlandschaft in einer der ältesten Gegenden Berlins bespielen wird. Direkt nebenan entsteht das Drei-Religionen-Projekt "House of One", und auch das um mehrere Jahre verzögerte Archäologische Zentrum des Berliner Senats befindet sich mittlerweile im Bau.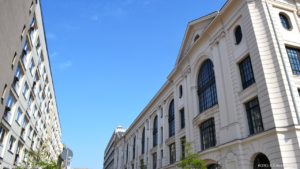 On the much-maligned, oversized Leipziger Strasse, a building project has been completed that gives its visitors and future users at least an idea of the urban splendour that was once allowed to unfold in the centre of Berlin – before the destruction in the bombing raids of the Second World War. 
THE HERTZOG Kaufhaus: ONCE BERLIN'S LARGEST DEPARTMENT STORE ENSEMBLE
On Brüderstraße, a striking old building has been renovated and modernised from the ground up. It is the only remaining wing of the former, famous Hertzog Kaufhaus, which did not survive the Allied bombing during the last World War. The former Hertzog Kaufhaus, founded in 1839, was the largest Berlin department store ensemble.
The remaining wing of the originally much larger department store, which has now been made usable again, survived the inferno only because of its steel and concrete construction, which was still unusual and ultra-modern for that time. 
ONLY A SMALL PART OF THE DEPARTMENT STORE SURVIVED THE BOMBING
The building was constructed in 1908 and 1909 by the architect Gustav Hochgürtel. The complex has been extensively renovated in recent years as a location for sophisticated creative industries, according to plans by the Leipzig architectural office Fuchshuber.
The future appeal of the building will lie in the interplay between the historical, in part still well-preserved building fabric and clear, modern furnishings. 
SPACE FOR OFFICES AND APARTMENTS IS BEING CREATED
Apartments and office space are to be created in the historic old building and a new building erected directly next door and connected to the old building. It is not yet officially known which company will move into the high-quality space. 
What is certain, however, is that the stately building will not for long be the only one to occupy the cityscape in one of the oldest areas of Berlin. Directly next door, the three-religious project "House of One" is being built, and the Archaeological Centre of the Berlin Senate, which has been delayed for several years, is now also under construction.