Auf einer ehemaligen Brachfläche zwischen S-Bahngleisen und Bautzener Straße ist das Wohnprojekt "Neu Schöneberg" entstanden, im gleichnamigen Stadtteil Schöneberg.
Anwohner wünschten sich Grünfläche statt Wohnraum
Das Projekt, welches vom Architekten Oliver Collignon konzipiert und vom Unternehmen Dr. Wolfgang Schroeder Immobilien GmbH entwickelt wurde, wurde im Bezirk durchaus kritisch gesehen.
Viele Anwohner hätten sich auf der Brachfläche lieber eine weitere Grünfläche gewünscht. Da quasi direkt nebenan aber der Park am Gleisdreieck liegt, hat sich der Bezirk für die Errichtung einer Wohnanlage entschlossen.
297 Mietwohnungen sind entstanden
Im Hinblick auf die angespannte Wohnungsmarktlage der Hauptstadt ist das sicher auch nicht die schlechteste Idee, zumal es sich beim Projekt "Neu Schöneberg" vollständig um Mietwohnungen handelt.
Diese sind im Schnitt zwar etwas teurer als die Wohnungen des naheligedenden Genossenschaftsprojekts "Möckernkiez", dennoch sind mittlerweile sämtliche der 297 Wohnungen vermietet. Zwischen 55 und 200 Quadratmeter umfassen die Wohnungen, bei einem durchschnittlichen Quadratmeterpreis von 14 Euro (nettokalt).
45 geförderte Wohnungen sind Teil des Projekts
Allerdings gibt es auch einen Anteil geförderter Wohnungen. 45 Wohneineinheiten wurden für einen Quadratmeterpreis von 6 bis 8 Euro (nettokalt) vermietet.
Die Lage hat ihre Vor- und Nachteile. Zwar liegt das Wohnquartier sehr zentral, mit kurzen Wegen zum Gleisdreieckpark oder zum Winterfeldtplatz und beinhaltet sogar eine Kita mit 35 Plätzen. Allerdings liegt die Wohnanlage unmittelbar an den Gleisen des S-Bahnhofs Yorckstraße.
Wohnanlage mit Kita, aber direkt an den S-Bahngleisen
Dies scheint die meisten Anwohner aber nicht zu stören, der Großteil der Wohnungen war vor der Eröffnung aller sechs fünfstöckigen Wohnhäuser bereits vermietet.
Architekt Collignon legt Wert auf die klimasensiblen Technologien, die in das umweltbewusste Bauprojekt integriert wurden. Das Projekt ist mit dem Platin-Vorzertifikat der Deutschen Gesellschaft für Nachhaltiges Bauen ausgezeichnet worden und sei, so Collignon, das "mit der höchsten Punktzahl bewertete Neubau eines Stadtquartiers weltweit".
Nur das an die Yorckstraße grenzende Kopfgebäude des Quartiers, in dem ein Fitnessstudio untergebracht ist, sorgt im Kiez nachhaltig für Verägerung. Die monotone Fassadengestaltung hat nur wenige Fans. Deutlich offener und angenehmer sind die jeweiligen Wohnhäuser gestaltet, die sich in südlicher Richtung zur Monumentenbrücke hin erheben.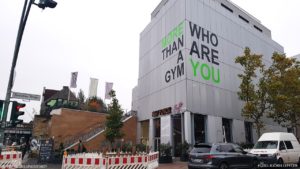 The residential project "Neu Schöneberg" has been developed on a former wasteland between S-Bahn tracks and Bautzener Straße, in the district of the same name, Schöneberg.
RESIDENTS WANTED GREEN SPACE INSTEAD OF LIVING SPACE
The project, which was conceived by the architect Oliver Collignon and developed by the company Dr. Wolfgang Schroeder Immobilien GmbH, was viewed quite critically in the district.
Many residents would have preferred to have another green space on the wasteland. However, since the park is practically right next door, the district has decided to build a residential complex.
297 RENTAL APARTMENTS HAVE BEEN CREATED
In view of the tight housing market situation in the capital, this is certainly not the worst idea, especially since the "Neu Schöneberg" project is entirely made up of rented apartments.
Although these are on average somewhat more expensive than the apartments in the nearby cooperative project "Möckernkiez", all of the 297 apartments are now rented out. The apartments cover between 55 and 200 square meters, with an average price per square meter of 14 euros (net cold).
45 SUBSIDIZED APARTMENTS ARE PART OF THE PROJECT
However, there is also a share of subsidized housing. 45 residential units were rented for a square meter price of 6 to 8 euros (net cold).
The location has its advantages and disadvantages. Although the residential quarter is very central, with short distances to the Gleisdreieckpark or Winterfeldtplatz, and even includes a daycare center with 35 places, it is also a good place to live. However, the residential area is located directly at the tracks of the S-Bahn station Yorckstraße.
RESIDENTIAL COMPLEX WITH DAYCARE CENTER, BUT DIRECTLY AT THE S-BAHN TRACKS
However, this does not seem to bother most of the residents; the majority of the apartments were already rented out before all six five-story apartment buildings were opened.
Architect Collignon attaches great importance to the climate-sensitive technologies that were integrated into the environmentally conscious building project. The project has been awarded the Platinum Pre-Certificate of the German Sustainable Building Council and, according to Collignon, is the "highest scoring new urban district development in the world".
Only the head building of the neighborhood adjacent to Yorckstrasse, which houses a fitness studio, is causing lasting annoyance in the neighborhood. The monotonous facade design has few fans. The respective apartment buildings, which rise in a southerly direction towards the Monument Bridge, are much more open and pleasant.