Das 17-geschossige "Haus der Berliner Verlage" am Alexanderplatz wird derzeit kernsaniert und umgebaut. Das 1973 eröffnete Gebäude, das bis 2016 Heimat für die Mitarbeiterinnen und Mitarbeiter der Berliner Zeitung sowie des Berliner Kuriers war, wird aufwendig modernisiert und um einen Sockelbau erweitert.
Neue Mieter: Online-Möbelhändler und Medienunternehmen
Aktueller Eigentümer ist der Investor Tishman Speyer, der die Sanierungsarbeiten koordiniert. Die neuen Mieter des Gebäudes stehen bereits fest: Der Online-Mobelhändler Wayfare wird acht Geschosse belegen, und auch ein Medienunternehmen wird wieder ins Gebäude ziehen. Sieben Geschosse werden zukünftig vom südafrikanischen Medienkonzern Naspers genutzt.
Der Berliner Verlag war in den vergangenen Jahren in finanzielle Schwierigkeiten geraten. Mehrfach wechselten die Eigentümer des traditionsreichen Medienunternehmens. Vor knapp vier Jahren sahen sich die Redaktionen von Berliner Zeitung und Berliner Kurier gezwungen, aus ihrem Stammhaus auszuziehen und kleiner dimensionierte Räumlichkeiten in Berlin-Kreuzberg zu beziehen. Hier residiert der Verlag nun in einem Neubau direkt neben der Bundesdruckerei in der Kommandantenstraße.
Berücksichtigung des Denkmalschutzes
Das "Haus der Berliner Verlage" steht seit 2015 unter Denkmalschutz, was auch beim derzeitigen Umbau eine tragende Rolle spielt. Die Fassade, die bei Modernisierungsarbeiten in den 90er Jahren verändert wurde, soll nun nach historischem Vorbild – also wie zur Eröffnung in den 70er Jahren – neu gestaltet werden. Ebenfalls erhalten bleibt die berühmte Rotunde mit der Aufschrift "Berliner Verlag".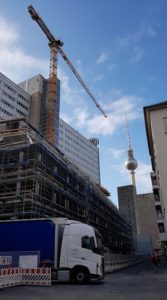 The 17-storey "Haus der Berliner Verlage" on Alexanderplatz is currently undergoing core renovation and conversion. The building, which was opened in 1973 and was home to the employees of the "Berliner Zeitung" and "Berliner Kurier" until 2016, is being extensively modernised and extended by a plinth construction. 
NEW RENTERS: ONLINE FURNITURE DEALER AND MEDIA COMPANY
The current owner is the investor Tishman Speyer, who is coordinating the rehabilitation work. The new tenants of the building have already been determined: the online furniture dealer Wayfare will occupy eight floors, and a media company will also move back into the building. Seven floors will be used by the South African media group Naspers. 
The Berlin-based publishing house "Berliner Verlag" had run into financial difficulties in recent years. The owners of the traditional media company changed several times. Almost four years ago, the editorial offices of "Berliner Zeitung" and "Berliner Kurier" were forced to move out of their headquarters and move into smaller premises in Berlin-Kreuzberg. Here, the publishing house now resides in a new building directly next to Bundesdruckerei in Kommandantenstraße. 
CONSIDERATION OF THE PROTECTION OF HISTORICAL MONUMENTS
The "Haus der Berliner Verlage" has been a listed building since 2015, which also plays a key role in the current renovation. The façade, which was altered during modernisation work in the 1990s, is now to be redesigned according to the historical model – i.e. as it was when it opened in the 1970s. The famous rotunda with the inscription "Berliner Verlag" will also be preserved.