Der Mauerpark samt Flohmarkt und Karaoke-Aufführungen hat es längst zu internationaler Bekanntheit gebracht. Für Berlin-Besucher gehört ein Besuch des einstigen Mauerstreifen-Areals fast schon zum Standard-Programm.
Um eine bauliche Veränderung wurde lange gerungen
Um eine bauliche Veränderung des Areals hat es jahrelangen Streit gegeben, zwischen der Senatsverwaltung für Stadtentwicklung und den Anwohnern. Kern des Konfliktes waren die Planungen des Senats, auf einem 3,5 Hektar großen Areal nördlich des Gleimtunnels 700 Wohnungen errichten zu lassen.
Dies hatte Anwohner und vor allem die Mitglieder des Vereins Freunde des Mauerparks verärgert, da ursprüngliche Planungen vorgesehen hatten, dass dieses Areal ebenfalls dem Mauerpark zugeschlagen wird. Nach langen Diskussionen hatte man sich 2016 dann aber auf einen städtebaulichen Kompromiss geeinigt: Für den Verkauf der 3,5 Hektar an das Bauunternehmen Groth Gruppe wurden dem Park-Areal zusätzliche 8 Hektar zugeteilt, die formal zum Bezirk Wedding gehörten.
Im Zuge des Projekts wurden 2017 die Bezirksgrenzen angepasst. Das gesamte Mauerparkareal liegt nun im Bezirk Pankow. Ziel dieser Maßnahme ist es, eine optimale und unkomplizierte Bewirtschaftung der Parkfläche durch einen Verwaltungsbezirk zu gewährleisten.
Der schmale Mauerpark wird nun deutlich breiter – und vielfältiger
Der bislang sehr schmale Park wurde dadurch deutlich verbreitert und seine Grundfläche verdoppelte sich auf etwa 15 Hektar. Die Ergänzung des Parkareals wurde in den vergangenen vier Jahren baulich umgesetzt.
Mittlerweile wird dieser 2016 verabschiedete Kompromiss auch von den Freunden des Mauerparks und Anwohnern überwigend positiv gesehen, da die Groth-Gruppe auf dem Areal, welches ursprünglich der Deutschen Bahn gehörte, hauptsächlich Mietwohnungen errichtet hat. Darunter sind 120 Wohneinheiten, die zu einem geförderten Mietzins von 6,50 Euro pro Quadratmeter angeboten werden.
Kulturelle Treffpunkte und Grillverbot auf dem neuen Park-Areal
Auf Wunsch der Anwohner wird im neuen Park-Areal ein ehemaliges Gewerbegebäude, die "Kartoffelhalle" auf Höhe der Lortzingstraße, erhalten bleiben und als kultureller Treffpunkt genutzt werden. Zudem wird es im neuen Parkteil vorerst auch keine weiteren Grillplätze geben.
Gestaltet wird die Erweiterungsfläche nach dem Entwurf des Landschaftsarchitekten Gustav Lange, der schon den vorhandenen Mauerpark vor rund 26 Jahren plante. Signifikante Gesaltungsmerkmale das "alten" Mauerparks wie etwa die groben Granitblöcke, die im Park verteilt sind, werden auch im neuen Areal eingesetzt.
Eröffnung im Juni 2020
Das Areal ist nun fertiggestellt, derzeit wächst der Rasen an. Die Eröffnung ist für Juni 2020 geplant, also in etwa sechs Wochen. Aufgrund der Corona-Situation wird das ursprünglich geplante Eröffnungsfest aber leider ausfallen. Besucher und Anwohner können sich dennoch über die Vergrößerung dieser prominenten Berliner Grünfläche freuen.
Vielen Dank an Nicole Bittger vom Berlin- und Travelblog PASSENGER X, die uns freundlicherweise einige Fotos vom Mauerpark zur Verfügung gestellt hat.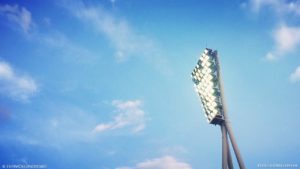 Markantes Symbol des Park-Areals: Die Flutlichtmasten des Jahnsportpark-Stadions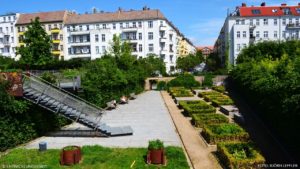 Der Mauerpark wird auch in nördlicher Richtung nach Pankow fortgeführt…
…und bietet zahlreiche Freizeit- und Erholungsangebote.
The Mauerpark, including a flea market and karaoke performances, has long since achieved international fame. For visitors to Berlin, a visit to the former Wall strip area is almost a standard part of the program.
A STRUCTURAL CHANGE HAS LONG BEEN STRUGGLED FOR
There has been a dispute for years between the Senate Department for Urban Development and the residents about a structural change of the area. The core of the conflict was the Senate's plans to have 700 apartments built on a 3.5-hectare site north of the Gleim Tunnel.
This had angered residents and especially the members of the Friends of the Mauerpark association, since original plans had envisaged that this area would also be added to the Mauerpark. After long discussions, however, an urban planning compromise was agreed upon in 2016: For the sale of the 3.5 hectares to the Groth Group construction company, an additional 8 hectares were allocated to the park area, which formally belongs to the Wedding district.
In the course of the project the district boundaries were adjusted in 2017. The entire Mauerparkareal is now located in the Pankow district. The aim of this measure is to ensure optimal and uncomplicated management of the parking area by an administrative district.
THE NARROW MAUERPARK IS NOW MUCH WIDER – AND MORE DIVERSE
The previously very narrow park was thus significantly widened and its area doubled to about 15 hectares. The extension of the park area has been implemented structurally over the past four years.
Meanwhile, this compromise, which was passed in 2016, is also viewed overwhelmingly positively by friends of the Mauerpark and residents, as the Groth Group has mainly built rental apartments on the site, which originally belonged to Deutsche Bahn. These include 120 residential units, which are offered at a subsidized rent of 6.50 euros per square meter.
CULTURAL MEETING PLACES AND BARBECUE BAN ON THE NEW PARK AREA
At the request of the residents, a former commercial building, the "Kartoffelhalle" at the height of Lortzingstraße, will be retained in the new park area and used as a cultural meeting place. In addition, there will be no further barbecue areas in the new part of the park for the time being.
The expansion area will be designed according to the design of landscape architect Gustav Lange, who planned the existing Mauerpark around 26 years ago. Significant design features of the "old" Mauerpark, such as the coarse granite blocks scattered throughout the park, will also be used in the new area.
OPENING IN JUNE 2020
The area is now completed, the lawn is currently growing. The opening is planned for June 2020, in about six weeks. However, due to the corona situation, the originally planned opening ceremony will unfortunately be cancelled. Nevertheless, visitors and residents can still enjoy the enlargement of this prominent Berlin green space.