Zwischen Jannowitzbrücke und Alexanderplatz werden zwei Projekte entwickelt, bei denen Wohn- und Büroflächen entstehen: Links und rechts der namensgebenden Voltairestraße entstehen das Wohnungsprojekt "Grandaire Berlin" und das Büroprojekt "Voltair Berlin".
Das Wohungsprojekt "Grandaire Berlin" ist vor kurzem bereits fertiggestellt worden. In den zwei markanten Wohntürmen wurde ein hoher Einrichtungsstandard umgesetzt. 164 der insgesamt 269 Wohneinheiten, die hier entstanden sind, sind Eigentumswohnungen. Der Rest der Wohnungen wird vermietet.
"Grandaire Berlin" ist bereits fertig
Sämtliche 164 Eigentumswohnungen werden im höheren der zwei Türme (Höhe: 65 Meter) untergebracht. Die verbleibenden 105 Mietwohnungen sind in einem L-förmigen Riegel untergebracht, der von einem etwas kleineren Wohnturm dominiert wird. Beide Gebäudeteile sind baulich miteinander verbunden und bilden optisch wie stilistisch eine Einheit.
Zusätzlich wurden im Erdgeschoss 950 Quadratmeter für Einzelhandel freigehalten. Zudem verfügt das Gebäude-Ensemble über einen Consierge-Service, eine Dachterrasse, ein Fitnessstudio und einen Betreuungsbereich für Kinder.
"Voltair Berlin": Fertigstellung für 2022 geplant
Direkt nebenan entstehen im Büroprojekt "Voltair Berlin" Büro- und Gewerbeflächen. Ursprünglich hatte das Unternehmen Jochen Schweizer hier eine große Event- und Erlebniswelt mit Hotel und eigener Surfhalle geplant. Diese Pläne haben sich jedoch zerschlagen.
Nun werden im Gebäude, welches nach dem Rückzug Jochen Schweizers komplett neu geplant werden musste, konventionelle Büroflächen errichtet. Von den insgesamt 30.000 Quadratmetern, die hier entstehen, werden 90% für Büroflächen und 10% für Gastronomie genutzt werden.
Obwohl die Fassadengestaltung fast abgeschlossen ist, ist die Fertigstellung des Gebäudes erst für Mitte 2022 vorgesehen. Verantwortlich für die glasdominierten Außenverkleidung und das architektonische Konzept des Gebäudes ist das Büro J. MAYER H. und Partner.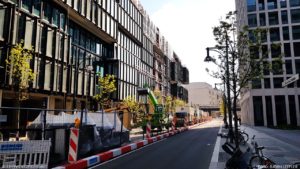 Two projects are being developed between Jannowitzbrücke and Alexanderplatz, creating residential and office space: To the left and right of the namesake Voltairestraße, the residential project "Grandaire Berlin" and the office project "Voltair Berlin" are being built.
The residential project "Grandaire Berlin" has already been completed recently. A high standard of furnishing has been implemented in the two striking residential towers. 164 of the total of 269 residential units that have been created here are condominiums. The rest of the apartments are rented out.
"GRANDAIRE BERLIN" IS ALREADY COMPLETED
All 164 condominiums will be housed in the taller of the two towers (height: 65 meters). The remaining 105 rental apartments are housed in an L-shaped block dominated by a slightly smaller residential tower. Both parts of the building are structurally connected and form a unit both visually and stylistically.
In addition, 950 square meters have been kept free for retail on the first floor. The building ensemble also has a consierge service, a roof terrace, a gym and a childcare area.
"VOLTAIR BERLIN": COMPLETION PLANNED FOR 2022
Right next door, office and commercial space is being built in the "Voltair Berlin" office project. Originally, the company Jochen Schweizer had planned a large event and adventure world here with a hotel and its own surf hall. However, these plans fell through.
Now, conventional office space is being built in the building, which had to be completely redesigned after Jochen Schweizer's withdrawal. Of the total 30,000 square meters that will be created here, 90% will be used for office space and 10% for gastronomy.
Although the facade design is almost complete, the building is not scheduled for completion until mid-2022. The office J. MAYER H. und Partner is responsible for the glass-dominated exterior cladding and the architectural concept of the building.