Auf dem Weg zum vielbeachteten Flussbad-Projekt ist ein entscheidender Durchbruch gelungen. Das Land Berlin und der Bund stellen 6,4 Mio. Euro zur Realisierung einer Freitreppe mit dem Titel "Schlossfreiheit" zur Verfügung. Diese Treppe wird ab Mitte 2021 gebaut werden und bis 2023 fertiggestellt werden.
Das Spree-Ufer wird völlig neu definiert
Die Treppe wird vom Humboldt-Forum hinunter zur Spree führen und die Ufer-Promenade völlig neu definieren. Die Treppenstufen werden aus Granit und Sandstein gefertigt, auch eine Steganlage ist geplant. Nach der geplanten Fertigstellung 2023 wird es allerdings noch nicht möglich sein, in der Spree zu baden. Hierfür sind noch weitere, bauliche Veränderungen notwendig.
Das Projekt Flussbad wird seit mehreren Jahren maßgeblich vom Verein Flussbad Berlin vorangetrieben. Schon im vergangenen Dezember hatte der Berliner Senat die Realisierung des Projekts beschlossen. Das Projekt wird unter anderem vom Bundesförderprogramm "Nationale Projekte des Städtebaus" finanziell unterstützt.
Gebiet um das Humboldt-Forum wird sich weiter stark verändern
Zwischen Museums- und Fischerinsel soll das Wasser der Spree durch natürliche Filterbereiche so gereinigt werden, dass ein Schwimmen in der Spree bedenkenlos möglich sein wird. Nach Aussage des Vereins ist dies bereits heute fast immer möglich, nur nach starken Regenfällen wird vom Schwimmen in der Spree abgeraten. Der Verein veranstaltet jährlich den Schwimmwettbewerb "Flussbad-Pokal" in der Spree, der auch für den Sommer 2020 geplant ist.
Im Umfeld des Humboldt Forums, welches ab Herbst 2020 schrittweise eröffnet werden soll, wird sich also in den kommenden Jahren noch vieles tun. Neben der Gestaltung der Freiflächen um den Schlossbau, der Fertigstellung des U-Bahnhofs Museumsinsel sowie des Einheitsdenkmals wird nun auch die Freitreppe zur Spree realisiert. Dem Areal kann diese elegante Form der Ufergestaltung nur gut tun.
Wie das Flussbad einmal aussehen soll, zeigen wir auf den unten stehenden Grafiken.
sämtliche Bilder/Grafiken: © creativecommons / Flußbad Berlin e.v.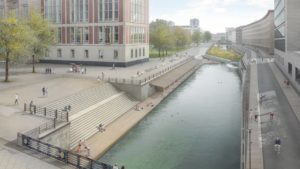 sämtliche Bilder/Grafiken: © creativecommons / Flußbad Berlin e.v.
A decisive breakthrough has been achieved on the way to the much acclaimed river bath project. The state of Berlin and the federal government are providing 6.4 million euros for the realisation of an outdoor staircase entitled "Schlossfreiheit". This staircase will be built from mid 2021 and completed by 2023.
The Spree riverside promenade will be completely redefined
The staircase will lead from the Humboldt Forum down to the Spree and completely redefine the riverside promenade. The steps will be made of granite and sandstone, and a footbridge is also planned. After the planned completion in 2023, however, it will not yet be possible to bathe in the Spree. Further structural changes are necessary for this.
The project "Flussbad" has been significantly promoted by the association Flussbad Berlin for several years. The Berlin Senate had already decided to implement the project last December. The project is financially supported by the federal funding programme "National Urban Development Projects", among others.
Area around the Humboldt Forum will continue to change significantly
Between the Museumsinsel and the Fischerinsel, the water of the Spree is to be cleaned by natural filter areas in such a way that swimming in the Spree will be possible without hesitation. According to the association, this is already almost always possible today; only after heavy rainfall is swimming in the Spree not recommended. The association organizes the annual swimming competition "Flussbad-Pokal" in the Spree, which is also planned for the summer of 2020.
So there will be a lot more to do in the coming years in the area surrounding the Humboldt Forum, which is to be opened step by step from autumn 2020. In addition to the design of the open spaces around the Schloss, the completion of the Museumsinsel underground station and the Unification Monument, the open staircase to the Spree is now also being realised. This elegant form of bank design can only do the area good.