Die Pecan Development GmbH entwickelt derzeit auf dem ehemaligen Commerzbank-Areal ein Neubauprojekt mit dem klangvollen Namen "Wirtschaftswunder". Der Bau entsteht an der Potsdamer Straße, Ecke Bülowstraße, unweit des U-Bahnhofs Bülowstraße.
Das Gelände wird sich aus einem Neubau und zwei sanierten und modernisierten Gebäude aus den 50er Jahren zusammensetzen, welche baulich noch um zusätzliche Geschosse ergänzt und damit aufgestockt werden.
Bestehende Gebäude werden um einen Neubau ergänzt
Der Neubau wird den Namen "Zentrale" erhalten und sieben Stockwerke erhalten. Eine geschwungene Fassade aus Metall und Glas wird sein Antlitz dominieren. Geplant ist die Fertigstellung trotz Corona-Verzögerungen noch für dieses Jahr. An diesem neuen Gebäude werden auch Terrassen und Loggien realisiert.
Ergänzt wird dieser Neubau wie erwähnt von zwei bestehenden Gebäuden, deren Fassaden weitgehend erhalten bleiben. So entsteht eine spannende Mixtur aus klassischer, strenger 50er Jahre Architektur und modernem Baudesign. Die beiden bestehenden Gebäude tragen zukünftig die Namen "Forum" (Potsdamer Straße 125) und "Kontor" (Bülowstraße 78). Das gesamte Areal setzt sich also aus drei Gebäuden zusammen.
27.000 Quadratmeter Bürofläche entstehen
Insgesamt entstehen im Projekt 27.000 Quadratmeter für Büroflächen und etwa 3.000 Quadratmeter für Einzelhandel oder Gastronomie. Das Kreuzberger Architektenbüro Gewers Pudewill ist für den Entwurf verantwortlich. Das Projekt "Wirtschaftswunder" soll ein wichtiges Puzzlestück für die vom Bezirk forcierte und gewünschte Aufwertung der Potsdamer Straße sein.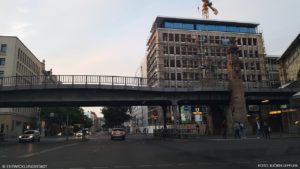 Pecan Development GmbH is currently developing a new building project on the former Commerzbank site with the resounding name "Wirtschaftswunder". The building is being constructed on Potsdamer Strasse, on the corner of Bülowstrasse, not far from the Bülowstrasse underground station.
The site will consist of a new building and two renovated and modernized buildings from the 1950s, which will be extended by additional floors and thus raised. 
EXISTING BUILDINGS WILL BE SUPPLEMENTED BY A NEW BUILDING
The new building will be named "Zentrale" and will have seven floors. A curved facade of metal and glass will dominate its face. Despite corona delays, completion is planned for this year. Terraces and loggias will also be built on this new building. 
As mentioned, this new building will be supplemented by two existing buildings, whose facades will be largely preserved. The result is an exciting mixture of classic, strict 50s architecture and modern building design. The two existing buildings will in future bear the names "Forum" (Potsdamer Straße 125) and "Kontor" (Bülowstraße 78). The entire area is thus made up of three buildings.
27,000 SQUARE METERS OF OFFICE SPACE TO BE CREATED
In total, 27,000 square meters of office space and around 3,000 square meters of retail or gastronomy space will be created in the project. The Kreuzberg-based architectural firm Gewers Pudewill is responsible for the design. The "Wirtschaftswunder" project is intended to be an important piece of the puzzle for the upgrading of Potsdamer Strasse, which the district is pushing for and desires.