An der Ecke Lützowstraße / Genthiner Straße in Berlin-Tiergarten entsteht das Bauprojekt "LYTZ". 116 Eigentumswohnungen werden in dem Neubau errichtet.
Sanierung eines 1979 errichteten Gebäudes
Die Lage für das Neubauprojekt ist hochattraktiv. Nur wenige Schritte vom Landwehrkanal entfernt werden die zukünftigen Eigentumswohnungen entstehen. Die Fertigstellung ist noch für das Jahr 2020 vorgesehen.
Insgesamt 116 Wohneinheiten mit einer Größe von ein bis fünf Zimmern entstehen im Eckhaus. Das 1979 errichtete Gebäude wurde kernsaniert und mit einer gänzlich neuen Fassade versehen.
Die Wohnungsgrößen variieren zwischen 40 und 75 Quadratmetern. Jede Wohnung ist mit einer Loggia oder Dachterrasse ausgestattet. Eine Tiefgarage mit Elektro- und Fahrradstellplätzen gehört zur Wohnanlage, genauso wie eine gestaltete Gartenanlage.
Von Micro-Apartment bis Penthouse
Das Projekt zeigt, dass auch die Modernisierung vermeintlich abrisswürdiger Bausubstanz möglich ist. Das Viertel rund um die Bülowstraße gehört zu den begehrtesten Wohnlagen Berlins.
Wenig verwunderlich ist es daher, dass in diesem Areal eine ganze Reihe weiterer Wohnungs- und Büroprojekte realisiert werden. Nur wenige Meter weiter etwa wird der östliche Teil der Kurfürstenstraße derzeit stark aufgewertet. Mehrere Wohnungsbauprojekte werden hier umgesetzt.
Weitere Bauprojekte im Umkreis der Bülowstraße
An der Ecke Potsdamer Straße/Bülowstraße entsteht der Bürokomplex "Wirtschaftswunder", der sich aus sanierten und neu gebauten Gebäuden zusammensetzt. Auch dieses Projekt soll noch in diesem Jahr abgeschlossen werden, trotz Corona-bedingter Verzögerung.
In der Bissingzeile, ebenfalls unweit des Landwehrkanals, entstehen Eigentumswohnungen im "PFAU am Potsdamer Platz". Hier handelt es sich ebenfalls um eine Sanierung und Modernisierung bereits bestehender Gebäude. In diesem Fall sind es historische Stadtvillen.
Lützowstraße Ecke Genthiner Straße: Das "LYTZ"
Wohnungsneubau in der Kurfürstenstraße
"PFAU am Potsdamer Platz" in der Bissingzeile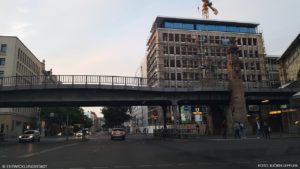 Das "Wirtschaftswunder" an der Ecke Potsdamer Straße / Bülowstraße
The "LYTZ" construction project is being built on the corner of Lützowstrasse and Genthiner Strasse in Berlin-Tiergarten. 116 condominiums will be built in the new building. 
RENOVATION OF A BUILDING ERECTED IN 1979
The location for the new building project is highly attractive. The future condominiums will be built only a few steps away from the Landwehrkanal. Completion is scheduled for 2020. 
A total of 116 residential units with one to five rooms will be built in the corner building. The building, which was constructed in 1979, was completely renovated and given a completely new facade. 
The apartment sizes vary between 40 and 75 square meters. Each apartment is equipped with a loggia or roof terrace. An underground garage with electric and bicycle parking spaces is part of the residential complex, as is a landscaped garden. 
FROM MICRO-APARTMENT TO PENTHOUSE
The project shows that it is also possible to modernize supposedly demolish buildings. The quarter around Bülowstrasse is one of the most sought-after residential areas in Berlin.
It is therefore hardly surprising that a whole series of other residential and office projects are being realized in this area. Just a few meters further on, for example, the eastern part of Kurfürstenstrasse is currently being greatly upgraded. Several residential construction projects are being implemented here. 
FURTHER CONSTRUCTION PROJECTS IN THE BÜLOWSTRASSE AREA
At the corner of Potsdamer Strasse/Bülowstrasse, the "Wirtschaftswunder" office complex is being built, consisting of renovated and newly constructed buildings. This project, too, is scheduled for completion this year, despite delays caused by Corona.
In Bissingzeile, also not far from the Landwehrkanal, condominiums are being built in the "PFAU am Potsdamer Platz". This project also involves the renovation and modernization of existing buildings. In this case they are historic city villas.