Der Architekturwettbewerb für den Bau des neuen RBB Medienhauses ist entschieden. Das Büro Baumschlager Eberle Architekten setzte sich mit seinem Entwurf gegen 13 andere Mitbewerber durch.
Der Entwurf des Architekturbüros überzeugte die Geschäftsleitung des RBB vor allem durch seinen behutsamen Umgang mit dem denkmalgeschützten Teil des Areals, die Öffnung zum Stadtraum und einen transparenten, nachhaltigen Neubau. Das Büro unterhält zwölf Standorte weltweit und wurde für seine Projekte bereits mehrfach ausgezeichnet.
"Baumschlager Eberle" setzen sich gegen 13 Mitbewerber durch
Die RBB-Rundfunkratsvorsitzende Friederike von Kirchbach äußerte sich zu der Entscheidung wie folgt: "Der Entwurf von Baumschlager Eberle Architekten geht sehr sensibel mit der Tradition um, in der der RBB steht. Die Mediengeschichte wird hier fortgeschrieben. Gleichzeitig öffnet sich der RBB in die Stadt und zum Publikum. Diese Öffnung ist ein wichtiges Signal."
Bevor das Preisgericht den Sieger des Wettbewerbs final bestimmt hatte, wurden drei Entwürfe aus den insgesamt 14 Einreichungen ausgewählt, die von den Architekten noch einmal nach den Projektvorgaben des RBB überarbeitet werden sollten. Aus diesen drei überarbeiteten Entwürfen setzte sich das nun prämierte Konzept durch.
Crossmediales Arbeiten auf 13.000 Quadratmetern – Fertigstellung bis 2025
Warum benötigt der RBB überhaupt diesen Neubau? Nach Angaben des Senders sollen zukünftig auf einer Fläche von rund 13.000 Quadratmetern crossmediale Arbeits- und Produktionsprozesse unter einem Dach ermöglicht werden und die Zusammenarbeit von Radio, Online und Fernsehen weiter intensiviert werden. Ein besonderer Fokus wird auf dem Bereich Online liegen.
Schlesinger betont in ihrem Statement zum Projekt, dass für eine vernetzte, crossmediale Zusammenarbeit völlig neue Raumkonzepte notwendig seien. "Der Newsroom ist das journalistische Herzstück unseres Digitalen Medienhauses. Dort bündeln wir unsere Nachrichten, dort arbeiten wir in neuen Workflows für digitale Produkte und machen uns damit zukunftsfähig."
Nachhaltige Bauprozesse und Materialien gaben den Ausschlag
Der Entwurf von Baumschlager Eberle hat sich auch aufgrund seiner nachhaltigen Grundausrichtung durchgesetzt. Vorhandene Bausubstanz soll erhalten bleiben und damit den Energie- und Ressourcenverbrauch während des Baus schonen. Außerdem sieht der Vorschlag die Verwendung des nachwachsenden Materials Holz vor.
Holz wird immer häufiger als Baustoff in Neubauprojekten verwendet, wie auch beim derzeit laufenden Bau der neuen Vattenfall-Unternehmenszentrale. Die Fertigstellung für das neue RBB Medienhaus ist für das Jahr 2025 geplant.
© Grafiken: rbb/Baumschlager Eberle Architekten/bloomimages Berlin GmbH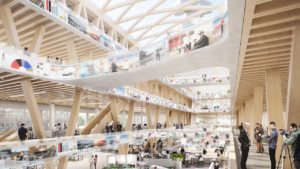 © rbb/bloomimages Berlin GmbH
© rbb/Baumschlager Eberle Architekten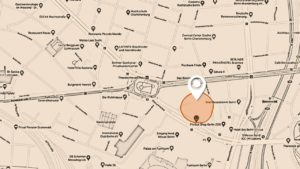 The architectural competition for the construction of the new RBB Medienhaus has been decided. The architectural office Baumschlager Eberle prevailed with its design against 13 other competitors.
The design of the architectural office convinced the RBB management above all by its careful handling of the listed part of the area, the opening to the urban space and a transparent, sustainable new building. The office maintains twelve locations worldwide and has already received several awards for its projects.
"BAUMSCHLAGER EBERLE" PREVAILS OVER 13 COMPETITORS
Friederike von Kirchbach, chairwoman of the RBB Broadcasting Council, commented on the decision as follows: "The design by Baumschlager Eberle Architects deals very sensitively with the tradition in which the RBB stands. The media history is continued here. At the same time, the RBB opens up to the city and the public. This opening is an important signal".
Before the jury finally determined the winner of the competition, three designs were selected from a total of 14 submissions, which were to be reworked by the architects according to RBB's project specifications. From these three revised designs, the winning concept was chosen.
CROSS-MEDIA WORK ON 13,000 SQUARE METERS – COMPLETION BY 2025
Why does the RBB need this new building at all? According to the broadcaster, cross-media work and production processes are to be made possible under one roof on an area of around 13,000 square meters in the future and the cooperation between radio, online and television is to be further intensified. A special focus will be on the online sector.
In her statement on the project, Schlesinger emphasizes that completely new spatial concepts are necessary for networked, cross-media collaboration. "The newsroom is the journalistic heart of our digital media house. This is where we bundle our news, where we work in new workflows for digital products and thus make ourselves fit for the future".
SUSTAINABLE CONSTRUCTION PROCESSES AND MATERIALS WERE THE DECIDING FACTORS
The design of Baumschlager Eberle has also won recognition because of its sustainable basic orientation. Existing building fabric is to be preserved and thus save energy and resources during construction. The proposal also provides for the use of the renewable material wood.
Wood is increasingly used as a building material in new construction projects, as in the current construction of the new Vattenfall company headquarters. Completion of the new RBB Medienhaus is scheduled for 2025.