Am östlichen Rand der Stadt, direkt an der B5 gelegen, ist in den letzten Jahren ein neues, hervorragend angebundenes Wohnviertel entstanden. Nur wenige Fußminuten entfernt vom U-Bahnhof Elsterwerdaer Platz wurden hunderte Wohnungen errichtet. Und es wird noch weiter gebaut.
Wohnungsbau auf einem alten Gutshof-Gelände: 515 Mietwohnungen entstehen
Auf einem Grundstück, das von den Straßen Stawesdamm, Alt-Biesdorf und Weißenhöher Straße eingefasst ist, entstehen bis Ende diesen Jahres 382 Wohnungen, weitere 133 sollen bis Mitte 2021 folgen. Das Grundstück, auf dem das Bauprojekt realisiert wird, ist ein alter Gutshof, der jahrzehntelang ungenutzt war.
Insgesamt entstehen auf dem Areal also 515 Wohnungen. Diese sind aufgeteilt in kleinere Mehrfamilienhäuser mit drei Geschossen und größere Mehrfamilienhäuser mit bis zu fünf Geschossen. Zudem sind auch drei denkmalgeschützte Gebäude in das Baukonzept integriert worden, die zukünftig gewerblich genutzt werden.
40 Prozent der Wohnungen werden vom Land Berlin finanziert
Auf dem Gutshof-Areal entstehen vornehmlich Mietwohnungen. Rund 40 Prozent dieser Wohnungen werden mit Fördermitteln des Landes Berlin finanziert. Hier liegen die Einstiegsmieten bei 6,50 € pro Quadratmeter (netto kalt).
Auf der anderen Seite der Weißenhöher Straße ist ein weiteres, großes Wohnviertel entstanden. Die sogenannten "Biesdorfer Stadtgärten" setzen sich aus 325 Eigentumswohungen zusammen. Hier sind Wohneinheiten mit 2-3 Zimmern entstanden. Sämtliche Wohnungen der "Stadtgärten" sind bereits verkauft.
"Biesdorfer Stadtgärten": 325 Eigentumswohungen
Die Attraktivität dieses offenbar äußerst beliebten Areals liegt auf der Hand. Mit der Bundesstraße B5, dem S-Bahnhof Biesdorf und dem U-Bahnhof Elsterwerdaer Platz (hier wird die U5 ab Ende 2020 bis zum Hauptbahnhof durchfahren) ist das Gebiet infrastrukturell sehr gut an die Berliner Innenstadt angebunden.
Zudem finden sich direkt am Wohnviertel zahlreiche Einkaufsmöglichkeiten und Restaurants, was kurze und umweltfreundliche Wege verspricht. Und auch die Erholung kommt nicht zu kurz: Der Schlosspark Biesdorf, der Wuhlegarten, der Landschaftspark Wuhletal oder der Tierpark Berlin befinden sich in unmittelbarer Nähe.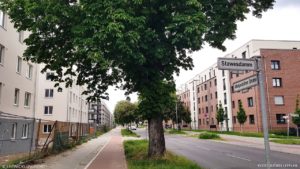 On the eastern edge of the city, directly on the B5, a new residential area with excellent connections has been created in recent years. Hundreds of apartments have been built just a few minutes' walk from the Elsterwerdaer Platz underground station. And construction is still continuing.
RESIDENTIAL CONSTRUCTION ON AN OLD manor house area: 515 RENTAL APARTMENTS TO BE BUILT
By the end of this year, 382 apartments will be built on a plot of land bordered by the streets Stawesdamm, Alt-Biesdorf and Weißenhöher Straße, with a further 133 to follow by mid 2021. The plot of land on which the construction project is being realised is an old manor house area that was unused for decades.
A total of 515 apartments will thus be built on the site. These are divided into smaller apartment buildings with three storeys and larger apartment buildings with up to five storeys. In addition, three listed buildings have also been integrated into the construction concept, which will be used commercially in the future.
40 PERCENT OF THE APARTMENTS ARE FINANCED BY THE STATE OF BERLIN
On the manor house site, mainly rental apartments are being built. Around 40 percent of these apartments are financed with subsidies from the State of Berlin. Here, the starting rents are €6.50 per square meter (net cold).
On the other side of Weißenhöher Straße another large residential area has been created. The so-called "Biesdorfer Stadtgärten" consist of 325 condominiums. Apartment units with 2-3 rooms have been created here. All apartments of the "Stadtgärten" have already been sold.
"BIESDORFER STADTGÄRTEN": 325 CONDOMINIUMS
The attractiveness of this obviously extremely popular area is obvious. With the federal highway B5, the S-Bahn station Biesdorf and the underground station Elsterwerdaer Platz (the U5 will run through here to the main station from the end of 2020), the area is very well connected to the Berlin city centre in terms of infrastructure.
In addition, there are numerous shopping facilities and restaurants directly adjacent to the residential area, which promises short and environmentally friendly distances. And recreation is not neglected either: the Biesdorf Schlosspark, the Wuhlegarten, the Wuhletal Landscape Park or the Berlin Tiergarten are all in the immediate vicinity.