Die Entwicklung des Simensstadt-Areals in Berlin-Spandau, in die der Siemens-Konzern 600 Mio. Euro investieren wird, gehört zu den spannendsten und vor allem größten Entwicklungsprojekten der kommenden 20er Jahre in Berlin.
Ortner & Ortner hat "Siemensstadt 2.0" konzipiert
Die Architektengruppe Ortner & Ortner Baukunst, die in Berlin derzeit unter anderem bereits das viel beachtete Hochhausprojekt am Alexanderplatz umsetzen, konnte sich mit ihrem Entwurf durchsetzen. Wie auch am Alexanderplatz setzen Ortner & Ortner auch auf Höhe. Im Zentrum des zukünftigen Areals wird sich ein 150-Meter-Hochhaus erheben, mehrere weitere 60-Meter-Hochhäuser ergänzen den Entwurf.
Ein völlig neues Stadtquartier entsteht auf 70 Hektar
Auf dem 70 Hektar großen Areal werden Siemens und das Land Berlin gemeinsam ein völlig neues Stadtviertel begründen. Freiflächen und Gebäude für Wohnen, Arbeiten und Forschen werden ein äußerst attraktives Stadtareal aus der Taufe heben und dabei neuen, öffentlichen Raum schaffen.
Wer sich schon heute ein Bild vom zukünftigen Areal machen, kann dies in einem interaktiven Video tun, welches das Unternehmen Siemens kürzlich veröffentlicht hat. Hier werden Gestaltung, Nutzung und Dimensionen der "Siemensstadt 2.0" auf innovative und dynamische Art und Weise erfahrbar gemacht.
Bilder / Grafiken: © SIEMENS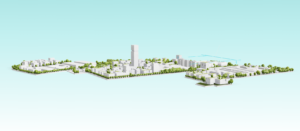 The development of the Simensstadt site in Berlin-Spandau, in which the Siemens Group will invest 600 million euros, is one of the most exciting and, above all, largest development projects of the coming 2020s in Berlin.
ORTNER & ORTNER HAS DESIGNED "SIEMENSSTADT 2.0"
The architectural group Ortner & Ortner Baukunst, which is currently realizing the highly acclaimed high-rise project on Alexanderplatz in Berlin, was able to win the competition with its design. Just like at Alexanderplatz, Ortner & Ortner also focus on height. A 150-metre high-rise building will dominate in the centre of the future site, with several other 60-metre high-rise buildings complementing the design.
A completely new urban quarter is being built on 70 hectares
Siemens and the State of Berlin will jointly establish a completely new city district on the 70-hectare site. Open spaces and buildings for living, working and research will create an extremely attractive urban area, creating new public space.
Anyone who wants to get an idea of the future site today can do so in an interactive video recently published by Siemens. Here, the design, use and dimensions of "Siemensstadt 2.0" can be experienced in an innovative and dynamic way.