Vier Bauprojekte, die zwischen Alexanderplatz und Jannowitzbrücke entstehen, zeigen deutliche Fortschritte. Die  Bauflächen direkt an der Bahntrasse gehören zu den letzten, die noch nicht vollständig bebaut sind.
"Grandaire Berlin": Abschluss der Außenarbeiten
Beim Wohnprojekt "Grandaire Berlin" stehen die Außenarbeiten kurz vor dem Abschluss. Hier sollen noch in diesem Jahr die ersten Bewohner einziehen. Das Grandaire wurde direkt an das Einkaufszentrum "Alexa" gebaut und schließt die jahrelang brachliegende Freifläche direkt an der Shopping Mall.
Die von Naturstein dominierte, elegante Fassadengestaltung des "Grandaire Berlin" lässt erahnen, dass dort keine Mietwohnungen im Niedrigpreissegment entstehen. In den zwei Wohntürmen wurde ein hoher Einrichtungsstandard umgesetzt. 164 der insgesamt 269 Wohneinheiten sind Eigentumswohnungen, der Rest wird vermietet.
"VOLT Berlin": Hochbau schreitet zügig voran
Direkt gegenüber entstehen im zukünftigen "VOLT Berlin" weitere Büro- und Gewerbeflächen. Ursprünglich hatte das Unternehmen Jochen Schweizer hier eine große Event- und Erlebniswelt mit Hotel und eigener Surfhalle geplant. Diese Pläne haben sich jedoch zerschlagen.
Nun werden im Gebäude, welches nach dem Rückzug Jochen Schweizers komplett neu geplant werden musste, konventionelle Büroflächen errichtet.
"Student Hotel" und "Central Tower": Neute Hotelkapazitäten entstehen
Deutlich weiter ist man bereits beim Projekt The Student Hotel, welches direkt neben dem VOLT-Baufeld entstanden ist und Anfang des Jahres eröffnet hat. 457 Zimmer bietet das riesige Hotel, welches sich vor allem an ein junges und innovatives Publikum richtet.
Neben dem "Student Hotel" wird ein weiteres Gebäude auf dem letzten noch freien Baufeld entstehen, auch hier werden Hotelkapazitäten geschaffen. Das Unternehmen UBM Development errichtet hier ein Gebäude mit 21 Etagen.
Der Komplex wird aus einem Gebäude bestehen, welches zwei unterschiedliche Angebote unter einem Dach vereinen soll:  ein Moxy Hotel mit 445 Zimmern in den unteren 10 Etagen sowie ein Residence Inn mit 115 Zimmern.
An der Alexanderstraße wächst das "VOLT Berlin" in die Höhe. Direkt benachbart: das bereits fertige "The Student Hotel"
Das "VOLT Berlin" entsteht zwischen "Student Hotel" und "Grandaire Berlin"
Es geht noch höher hinauf: Der Rohbau des "VOLT Berlin"
Lückenschluss: Direkt an das "Alexa" wurde das "Grandaire Berlin" gebaut. Die jahrelang brachliegende Freifläche hinter der Mall wurde somit geschlossen.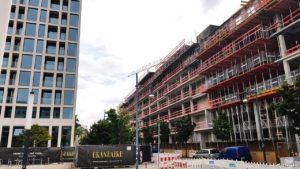 Neue Schlucht: Die Voltairestraße zwischen "Grandaire" und "VOLT"
Four construction projects being built between Alexanderplatz and Jannowitzbrücke show clear progress. The building areas directly on the railway line are among the last to be fully developed.
"GRANDAIRE BERLIN": COMPLETION OF THE EXTERIOR WORKS
The exterior work on the "Grandaire Berlin" housing project is nearing completion. The first residents are expected to move in this year. The Grandaire was built directly next to the "Alexa" shopping centre and closes the open space that has been lying fallow for years directly next to the shopping mall.
The elegant façade design of the "Grandaire Berlin", which is dominated by natural stone, suggests that no rental apartments in the low-price segment will be built there. A high standard of furnishing was implemented in the two residential towers. 164 of the total of 269 residential units are condominiums, the rest are rented.
"VOLT BERLIN" BUILDING CONSTRUCTION PROGRESSES RAPIDLY
Directly opposite, further office and commercial space is being created in the future "VOLT Berlin". Originally, the company Jochen Schweizer had planned a large event and adventure world with a hotel and its own surf hall here. However, these plans have been thwarted.
Now conventional office space is being built in the building, which had to be completely redesigned after Jochen Schweizer's withdrawal.
"STUDENT HOTEL" AND "CENTRAL TOWER": NEW HOTEL CAPACITIES ARE BEING BUILT
Much further ahead is the project The Student Hotel, which was built directly next to the VOLT construction site and opened at the beginning of the year. The huge hotel offers 457 rooms and is aimed primarily at a young and innovative audience.
In addition to The Student Hotel, another building will be erected on the last remaining vacant building site, and hotel capacities will also be created here. The company UBM Development is constructing a building with 21 floors here.
The complex will consist of a building that will combine two different offers under one roof: a Moxy Hotel with 445 rooms on the lower 10 floors and a Residence Inn with 115 rooms.