Eines der umstrittensten Wohungsbauprojekte ist der weiß gefärbte Wohnturm mit dem Namen "Living Levels", der vor einigen Jahren direkt an das Spree-Ufer, unmittelbar hinter die weltberühmte East Side Gallery, gesetzt wurde. Für die Umsetzung des Bauprojektes musste zeitweise ein Stück der einstigen Mauer versetzt werden, was seinerzeit für großen Wirbel gesorgt hatte. Zudem verblieb dauerhaft eine Lücke im Kulturerbe.
"Pier 61/63" entsteht direkt neben dem "Living Levels" Wohnturm
Etwas weniger aufgeregt erfolgt nun der Bau eines zweiten Gebäudes direkt neben dem Wohnturm. Das riegelartige Gebäude "Pier 61/63" soll bis 2021 fertiggestellt werden. Ein Hotel mit 167 Zimmern sowie 62 Mietwohnungen werden hier entstehen, sowie Flächen für Bistros und Cafés im Erdgeschoss.
Das Unternehmen Trockland Management GmbH errichtet das Gebäude auf dem historisch sensiblen Baugrund. Kritiker dieses und des benachbarten Projekts "Living Levels" bemängeln, dass durch die Bebauung des einstigen Todesstreifens die Bedeutung und Wirkung der verbliebenen Mauerteile großen Schaden nehmen könnte. Weitere Gebäude direkt an der Mauer sind indes nicht geplant.
Das Gebiet rund um den Ostbahnhof befindet sich in einem rasanten Wandel. Viele Bauprojekte wurden hier in den vergangenen Jahren umgesetzt oder sind derzeit im Bau, wie etwa der Umbau des einstigen Kaufhof-Gebäudes. Direkt gegenüber vom Ostbahnhof, ebenfalls an der Spree, steht ein weiteres Gebäude unmittelbar vor dem Abschluss.
Hotel- und Büroneubau gegenüber vom Ostbahnhof
Die Firma das projekt hat hier einen nüchternen Neubau errichtet, der zum einen ein Hotel und zum anderen Büroflächen beherbergen wird. Im Erdgeschoss wird eine großzügige Eingangshalle als verbindendes Element sowie als Durchgang zum Innenhof mit Terrassen dienen. Das Gebäude wird über zwei Untergeschosse mit Tiefgarage für ca. 45 Stellplätze verfügen.
Oberirdisch verfügt der Gebäudeteil mit Büronutzung über sechs Obergeschosse und der Gebäudeteil mit Hotelnutzung über sieben Obergeschosse mit 172 Zimmern. Die Hotelkette AMANO wird hier ein Hotel mit dem Namen "AMANO East Side" eröffnen. Im Ergeschoss sind neben Konferenzräumen und Lobby für die Büronutzung auch der Empfangsbereich für das Hotel und für die Gastronomieflächen geplant.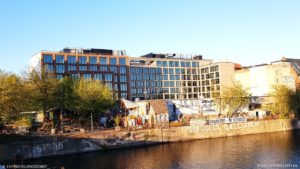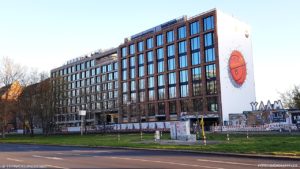 One of the most controversial housing projects is the white-coloured residential tower called "Living Levels", which was erected a few years ago directly on the banks of the Spree, just behind the world-famous East Side Gallery. For the implementation of the building project, a piece of the former wall had to be moved at times, which caused a great stir at the time. In addition, a permanent gap in the cultural heritage remained.
"PIER 61/63" IS BEING BUILT DIRECTLY NEXT TO THE "LIVING LEVELS" RESIDENTIAL TOWER
Somewhat less excited, the construction of a second building is now taking place directly next to the residential tower. The bar-like building "Pier 61/63" is to be completed by 2021. A hotel with 167 rooms and 62 rental apartments will be built here, as well as areas for bistros and cafés on the ground floor. 
The company Trockland Management GmbH is constructing the building on the historically sensitive ground. Critics of this and the neighboring "Living Levels" project complain that the development of the former death strip could seriously damage the significance and impact of the remaining parts of the wall. However, no further buildings directly on the wall are planned.
The area around Ostbahnhof is undergoing rapid change. Many construction projects have been implemented here in recent years or are currently under construction, such as the conversion of the former Kaufhof building. Directly opposite Ostbahnhof, also on the Spree, another building is about to be completed. 
HOTEL AND OFFICE BUILDING OPPOSITE OSTBAHNHOF
The company das projekt has built a sober new building here, which will house a hotel on the one hand and office space on the other. On the ground floor, a generous entrance hall will serve as a connecting element and as a passage to the inner courtyard with terraces. The building will have two basement floors with underground parking for approx. 45 parking spaces.
Above ground, the part of the building with office use will have six upper floors and the part with hotel use seven upper floors with 172 rooms. The AMANO hotel chain will open a hotel here called "AMANO East Side". On the ground floor, in addition to conference rooms and a lobby for office use, the reception area for the hotel and the restaurant areas are planned.