In der vergangenen Woche hatten wir über eine Reihe von Neubauprojekten rund um den Ostbahnhof berichtet, unter anderem auch über das Projekt "Pier 61 | 63", das direkt angrenzend zur weltberühmten East Side Gallery gebaut wird.
Das Unternehmen Trockland Management GmbH hat uns freundlicherweise Bildmaterial des späteren Gebäudes zur Verfügung gestellt.
176 Eigentums- und 75 Mietwohnungen
Auf einer Bruttogeschossfläche von etwa 22.000 Quadratmetern entstehen zum einen 176 Eigentumswohnungen in der westlichen Gebäudehälfte sowie 75 Mietwohnungen in der östlichen Hälfte. Diese verfügen über unterschiedliche Größen von einem bis fünf Zimmern und sind teilweise als Maisonette-Wohnungen angelegt.
Strenge Einhaltung der Denkmalschutz-Vorgaben
Nach Angaben der am Projekt beteiligten Unternehmen werden die umfangreichen Auflagen des Denkmalschutzes streng eingehalten. Der Name des Projektes, "Pier 61 | 63", leitet sich von der Adresse ab. Als Pier bezeichnet man ein Bauwerk in einem Hafen, das als Anlegestelle für Wasserfahrzeuge dient.
Einen Hafen gibt es an dieser Stelle des Flusses zwar nicht, als Anlegestelle wird sie zur Zeit allerdings intensiv genutzt, um die Baumaterialien über den Wasserweg anzuliefern. Der Zugang zur Spree wird für die Öffentlichkeit auch nach Fertigstellung des Gebäudes ungehindert möglich sein.
Bis dahin wird die East Side Gallerie auf Höhe der Baustelle durch einen begehbaren Schutzgang, der mit Motiven der Mauer bestückt ist, weiterhin zugänglich sein.
© Grafiken: Trockland Management GmbH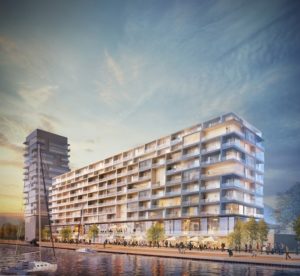 Last week, we reported on a number of new construction projects around Ostbahnhof, including the project "Pier 61 | 63", which is being built directly adjacent to the world-famous East Side Gallery.
The company Trockland Management GmbH and WMP EuroCom AG kindly provided us with photographic material of the future building.
176 CONDOMINIUMS AND 75 RENTAL APARTMENTS
On a gross floor area of around 22,000 square metres, 176 condominiums will be built in the western half of the building and 75 rental apartments in the eastern half. These will have different sizes from one to five rooms and are partly designed as maisonette apartments.
STRICT COMPLIANCE WITH THE REGULATIONS FOR THE PROTECTION OF HISTORIC BUILDINGS
According to information from the companies involved in the project, the extensive requirements of the preservation of historical monuments are strictly observed. The name of the project, "Pier 61 | 63", is derived from the address. A pier is a building in a port that serves as a landing stage for water vehicles.
Although there is no harbour at this point of the river, it is currently used intensively as a landing stage to deliver the building materials via the waterway. Access to the Spree will be unhindered for the public even after the building is completed.
Until then, the East Side Gallery will continue to be accessible at the level of the construction site through a walk-through protective corridor decorated with motifs of the wall.