Am 26. Januar berichteten wir über die Eröffnung der Staatsbibliothek Unter den Linden, die Corona-bedingt nur digital erfolgen konnte. Das heißt, dass Gäste und Zuhörer nur online dabei sein konnten, nicht vor Ort. Immerhin haben wir aber die Möglichkeit, das alte (neue) Bibliotheksgebäude ausführlich im Bild zu präsentieren.
Denn das Ergebnis der Restaurations- und Modernisierungsarbeiten ist geradezu atemberaubend, und daher nutzen wir die Möglichkeit, die von der Staatsbibliothek Berlin zur Verfügung gestellten Bilder auf ENTWICKLUNGSSTADT zu zeigen.
15 Jahre Bauzeit für die Sanierung des Gebäudes
Das Gebäude, für dessen Errichtung (11 Jahre) weniger Zeit aufgewandt werden musste als für seine Sanierung (15 Jahre), war im Zweiten Weltkrieg schwer beschädigt und später durch die DDR-Regierung wiederauf- und umgebaut worden.
Der Aufwand für die seit 2005 laufende Sanierung war, wie sich während der Bauarbeiten zeigte, größer als erwartet. So wurden Zeit- und Kostenrahmen gesprengt, letztlich fielen Baukosten in Höhe von 470 Mio. Euro an.
Umso erfreulicher ist nun das Ergebnis. Von einem "Jahrhundertbauwerk" sprach Kulturstaatsministerin Monika Grütters (CDU) euphorisch bei der Eröffnung. Wann die sieben Lesesäle mit 663 Arbeitsplätzen wieder für die Benutzung offen sein werden, hängt von der Entwicklung der Pandemie ab.
© Bilder: Staatsbibliothek Berlin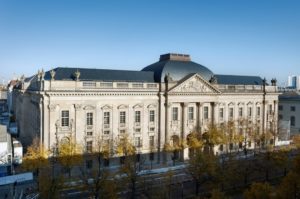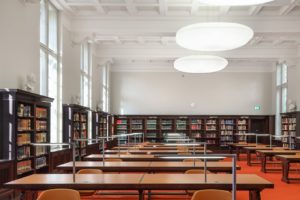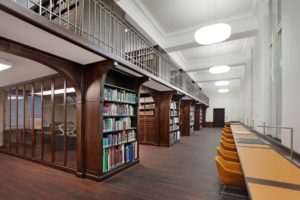 On January 26, we reported on the opening of the Staatsbibliothek Unter den Linden, which could only take place digitally due to Corona. This means that guests and listeners could only be present online, not on site. But at least we have the opportunity to present the old (new) library building in detail in pictures.
After all, the results of the restoration and modernization work are nothing short of breathtaking, so we are taking the opportunity to show the pictures provided by the Berlin State Library on ENTWICKLUNGSSTADT.
15 YEARS OF CONSTRUCTION FOR THE RENOVATION OF THE BUILDING
The building, which took less time to construct (11 years) than to renovate (15 years), was severely damaged during World War II and later rebuilt and reconstructed by the GDR government.
The effort required for the renovation, which has been underway since 2005, was greater than expected, as became apparent during construction. Time and budget were exceeded, with construction costs ultimately amounting to 470 million euros.
The result is all the more pleasing. At the opening ceremony, Monika Grütters (CDU), Minister of State for Culture, spoke euphorically of a "building of the century. When the seven reading rooms with 663 workstations will be open for use again depends on how the pandemic develops.
© images: Staatsbibliothek Berlin