Bereits im November 2019 hatten wir über die Fertigstellung der Staatsbibliothek Unter den Linden berichtet. Am Montag wurde das Gebäude nun offiziell eröffnet.
Wie schon bei der Eröffnung des Humboldt Forums im Dezember 2020 erfolgte die Eröffnungszeremonie rein digital. Das heißt, dass Gäste und Zuhörer nur online dabei sein konnten, nicht vor Ort.
Digitaler Festakt mit vielen Rednerinnen und rednern
Diese Corona-bedingte Vorsichtsmaßnahme ist bei dem 1914 abgeschlossenen Bau aus der Kaiserzeit mindestens genauso bedauerlich wie bei der Teileröffnung der Schloss-Rekonstruktion wenige hundert Meter weiter.
Denn das Ergebnis der Restaurations- und Modernisierungsarbeiten ist geradezu atemberaubend. Selten ist die Symbiose aus historischen Baustrukturen und moderner Architektur so gelungen wie in dieser Bibliothek, die zu den wichtigsten ihrer Art weltweit zählt.
Symbiose aus historischen und modernen Bauelementen
Das Gebäude, für dessen Errichtung (11 Jahre) weniger Zeit aufgewandt werden musste als für seine Sanierung (15 Jahre), war im Zweiten Weltkrieg schwer beschädigt und später durch die DDR-Regierung wiederauf- und umgebaut worden.
Der Aufwand für die seit 2005 laufende Sanierung war, wie sich während der Bauarbeiten zeigte, größer als erwartet. So wurden Zeit- und Kostenrahmen gesprengt, letztlich fielen Baukosten in Höhe von 470 Mio. Euro an.
Umso erfreulicher ist nun das Ergebnis. Von einem "Jahrhundertbauwerk" sprach Kulturstaatsministerin Monika Grütters (CDU) euphorisch bei der Eröffnung. Wann die sieben Lesesäle mit 663 Arbeitsplätzen wieder für die Benutzung offen sein werden, hängt von der Entwicklung der Pandemie ab.
Parzinger: "Kathedrale des Wissen"
Hermann Parzinger, Präsident der Stiftung Preußischer Kulturbesitz, sagte: "Die historische Mitte Berlins gewinnt eine Kathedrale des Wissens zurück." Um ihre Dimensionen zu verdeutlichen, merkte er an, dass das Gebäude beinahe die Größe des Reichstagsgebäudes habe.
Zur Staatsbibliothek Berlin, die bereits 1661 gegründet wurde, gehört neben dem Gebäude Unter den Linden noch ein zweiter Standort, am Potsdamer Platz. Sie zählt damit international zu den wichtigsten Einrichtungen ihrer Art. Zu ihren Schätzen gehören Originalpartituren von Beethovens Neunter Sinfonie, Mozarts Oper "Die Zauberflöte" und 80 Prozent von Bachs Handschriften.
Für den Sommer ist ein Tag der offenen Tür vorgesehen, aber selbstredend ist dieser noch nicht genau definiert. Wie auch beim Humboldt Forum gilt auch beim Bibliotheks-Neubau: Eröffnung ist nicht gleich Eröffnung, Geduld ist das Gebot der Stunde.
Die Eröffnung kann man hier noch einmal in voller Länge ansehen: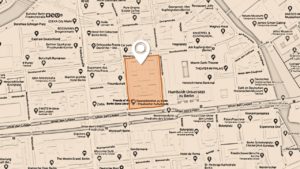 Back in November 2019, we reported on the completion of the Staatsbibliothek Unter den Linden. On Monday, the building was now officially opened.
As with the opening of the Humboldt Forum in December 2020, the opening ceremony was purely digital. This means that guests and audience members could only be present online, not on site.
DIGITAL CEREMONY WITH MANY SPEAKERS
This Corona-related precaution is at least as regrettable for the imperial-era building, which was completed in 1914, as it is for the partial opening of the palace reconstruction a few hundred meters away.
For the result of the restoration and modernization work is nothing short of breathtaking. Rarely has the symbiosis of historic building structures and modern architecture been as successful as in this library, which is one of the most important of its kind in the world.
SYMBIOSIS OF HISTORICAL AND MODERN BUILDING ELEMENTS
The building, which took less time to construct (11 years) than to renovate (15 years), was badly damaged during World War II and later rebuilt and reconstructed by the GDR government.
The effort required for the renovation, which has been underway since 2005, was greater than expected, as became apparent during construction. Time and budget were exceeded, with construction costs ultimately amounting to 470 million euros.
The result is all the more gratifying. At the opening ceremony, Monika Grütters (CDU), Minister of State for Culture, spoke euphorically of a "building of the century". When the seven reading rooms with 663 workstations will be open for use again depends on how the pandemic develops.
PARZINGER: "CATHEDRAL OF KNOWLEDGE"
Hermann Parzinger, president of the Prussian Cultural Heritage Foundation, said, "The historic center of Berlin is regaining a cathedral of knowledge." To illustrate its dimensions, he noted that the building is almost the size of the Reichstag building.
The Berlin State Library, which was founded as early as 1661, includes a second location, on Potsdamer Platz, in addition to the Unter den Linden building. It is thus one of the most important institutions of its kind internationally. Among its treasures are original scores of Beethoven's Ninth Symphony, Mozart's opera "The Magic Flute" and 80 percent of Bach's manuscripts.
An open day is planned for the summer, but of course this has not yet been precisely defined. As with the Humboldt Forum, the same applies to the new library building: not all openings are the same, patience is the order of the day.
You can see the whole digital ceremony here: