Auf dem riesigen Baufeld, welches sich um das einstige Künstlerhaus "Tacheles" auftut, entsteht derzeit ein völlig neues Quartier, das nur noch wenig mit dem berühmten Geist der Nachwendejahre zu tun haben wird, der das "Tacheles" und die Berliner Mitte in den 90er Jahren weltberühmt gemacht hat. Und natürlich wäre jeder Versuch, diese Zeit, ihre Umstände und das städtebauliche Panorama wiederzubeleben, zum Scheitern verurteilt.
Ins "Tacheles" zieht die schwedische Fotogalerie "Fotografiska"
Daher wird das vom Projektentwickler pwr development auch gar nicht versucht. Bezüge zur Vergangenheit dieses Stadtbereichs soll es dennoch geben. Natürlich, das einstige Kaufhaus und später als Galerie-, Kunst- und Partypalast genutzte "Tacheles" wird erhalten bleiben – schließlich gibt es dem neuen Viertel den Namen: "AM TACHELES".
In die modernisierte Kaufhaus-Ruine soll die schwedische Fotogalerie Fotografiska einziehen. Und auch zwei weitere, ebenfalls denkmalgeschützte Häuser, die direkt an der Friedrichstraße stehen, werden erhalten bleiben.
Zehn Neubauten und drei bestehende Gebäude
Um sie herum wird neu gebaut, und zwar im ganz großen Stil: Zehn Neubauten werden auf dem Areal zwischen Oranienburger, Friedrich- und Johannisstraße sprichwörtlich aus dem Boden gestampft.
Sieben Wohnhäuser werden darunter sein. Diese werden hauptsächlich an der ruhigeren Johannisstraße errichtet. Darüber hinaus wird es drei Büro- und Geschäftshäuser geben, die an der Friedrich- und Oranienburger Straße entstehen.
So entstehen 100.000 Quadratmeter Nutzfläche in exponierter Innenstadtlage. 85.000 Quadratmeter werden neu gebaut, 15.000 stehen in den Altbauten zur Verfügung und werden modernisiert. 275 Eigentumswohnungen werden hier untergebracht, zudem Büros auf knapp 42.000 Quadratmetern. Weitere 12.000 Quadratmeter sind dem Einzelhandel vorbehalten.
"Herzog de Meuron" entwickelten die Idee für das neue Stadtquartier
Das städtebauliche Konzept wurde vom renommierten Schweizer Architekturüro Herzog de Meuron entwickelt. Das Büro entwickelte in Berlin auch die viel diskutierten Pläne für das Museum der Moderne im Kulturforum. Auch diese Pläne setzten sich, wie auch der Entwurf für das Tacheles-Areal, im internationalen Wettbewerb, durch.
Zwischen Oranienburger und Friedrichstraße sehen Herzog de Meuron nicht nur geschlossene Gebäude, sondern – nach historischem Vorbild – auch einen öffentlichen Bereich vor. Es wird eine nicht überdachte Fußgängerpassage zwischen Oranienburger und Friedrichstraße geben sowie einen achteckigen Stadtplatz. Es ist die Absicht, einen rund um die Uhr offenen und öffentlichen Raum zu schaffen, der Leben in das neue Quartier bringen soll.
Manko des Projekts: Keine Miet- und Sozialwohnungen
Ein Manko weist das Projekt hingegen auf: Sozial- oder Mietwohnungen wird es nicht geben. Das liegt an der langen Vorlaufzeit der Projektplanung. Der Bebauungsplan des Geländes datiert aus dem Jahre 2003.
Damals war die heutige Vorgabe, dass Sozial- und Mietwohnungen fester Bestandteil jedes größeren, innerstädtischen Neubauvorhabens sein müssen, noch nicht entwickelt. Ein Wehrmutstropfen auf ein äußerst spannendes Entwicklungsprojekt.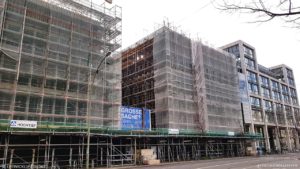 A completely new quarter is currently being built on the huge construction site that is opening up around the former artists' house "Tacheles". It will have little to do with the famous spirit of the post-reunification years that made "Tacheles" and the Berlin Mitte world famous in the 1990s. And of course any attempt to revive this period, its circumstances and the urban panorama would be doomed to failure.
THE SWEDISH PHOTO GALLERY "FOTOGRAFISKA" MOVES INTO THE "TACHELES"
That is why the project developer pwr development does not even attempt to do this. Nevertheless, there should be references to the past of this urban area. Of course, the former department store and later "Tacheles", which was used as a gallery, art and party palace, will be preserved – after all, the new quarter is named "AM TACHELES".
The Swedish photo gallery Fotografiska is to move into the modernized department store ruin. And two other houses, also listed buildings, which are located directly on Friedrichstraße, will also be preserved.
TEN NEW BUILDINGS AND THREE EXISTING BUILDINGS
Around them, new buildings will arise, and on a very grand scale: ten new buildings are literally being built on the area between Oranienburger, Friedrich and Johannisstraße.
Seven residential buildings will be among them. These will mainly be built on the quieter Johannisstraße. In addition, there will be three office and commercial buildings, which will be built on Friedrich- and Oranienburger Strasse.
This will create 100,000 square meters of usable space in an exposed downtown location. 85,000 square meters will be newly built, 15,000 will be available in the old buildings and will be modernized. 275 condominiums will be accommodated here, as well as offices on almost 42,000 square meters. A further 12,000 square meters are reserved for retail.
"Herzog DE MEURON" DEVELOPED THE IDEA FOR THE NEW CITY QUARTER
The urban development concept was developed by the renowned Swiss architectural office Herzog de Meuron. In Berlin, the office also developed the much-discussed plans for the "Museum der Moderne" at the "Kulturforum". These plans, as well as the design for the "Tacheles"-Areal, also prevailed in international competition.
Between Oranienburger Strasse and Friedrichstrasse, Herzog de Meuron not only envisages closed buildings, but also – following the historical model – a public area. There will be an unroofed pedestrian passage between Oranienburger and Friedrichstrasse and an octagonal city square. The intention is to create an open and public space that is open around the clock and will bring life to the new quarter.
SHORTCOMINGS OF THE PROJECT: NO RENTAL AND SOCIAL HOUSING
However, the project has one shortcoming: there will be no social or rental housing. This is due to the long lead time for project planning. The development plan for the site dates from 2003.
At that time, the current stipulation that social and rental housing must be a fixed component of every major inner-city new construction project had not yet been developed. A drop of bitterness on an extremely exciting development project.