Die Modernisierung des Baubestandes in der Berliner City West nimmt zunehmend Fahrt auf. Zwei Bauprojekte an der Budapester Straße sind bereits deutlich über die Planungsphase hinaus und schon mitten im Bau. Vor allem der Büro-Neubau neben dem Aquarium wird den städtebaulichen Raum neu definieren.
Neben dem Aquarium entsteht ein 60-Meter-Hochhaus
An der Stelle, wo einst die Zentrale der Berliner Volksbank stand, wurde seit Herbst 2017 ein 60-Meter-Hochhaus mit 15 Etagen errichtet. Das vorherige Gebäude war erst 1985 fertiggestellt worden, wurde nun aber komplett abgerissen. Das neue Bürogebäude wird nach Plänen des Architekturbüros Grüntuch Ernst errichtet. Die Fertigstellung inklusive Innenausbau wird in diesem Jahr erfolgen.
Nur wenige Meter weiter gibt es zwar keinen kompletten Neubau, dafür aber eine vollständige Neukonzeption eines bestehenden Baukörpers. Das Deutsche Institut für Normung e.V. (DIN) ist die unabhängige Plattform für Normung und Standardisierung in Deutschland und weltweit.
Die DIN-Zentrale wird umfassend modernisiert
Vor drei Jahren feierte das Institut sein 100-jähriges Bestehen. Untergebracht ist der Verein in einem rund 50 Jahre alten Verwaltungsgebäude in der Burggrafenstraße 6. Das Gebäude wird bis 2021 vollständig saniert, modernisiert und umgebaut. Im Inneren wird ein neues Bürokonzept für die knapp 700 Mitarbeiterinnen und Mitarbeiter umgesetzt, das auf Offenheit und Flexibilität in der Raumnutzung setzt. Zusätzlich erhält das Bürogebäude eine komplett neue Gebäudehülle.
"Der Auftrag beinhaltet eine Modernisierung der Fassade in allen technischen Parametern. Zudem werden neben Aluminium und Glas auch völlig neue Materialien wie der faserverstärkte Beton, den wir gemeinsam mit Partnern in Sachsen produzieren, verbaut", erläutert Geschäftsführer Marcus Medicke von der Firma Medicke Metallbau GmbH, die mit dem Bau der neuen Fassadenelemente beauftragt wurde.
Hier gibt es Bilder der derzeit im Bau befindlichen Gebäude:
Neubau an der Budapester Straße
Büro-Neubau unmittelbar neben dem Aquarium an der Budapester Straße
Das spätere Gebäude wird so aussehen (alle Grafiken: © barings / HHVISION)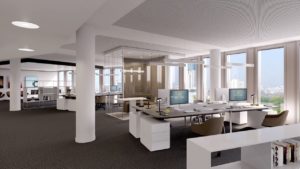 Umbau der DIN-Zentrale
Modernisierung der DIN-Zentrale in der Burggrafenstraße 6
The modernisation of the building stock in Berlin's City West is increasingly gathering pace. Two construction projects on Budapester Strasse are already well beyond the planning phase and already in the middle of construction. Above all, the new office building next to the aquarium will redefine the urban space.
A 60-METER HIGH-RISE BUILDING IS BEING CONSTRUCTED NEXT TO THE AQUARIUM
On the site where the Berliner Volksbank headquarters once stood, a 60-meter high-rise with 15 floors has been erected since fall 2017. The previous building was only completed in 1985, but has now been completely demolished. The new office building is being constructed according to plans by the architectural firm Grüntuch Ernst. Completion including interior fittings will take place this year.
Only a few metres further on, there is no completely new building, but a completely new concept of an existing building. The German Institute for Standardization (DIN) is the independent platform for standardization in Germany and worldwide.
THE DIN-headquarter IS COMPREHENSIVELY MODERNISED
Three years ago the institute celebrated its 100th anniversary. The association is housed in an approximately 50-year-old administration building at Burggrafenstraße 6, which will be completely renovated, modernized and converted by 2021. Inside, a new office concept for the almost 700 employees will be implemented, which focuses on openness and flexibility in the use of space. In addition, the office building will receive a completely new building envelope.
"The contract includes a modernisation of the facade in all technical parameters. In addition to aluminium and glass, completely new materials such as fibre-reinforced concrete, which we are producing together with partners in Saxony, will also be used," explains Managing Director Marcus Medicke of Medicke Metallbau GmbH, the company commissioned to build the new facade elements.