Das Unternehmen Pandion steht dafür, innovative und moderne Gebäude mit kreativer Fassadengestaltung umzusetzen. In der Nürnberger Straße, unweit der Einkaufsmeile Tauentzien, wird ein weiteres Pandion-Projekt realisert.
Herausstechende Fassadengestaltung
Unweit zweier weiterer Neubauprojekte an der Budapester Straße, über die wir bereits im März berichtet hatten, entsteht ein Wohnungsprojekt mit dem ungewöhnlichen Namen "The Haus".
Die herausstechende Fassadengestaltung des späteren Gebäudes wird bereits jetzt deutlich. Im Innern des Gebäudes entstehen 65 Eigentumswohnungen mit Flächen zwischen 29 und 148 Quadratmetern und einer Zimmeranzahl von ein bis vier Zimmern.
65 Eigentumswohnungen auf acht Etagen
Entstehen werden hier Wohnungen im gehobenen Segment, konzipiert vom international renommierten Architekturbüro Axthelm Rolvien. Besonderes Merkmal des Entwurfs sind elegante Erker, die sich über zwei Stockwerke erstrecken.
Insgesamt wird das Gebäude 8 Stockwerke umfassen und passt sich damit in die Traufhöhe der umliegenden Gebäude ein. Die Fertigstellung des Projektes ist für den Dezember diesen Jahres vorgesehen.
Dieses ist nicht das einzige Bauprojekt, welches Pandion in der deutschen Hauptstadt umsetzt. Weitere Projekte sind die Bürobauten "The Shelf" und "The Grid" in Kreuzberg oder das "Pandion Zinc" in der Rummelsburger Bucht.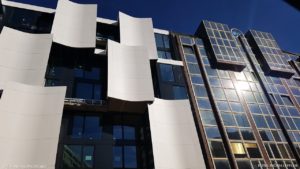 The Pandion company stands for the implementation of innovative and modern buildings with creative facade design. Another Pandion project is being realised in Nürnberger Straße, not far from the Tauentzien shopping mile.
OUTSTANDING FAÇADE DESIGN
Not far from two other new construction projects on Budapester Strasse, which we reported on in March, this housing project with the unusual name "The Haus" is being built.
The striking façade design of the future building is already becoming apparent. Inside the building, 65 condominiums with areas between 29 and 148 square meters and a number of one to four rooms will be created.
65 CONDOMINIUMS ON EIGHT FLOORS
Apartments in the upper segment will be created here, designed by the internationally renowned architectural office Axthelm Rolvien. A special feature of the design are elegant bay windows that extend over two floors.
The building will have a total of 8 floors and thus fits in with the eaves height of the surrounding buildings. The project is scheduled for completion in December of this year.
This is not the only building project that Pandion is implementing in the German capital. Other projects are the office buildings "The Shelf" and "The Grid" in Kreuzberg or "Pandion Zinc" in the Rummelsburg Bay.