In der Kreuzberger Prinzenstraße, in direkter Nachbarschaft des Aufbau-Hauses am Moritzplatz, baut das Immobilienunternehmen Pandion AG mit Sitz in Köln zwei aufsehenerregende Gebäude, die später zur gewerblichen Nutzung vorgesehen sind und in denen Büro- und Kreativräume entstehen sollen.
The GriD: Neubau auf dem Gelände einer ehemaligen Autovermietung
Auf dem ehemaligen Gelände der Autovermietung Robben & Wientjes, in der Prinzenstraße 34, entsteht das sogenannte "PANDION THE GRID". Nach den Plänen von Eike Becker_Architekten wird auf diesem Areal ein "innovativer Gewerbehof 2.0" entstehen, wie es das Unternehmen selbst beschreibt. Geplant sind Büroflächen, die traditionellen Unternehmen, Start-ups und Kreativen Freiräume für neue Ideen geben sollen.
Diese gewünschte Nutzungsvielfalt soll sich auch in der Gestaltung des Gebäudes widerspiegeln: Die an übereinandergestapelte Rahmen erinnernde Metallfassade wird durch bodentiefe Glasflächen, Balkone, Terrassen und Loggien ergänzt und soll dem Gebäude so eine Großzügigkeit und Offenheit verleihen. So soll vermittelt werden, dass die Nachbarschaft im "THE GRID" absolut willkommen und erwünscht ist.
Arbeiten, Kleingewerbe, Kunst und Kultur
Kleingewerbe, Kunst, Kultur sowie kulinarische Angebote im Erdgeschoss und ein begrünter Innenhof sollen die Anwohner zum  gegenseitigen Kennenlernen einladen. Mit Moos bewachsenen Fassaden, Urban-Gardening-Flächen sowie bepflanzten Dachterrassen knüpft das Gebäude gestalterisch an die benachbarten Prinzessinnengärten an. Und auch im Innern des Gebäudes soll die Farbe grün dominieren.
Auf der schräg gegenüberliegenden Straßenseite entsteht ebenfalls ein Neubau, der hohe gestalterische Ansprüche erfüllen soll. Dieses Projekt trägt einen nicht weniger kreativen Namen: "THE SHELF". Auch hier soll vor allem gearbeitet werden. In dem Gebäude, dessen zukünftige Fassadengestaltung an rotierende Lamellen erinnert, entstehen hochwertige und kreative Arbeitsflächen.
The Shelf: Fünf individuell gestaltete Ebenen
Fünf unterschiedlich gestaltete Ebenen werden um einen begrünten Innenhof herum gebaut und sollen "frische Luft, Raum und freie Sicht auf den Himmel" und vor allem Rückzugs- und Entspannungsräume bieten. Trotzdem soll hier natürlich auch effektiv gearbeitet werden können. Hohe Ansprüche für einen Büro-Neubau also. Man darf gespannt sein, ob sich die spannenden und kreativen Ideen so verwirklich lassen.
Eine Auswahl von Visualisierungen der späteren Gebäude seht Ihr hier. Copyright: STRATEGIS AG / PANDION AG
THE SHELF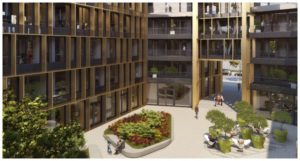 THE GRID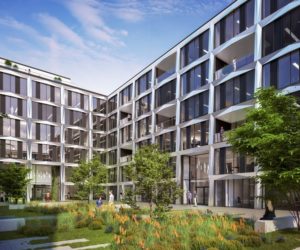 In Prinzenstrasse in Kreuzberg, in the direct vicinity of the "Aufbau Haus" on Moritzplatz, the Cologne-based real estate company Pandion AG is constructing two exciting buildings which are later intended for commercial use and in which office and creative spaces are to be created.
THE GRID: NEW BUILDING ON THE SITE OF A FORMER CAR RENTAL COMPANY
On the former premises of the car rental company Robben & Wientjes, at Prinzenstraße 34, the so-called "PANDION THE GRID" is being built. According to the plans of Eike Becker_Architekten, an "innovative industrial yard 2.0" will be built on this site, as the company itself describes it. Office space is planned, which will give traditional companies, start-ups and creative people space for new ideas.
This desired diversity of use should also be reflected in the design of the building: The metal façade, reminiscent of stacked frames, will be supplemented by floor-to-ceiling glass surfaces, balconies, terraces and loggias, thus giving the building a sense of spaciousness and openness. This is intended to convey that the neighbourhood in "THE GRID" is absolutely welcome and desirable.
WORK, SMALL BUSINESS, ART AND CULTURE
Small businesses, art, culture as well as culinary offerings on the ground floor and a green inner courtyard are to invite residents to get to know each other. The building's moss-covered facades, urban gardening areas and planted roof terraces link the building to the neighbouring Princess Gardens. And the colour green is also to dominate the interior of the building.
On the diagonally opposite side of the street, a new building is also being constructed, which is to meet high design standards. This project bears a no less creative name: "THE SHELF". Here, too, work is to be carried out primarily. In the building, whose future façade design is reminiscent of rotating slats, high-quality and creative work areas are being created.
THE SHELF: FIVE INDIVIDUALLY DESIGNED LEVELS
Five differently designed levels will be built around a landscaped inner courtyard and will offer "fresh air, space and an unobstructed view of the sky" and, above all, retreat and relaxation areas. Nevertheless, it should of course also be possible to work here effectively. Ambitious goals for a new office building. It will be interesting to see whether the exciting and creative ideas can be realised in this way.