Am Dienstag berichteten wir über die geplante Erweiterung des Bundeskanzleramtes im Regierungsviertel. Nun haben wir die Möglichkeit, die Visualisierung des Bauvorhabens zu präsentieren.
Zur Verfügung gestellt wurden uns die Bilder vom Bundesamt für Bauwesen und Raumordnung (BBR). Wie berichtet plant die Bundesregierung die bauliche Ergänzung des bestehenden Kanzleramtes.
Bogenförmiges Gebäude wird das "Band des Bundes" abschließen
Ein bogenförmiges Bürogebäude wird den Kanzlerpark und damit das sogenannte "Band des Bundes" mit seinen Regierungsbauten im Spreebogen nach Westen hin städtebaulich abschließen.
Notwendig wird die Erweiterung des 2001 bezogenen Kanzleramtsgebäudes, da sich die Aufgaben des Bundeskanzleramtes seither signifikant verändert und vor allem vermehrt haben.
Gestiegene Anzahl an Aufgaben und Mitarbeitern
Themen wie die Energiewende, die Terrorismusbekämpfung, global zunehmende Migrationsbewegungen oder das umfassende Aufgabengebiet der Digitalisierung fallen in die Zuständigkeit der Behörde. Die Beschäftigtenzahl ist seit 2001 von 410 auf derzeit rund 750 gewachsen.
© Grafiken: Schultes Frank Architekten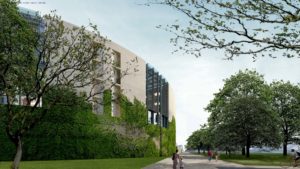 On Tuesday we reported on the planned expansion of the "Bundeskanzleramt" (Federal Chancellery) in the government district. Now we have the opportunity to present the visualization of the building project.
The pictures were provided to us by the Federal Office for Building and Regional Planning (BBR). As reported, the Federal Government is planning the structural extension of the existing building.
ARCH-SHAPED BUILDING WILL COMPLETE THE "Band des Bundes"
An arch-shaped office building will close off the Chancellor's Park and thus the so-called "Band des Bundes" with its government buildings in the Spreebogen towards the west in terms of urban development.
The expansion of the "Bundeskanzleramt" building, which was occupied in 2001, is necessary because the tasks of the Federal Chancellery have changed significantly since then and, above all, have increased.
INCREASED NUMBER OF TASKS AND EMPLOYEES
Topics such as the transformation of energy systems, the fight against terrorism, globally increasing migration movements or the comprehensive field of digitisation are the responsibility of the authority. Since 2001, the number of employees has grown from 410 to currently around 750.