ENGLISH VERSION: BELOW
Während in Mitte und Prenzlauer Berg der Wohnungsmarkt als vollkommen überteuert bewertet wird, kann man im angrenzenden Staddteil Wedding noch erschwinglichen Wohnraum ausmachen.
So die Theorie. Dass der Wedding längst zu einer begehrten Wohnlage geworden ist, macht sich im Bezirk allein dadurch bemerkbar, dass viele bestehende Häuserlücken sukzessive geschlossen und bebaut werden.
Der Wedding ist längst zur begehrten Wohnlage geworden
Meist handelt es sich bei den Bauprojekten um Wohnungen, nicht selten Eigentumswohnungen. Die Immobilienpreise im Wedding werden, aller Voraussicht nach, in den kommendenJahren also ebenfalls ansteigen.
Noch bewegt sich der Stadteil im nördlichen Zentrum der Haupstadt aber hinter den erwähnten Vierteln wie Mitte, Prenzlauer Berg oder auch Friedrichshain. Dass es im Wedding eine wachsende Zahl an spannenden, neuen Wohnangeboten gibt, zeigt nicht nur das Holzbauprojekt in der Lynarstraße, über das wir kürzlich berichteten.
18 neue Eigentumswohnungen in der Genter Straße
Unweit des U-Bahnhofs Seestraße ist in den vergangenen Jahren das Projekt "13353 WDDNG" entstanden. In der Genter Straße 63 sind dabei 18 Eigentumswohnungen entstanden, die bereits vollkommen verkauft sind.
Auffällig ist das Wohnprojekt vor allem durch die futuristische Fassadengestaltung, die sich von den links und rechts flankierenden Altbauhäusern optisch klar abgrenzt, das Häuserensemble aber dennoch kreativ ergänzt und verbindet.
Die Lage im sogenannten "Brüsseler Kiez" ist durchaus attraktiv. Die Genter Straße ist eine ruhige Seitenstraße, trotzdem ist man in wenigen Gehminuten an der U-Bahnlinie 6 oder auch der Tram, die hier als eine der wenigen Linien auch im Westteil der Stadt verkehrt. Auch der Volkspark Rehberge und das Strandbad Plötzensee liegen nur wenige Autominuten entfernt.
Attraktive Lage im "Brüsseler Kiez"
Entstanden sind in der Genter Straße gehobene Wohneinheiten mit einer Deckenhöhe von über 2,70 Meter, mit Fußbodenheizung, Eichenparkett, Balkonen und einer Terrasse im Hinterhof.
So hochwertig ausgestattete Wohnungen haben, auch im Wedding, natürlich ihren Preis. Kaufpreise zwischen 335.000 und 720.000 Euro wurden für den Erwerb einer Eigentumswohnung aufgerufen. Der Projektentwickler Best Place Immobilien kann sich wie bereits erwähnt darüber freuen, dass sämtliche Wohneinheiten längst veräußert sind.
© Fotos: Best Place Immobilien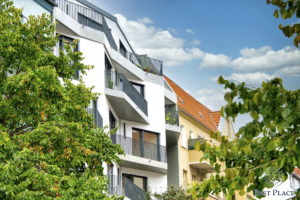 While in Mitte and Prenzlauer Berg the housing market is rated as completely overpriced, in the adjacent Staddteil Wedding you can still find affordable housing. 
That's the theory. The fact that the Wedding has long since become a sought-after residential location is reflected in the district simply by the fact that many existing gaps in houses are gradually being closed and built on. 
WEDDING HAS LONG SINCE BECOME A SOUGHT-AFTER RESIDENTIAL LOCATION
Most of the construction projects are apartments, often condominiums. House prices in Wedding are also expected to rise in the coming years. 
However, the city is still moving in the northern centre of the capital behind the mentioned districts such as Mitte, Prenzlauer Berg or Friedrichshain. The fact that there is a growing number of exciting new housing offers in Wedding is shown not only by the timber construction project in Lynarstraße, about which we recently reported. 
18 NEW PROPERTY APARTMENTS IN THE GENTER STRASSE
The project "13353 WDDNG" has been developed in recent years not far from the Seestraße underground station. At 63 Genter Straße, 18 condominiums have been built, which have already been completely sold. 
The residential project is particularly striking due to the futuristic facade design, which is visually clearly distinguished from the old buildings flanking to the left and right, but which nevertheless creatively complements and connects the house ensemble.
The situation in the so-called "Brussels Neighbourhood" is quite attractive. The Genter Straße is a quiet side street, but in a few minutes you can walk along the subway line 6 or the tram, which runs here as one of the few lines also in the western part of the city. The Volkspark Rehberge and the Plötzensee beach are also just a few minutes' drive away.
ATTRACTIVE LOCATION IN the "BRUSSELS KIEZ"
The result is upscale residential units with a ceiling height of over 2.70 metres, with underfloor heating, oak parquet floors, balconies and a terrace in the backyard. 
As high-quality apartments have, even in wedding, of course their price. Purchase prices between 335,000 and 720,000 euros were called for the purchase of a condominium. As already mentioned, the project developer Best Place Immobilien can be pleased that all residential units have long since been sold.