Das Architekturbüro Gnädinger Architekten hatte den Wettbewerb zur Gestaltung des Spreeufers an der Michalkirchbrücke in Kreuzberg gewonnen. Auf dem bislang brachliegenden Grundstücke sollten Verwaltungs-, Gewerbe- und Wohnflächen entstehen.
Wassergrundstück am Kreuzberger Spreeufer
Das Wassergrundstück an der Michaelkirchstraße, welches seit Jahren ungenutzt war, liegt in einem sich rasant wandelnden Stadtteil. Anstelle von Brachen und industriellen Anlagen ist rund um die ehemalige innerstädtische Grenze ein spannungsreiches Viertel mit Künstlerateliers, Büroneubauten für Start-Ups sowie größere Unternehmen und Flächen für Kreative entstanden.
Das Thema Gentrifizierung, steigende Mieten und Mangel an bezahlbarem Wohnungsraum umtreibt vor allem die alteingesessenen Bewohner des Viertels. Jedes Neubauprojekt wird daher einer kritischen Überprüfung unterzogen und die zukünftige Nutzung genau beleuchtet.
Das Projekt "Elements" sollte hier entstehen
So war es auch beim Projekt "Elements", dessen zukünftige Nutzung eine Mischung aus Wohneinheiten ebenso wie Gewerbe, Büro- und Verwaltungsflächen vorsah. Auch Räume für Gastronomie sollte es geben. Die geplanten Kosten für das Projekt beliefen sich auf etwa 32 Millionen Euro, rund 18.000 Quadratmeter Bruttogeschossfläche sollten entstehen.
Der prämierte Entwurf des Büros Gnädinger sah mehrere eigenständige, polygonale Gebäuden mit vier individuell gestalteten Objekte auf dem Grundstück vor. Das Unternehmen ARTPROJEKT GmbH wurde mit der Entwicklung des Projektes beauftragt, veräußerte das Grundstück jedoch mittlerweile an ein anderes Unternehmen weiter.
Prämierter Entwurf wird nicht umgesetzt
Im Gespräch mit dem Architekturbüro Gnädinger stellt sich nun heraus, dass mit der Weiterveräußerung der Fläche auch der prämierte Entwurf des Büros hinfällig ist, da die zukünftige Nutzung des Grundstücks wieder völlig offen ist.
Für Anwohner und Projektbeteiligte ist es äußerst ärgerlich, dass die seit Jahren ungenutzte Fläche damit weiter im Dornröschenschlaf verharrt und das mühsam erarbeitete Nutzungskonzept sowie die Gestaltung der Fläche völlig neu in Angriff genommen werden muss. Der Ausgang des Projektvorhabens ist aktuell also noch völlig offen.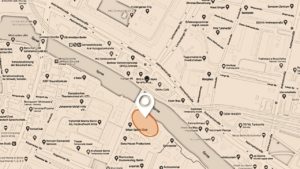 The architectural office Gnädinger Architekten won the competition for the design of the Spree riverbank at the Michalkirch bridge in Kreuzberg. Administrative, commercial and residential areas were to be built on the previously fallow land.
WATER PROPERTY ON THE KREUZBERG BANK OF THE SPREE
The waterfront property on Michaelkirchstraße, which has been unused for years, is located in a rapidly changing district. Instead of brownfields and industrial plants, an exciting quarter with artists' studios, office buildings for start-ups as well as larger companies and areas for creative people has been created around the former inner-city border.
The issue of gentrification, rising rents and a lack of affordable housing is particularly worrying for the old-established residents of the quarter. Every new building project is therefore subjected to a critical review and its future use is examined in detail. 
THE "ELEMENTS" PROJECT SHOULD BE CREATED HERE
This was also the case with the "Elements" project, the future use of which envisaged a mix of residential units as well as commercial, office and administrative space. There were also to be rooms for gastronomy. The planned costs for the project amounted to around 32 million euros, with around 18,000 square meters of gross floor space.
The prize-winning design by the Gnädinger office envisaged several independent, polygonal buildings with four individually designed objects on the site. ARTPROJEKT GmbH was commissioned to develop the project, but has since sold the plot to another company. 
PRIZE-WINNING DESIGN WILL NOT BE IMPLEMENTED
In talks with the architectural office Gnädinger, it now turns out that the resale of the area also means that the office's award-winning design is no longer valid, as the future use of the site is once again completely open.
It is extremely annoying for residents and project participants that the area, which has been unused for years, is thus still in a deep slumber and that the laboriously worked out utilization concept as well as the design of the area must be tackled from scratch. The outcome of the project is therefore still completely open.