Auf dem Areal zwischen Friedrichstraße, Besselstraße und Markgrafenstraße in Kreuzberg hat sich in den vergangenen zehn Jahren viel verändert. Mehrere neue, anspruchsvolle Gebäude und Freiflächen sind entstanden.
Akademie des Jüdischen Museums in ehemaliger Lagerhalle
Gegenüber des weltberühmten Jüdischen Museums, wo einst ein Blumengroßhandel beheimatet war, befindet sich heute die Akademie des Jüdischen Museums, benannt nach dem einstigen US-Finanzminister Werner Michael Blumenthal.
Die Akademie ist in eine ehemalige Lagerhalle gezogen. Diese wurde aufwändig umgebaut und erweitert und bildet so einen architektonischen Gegenpol zum spektakulären, von Daniel Libeskind konzipierten, Museumsbau auf der anderen Straßenseite.
Kreative Wohn- und Geschäftshäuser
Um die heutige Akademie herum sind in den letzten Jahren kreativ konzipierte Wohn- und Geschäftshäuser errichtet worden, die sich angenehm vom viel zu häufig umgesetzten, monotonen Einerlei des Städtebaus absetzen.
In den Gebäuden direkt am Platz vor der Akademie befinden sich Restaurants, Fotostudios und Bistros. Dahinter sind neue Grünflächen und ein Spielplatz entstanden.
Taz und weitere Medienunternehmen am Besselpark
Direkt am Besselpark hat sich ein kleines Medienzentrum entwickelt. Das aufsehenerregende neue taz-Verlagsgebäude, welches wir bereits im Juni näher beleuchtet haben, wird flankiert von einem weiteren, kantig-avantgardistischen Bürogebäude, welches mehrere Medienunternehmen beheimatet, wie etwa den competitiononline Verlag oder den Arch + Verlag.
Auch der Besselpark selbst wird aktuell umgestaltet und modernisiert. Neue Parkwege und Sitzmöglichkeiten werden angelegt, Bäume und Hecken werden gepflanzt und Grünflächen erweitert. Ein attraktives Wohn- und Geschäftsviertel ist entstanden und wir noch weiterentwickelt.
Neue Grünflächen werden angelegt
Auf diesem übersichtlichen aber hervorragend konzipierten Areal lässt sich sehr gut beobachten, wie gelungene Stadtentwicklung aussieht und wie es gelingen kann, verschiedenartigste Architekturstile und räumliche Nutzungskonzepte sinnvoll miteinander zu verknüpfen.
Ein Ortsbesuch lohnt sich in jedem Fall.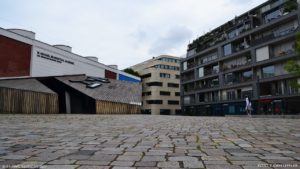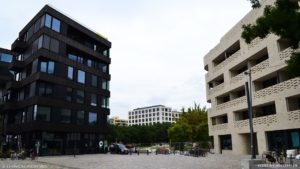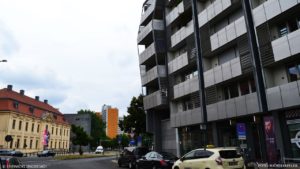 A lot has changed in the past ten years on the area between Friedrichstrasse, Besselstrasse and Markgrafenstrasse in Kreuzberg. Several new, sophisticated buildings and open spaces have been created.
ACADEMY OF THE JEWISH MUSEUM IN FORMER WAREHOUSE
Opposite the world-famous Jewish Museum, which was once home to a wholesale flower shop, is the Jewish Museum Academy, named after the former US Secretary of the Treasury Werner Michael Blumenthal.
The academy has moved into a former warehouse. It has been extensively renovated and extended, thus forming an architectural counterpoint to the spectacular museum building designed by Daniel Libeskind across the street.
CREATIVE RESIDENTIAL AND COMMERCIAL BUILDINGS
In recent years, creatively conceived residential and commercial buildings have been built around today's academy, which are a pleasant contrast to the boring monotony of urban planning that is all too often implemented.
In the buildings directly on the square in front of the academy there are restaurants, photo studios and bistros. Behind them, new green spaces and a playground have been created.
TAZ AND OTHER MEDIA COMPANIES AT BESSELPARK
A small media centre has developed directly at Besselpark. The sensational new taz publishing building, which we already illuminated in June, is flanked by another, angular-avant-garde office building, which is home to several media companies, such as competitiononline Verlag or Arch + Verlag.
The Besselpark itself is also currently being redesigned and modernised. New park paths and seating areas are being created, trees and hedges are being planted and green spaces are being expanded. An attractive residential and business district has been created and is being further developed.
NEW GREEN SPACES ARE BEING CREATED
In this clearly arranged but excellently designed area, it is easy to see what successful urban development looks like and how it is possible to combine the most diverse architectural styles and spatial usage concepts in a meaningful way.
A visit to the site is worthwhile in any case.