Auf einem gut ein Quadratkilometer großen Areal zwischen Leipziger Straße im Norden, dem Landwehrkanal im Süden, der Wilhelmstraße im Westen und der Lindenstraße im Osten befanden sich bis zum Zweiten Weltkrieg rund 500 Betriebe der Druckereibranche. Es war das legendäre Berliner Zeitungsviertel.
Setzereien, Druckereien, Anzeigenbüros und Redaktionen
Setzereien, kleine und große Druckereien, Anzeigenbüros, Vertriebsbüros und natürlich unzählige Redaktionen hatten hier ihren Sitz, vor allem die drei Berliner Großverlage Scherl, Ullstein und Mosse waren hier ansässig.
Das Berliner Zeitungsviertel war Ende des 19. Jahrhunderts im Zuge der Industrialisierung der Druckbranche entstanden und galt – vergleichbar zum New Yorker Times Square und der Londoner Fleet Street – als Synonym für modernes Pressewesen und gehörte zu den führenden, städtischen Medienquartieren weltweit.
Im Zweiten Weltkrieg wurde das Gebiet durch einen alliierten Luftangriff am 3. Februar 1945 stark zerstört. Zudem veränderte der Bau der Berliner Mauer ab 1961 die Situation grundlegend, da der Grenzverlauf zwischen Ost und West direkt mitten durch das einstige Zeitungsviertel lief.
Zerstörung im Zweiten Weltkrieg, Teilung durch den Mauerbau
Der Großteil der Verlage und Druckereien wurde in den folgenden Jahrzehnten geschlossen oder siedelten sich an anderen Standorten der beiden Stadthälften an – oder aber gänzlich außerhalb Berlins. Zudem entstanden in der Folge völlig neue Titel und auch neue Verlagsgruppen, unter völlig neuen Voraussetzungen, die die Teilung Berlins und Deutschlands mit sich brachten.
Axel Springer war nach dem Mauerbau und dem Bau des berühmten Axel-Springer-Hochhauses (Anfang der 60er Jahre) direkt am Grenzstreifen das einzig verbliebene Medienunternehmen im Quartier. Unternehmensgründer Axel Springer ließ das Hochhaus absichtlich direkt an den Mauerstreifen setzen, um auf der anderen Seite des eisernen Vorhangs sichtbar zu sein. Als Reaktion darauf ließ die SED-Regierung die heute ebenfalls noch bestehenden Wohntürme an der Leipziger Straße bauen.
Axel Springer und taz als letzte Medienhäuser im ehemaligen Zeitungsviertel
Ab Ende der 70er Jahre gesellte sich die linksorientierte Tageszeitung taz hinzu, die ihren Sitz in der Kochstraße (heute Rudi-Dutschke-Straße) hatte und damit in direkter Nachbarschaft zur wenig geliebten "Springer-Presse". Ein Status Quo, der sich über mehrere Dekaden hinweg nicht ändern sollte.
Neben dem Axel Springer Verlag mit seinen Titeln BILD, B.Z., DIE WELT und Berliner Morgenpost gab es – nach dem Mauerfall – zwei weitere, große Verlagsgruppen, die auf dem Berliner Zeitungsmarkt im Konkurrenzkampf mit Axel Springer und taz standen: Der Tagesspiegel (heute zugehörig zur Holtzbrinck-Gruppe) und die Berliner Zeitung.
Die Berliner Zeitung war bis vor wenigen Jahren in ihrem bekannten, ikonischen Stammhaus an der Karl-Liebknecht-Straße am Alexanderplatz beheimatet. Nach mehreren Umstrukturierungen und Eigentümerwechseln musste der gesamte Berliner Verlag im Mai 2016 das traditionsreiche Verlagshaus verlassen. Es wird derzeit für eine anderweitige Nutzung umgebaut. Der bekannte, rotierende Schriftzug, der sich auf dem Gebäude befindet, wird immerhin erhalten bleiben.
Neue Bewegung auf dem Gebiet des alten Zeitungsviertels
Der Berliner Verlag, mittlerweile in Besitz des Unternehmerpaares Silke und Holger Friedrich, ist in die Alte Jakobstraße 105 gezogen und sitzt nun direkt zwischen Mitte und Kreuzberg in einem neu errichteten Eckgebäude. 2016 formulierte die Chefredaktion des Verlags den Umzug wie folgt: "Der Neubau in zentraler Lage(…) ist mit modernster technologischer Infrastruktur ausgerüstet und bietet flexible technische sowie räumliche Lösungen."
Was für den in finanzielle Schieflage geratenen Verlag sicher eine Notlösung war, führte räumlich dazu, dass die Verlagsgruppe mittlerweile nur wenige Fußminuten vom Verlagsgebäude der Axel Springer SE entfernt liegt. Eine Konstellation, welche für die Mitarbeiter des einstigen Ost-Berliner Verlags vor wenigen Jahren sicher undenkbar gewesen wäre.
Auf der anderen Seite Kreuzbergs, am Askanischen Platz, sitzt seit 2009 Der Tagesspiegel und einige Abteilungen der ZEIT Gruppe. Beide Medien gehören zur Holtzbrinck Mediengruppe. Vorher hatte der Tagesspiegel an der Potsdamer Straße residiert. Nun sind die Häuser von Axel Springer, taz und Berliner Zeitung fußläufig erreichbar und kreieren damit ein neues Berliner Zeitungsviertel.
Konzentration der Berliner Medienunternehmen in Mitte und Kreuzberg
Bis auf den Umzug der Berliner Morgenpost und der B.Z. an den Kurfürstendamm (im Zuge des Verkaufs der Titel an die FUNKE Mediengruppe) hat es in den vergangenen Jahren also eine Konzentration der großen Medienunternehmen in Kreuzberg und Mitte gegeben. Damit aber nicht genug: Sowohl die Axel Springer SE als auch die taz haben in den vergangenen Jahren aufsehenerregende Neubauten realisieren können.
Die Axel Springer SE, die mit dem Hochhaus und der Axel Springer Passage bereits über zwei dominante Gebäude im Viertel verfügen, haben einen von Rem Koolhaas konzipierten Neubau errichten lassen, der ein völlig neues Arbeiten verspricht. Hier ist ein riesiger Monolit entstanden, der eine zuvor jahrzehntelang brachliegende Freifläche füllt und die Beziehungen zwischen den Gebäuden völlig neu ordnet.
Axel Springer und taz bauen neue, spannende Verlagshäuser
Die taz hingegen hat ihren Standort in der Rudi-Dutschke-Sraße aufgegeben und ist ein paar Meter weiter gezogen. In der südlichen Friedrichstadt, direkt an der Friedrichstraße, ist ein innovativer, kantiger Neubau nach Plänen der Züricher Architekten E2A entstanden. Im einstmals sehr beliebten taz Mitarbeiter-Restaurant in der Rudi-Dutschke-Straße ist nun ein nicht weniger gelungenes Café eingezogen: das Betahaus.
Die Medienbranche gehört zu den Wirtschaftsbereichen, die durch die Digitalisierung am intensivsten betroffen waren und sind. Auflagenverluste, Umstrukturierungen und Konsolidierungen in großem Umfang prägen den Markt seit fast zwanzig Jahren. Umso erfreulicher ist es, dass es trotz aller Widrigkeiten noch immer viele Medienunternehmen gibt, die innovative und mutige Wege gehen.
In Berlins Mitte kann man dies nun wieder auf engstem Raum beobachten, in der Tradition des einstmals unvergleichlichen Berliner Zeitungsviertels. Dessen Geschichte ist mitnichten vorüber. Es werden neue Kapitel geschrieben, allen Krisen zum Trotz. Und das ist eine gute Nachricht.
(Titelbild: Das neue Verlagsgebäude der "taz")
Neue Optik: Ram Koolhaas' beeindruckender Axel Springer Neubau
Alt und neu: Das Axel Springer Hochhaus steht direkt neben dem verglasten Neubau
Am Askanischen Platz sitzt seit über zehn Jahren Der Tagesspiegel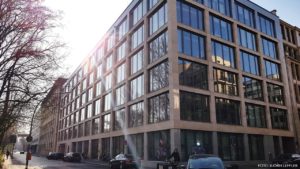 Der Berliner Verlag residiert seit 2016 in der Jakobstraße
Until the Second World War, around 500 companies in the printing industry were located on an area of over one square kilometre between Leipziger Strasse in the north, the Landwehrkanal in the south, Wilhelmstrasse in the west and Lindenstrasse in the east. It was the legendary Berlin newspaper district.
TYPESETTERS, PRINTING PLANTS, ADVERTISING OFFICES AND EDITORIAL OFFICES
Typesetters, small and large printers, advertising agencies, sales offices and of course countless editorial offices were based here, especially the three major Berlin publishing houses Scherl, Ullstein and Mosse were based here.
Berlin's newspaper district was created at the end of the 19th century in the course of the industrialisation of the printing industry and was considered – comparable to New York's Times Square and London's Fleet Street – to be synonymous with modern press and was one of the leading urban media districts worldwide.
During the Second World War, the area was badly damaged by an Allied air raid on 3 February 1945. In addition, the construction of the Berlin Wall in 1961 changed the situation fundamentally, as the border between East and West ran right through the middle of the former newspaper district.
DESTRUCTION IN THE SECOND WORLD WAR, DIVISION BY THE WALL
Most of the publishing houses and printing houses were closed down in the following decades or settled in other locations in the two halves of the city – or even completely outside Berlin. In addition, completely new titles and also new publishing groups emerged as a result, under completely new conditions, which were brought about by the division of Berlin and Germany.
Axel Springer was the only remaining media company in the neighborhood after the construction of the Wall and the famous Axel Springer high-rise (early 1960s) directly on the border strip. Company founder Axel Springer deliberately had the high-rise building built directly on the border strip to be visible on the other side of the Iron Curtain. As a reaction to this, the SED government had the residential towers on Leipziger Strasse, which also still exist today, built.
AXEL SPRINGER AND TAZ AS LAST MEDIA HOUSES IN THE FORMER NEWSPAPER DISTRICT
From the end of the 1970s, the left-oriented daily newspaper taz joined the group, which had its headquarters in Kochstraße (today Rudi-Dutschke-Straße) and was thus in the direct vicinity of the little-known "Springer-Presse". A status quo that was not to change for several decades.
In addition to Axel Springer Verlag with its titles BILD, B.Z., DIE WELT and Berliner Morgenpost, there were – after the fall of the Wall – two other large publishing groups competing with Axel Springer and taz on the Berlin newspaper market: Der Tagesspiegel (today part of the Holtzbrinck Group) and Berliner Zeitung.
Until a few years ago, the Berliner Zeitung was based in its well-known, iconic headquarters on Karl-Liebknecht-Strasse on Alexanderplatz. After several restructurings and changes of ownership, the entire Berliner Verlag had to leave the traditional publishing house in May 2016. It is currently being converted for other uses. The familiar rotating lettering on the building will at least be retained.
NEW MOVEMENT IN THE AREA OF THE OLD NEWSPAPER DISTRICT
The Berliner Verlag, now owned by the entrepreneurial couple Silke and Holger Friedrich, has moved to Alte Jakobstraße 105 and is now located directly between Mitte and Kreuzberg in a newly constructed corner building. In 2016, the editor-in-chief of the publishing house formulated the move as follows: "The new building in a central location (…) is equipped with the most modern technological infrastructure and offers flexible technical and spatial solutions."
What was certainly an emergency solution for the publishing house, which had got into financial difficulties, has resulted in the publishing group now being located only a few minutes' walk from the Axel Springer SE publishing building. A constellation that would certainly have been unthinkable for the employees of the former East Berlin publishing house a few years ago.
On the other side of Kreuzberg, on Askanischer Platz, Der Tagesspiegel and several departments of the ZEIT Group have been located since 2009. Both media belong to the Holtzbrinck Media Group. Previously, the Tagesspiegel was located on Potsdamer Strasse. Now the houses of Axel Springer, taz and Berliner Zeitung are within walking distance, creating a new newspaper district in Berlin.
CONCENTRATION OF BERLIN'S MEDIA COMPANIES IN MITTE AND KREUZBERG
With the exception of the move of the Berliner Morgenpost and B.Z. to the Kurfürstendamm (in the course of the sale of the titles to the FUNKE Media Group), there has thus been a concentration of large media companies in Kreuzberg and Mitte in recent years. But that is not all: Both Axel Springer SE and the taz have been able to realize sensational new buildings in recent years.
Axel Springer SE, which already has two dominant buildings in the quarter in the form of the high-rise and the Axel Springer Passage, has had a new building designed by Rem Koolhaas erected, which promises a completely new way of working. A huge monolith has been created here, which fills an open space that had previously lay fallow for decades and completely reorganizes the relationships between the buildings.
AXEL SPRINGER AND TAZ BUILD NEW, EXCITING PUBLISHING HOUSES
The taz, on the other hand, has abandoned its location in Rudi-Dutschke-Strasse and moved a few metres further on. In the southern part of Friedrichstadt, directly on Friedrichstrasse, an innovative, angular new building has been constructed according to the plans of the Zurich architects E2A. In the once very popular taz staff restaurant in Rudi-Dutschke-Strasse, a no less successful café has now moved in: the Betahaus.
The media industry is one of the economic sectors that has been and still is most intensively affected by digitalisation. Circulation losses, restructuring and consolidation on a large scale have characterised the market for almost twenty years. It is therefore all the more gratifying that, despite all the adversities, there are still many media companies that are taking innovative and courageous paths.
In the centre of Berlin, this can now once again be observed in a very small area, in the tradition of the once incomparable Berlin newspaper district. Its history is by no means over. New chapters are being written, despite all the crises. And that is good news.
(Cover photo: The new "taz" publishing building)