An der Neuköllner Hermannstraße 84-90 in Berlin-Neukölln errichtet die Schöpflin-Stiftung einen Neubau für gemeinnützigen Journalismus. Das Gebäude ist bereits im Bau.
Am Rand des Friedhofs "Jerusalem V" entstehen zwei Gebäude. Ursprünglicher Eigentümer des Grundstücks direkt am Friedhof war der evangelische Friedhofsverband, der in den vergangenen Jahren viele Flächen, die nicht mehr für Bestattungen gebraucht werden, veräußert hat.
Grundstück gehörte ursprünglich der evangelischen Kirche
So entsteht beispielsweise quer gegenüber des Neubaus ebenfalls ein neues Gebäude: ein Schulungszentrum des Bundesverbands Deutscher Gartenfreunde. Der Neubau der Schöpflin-Stiftung hat gänzlich andere Hintergründe.
Die Schöpflin Stiftung, deren Hauptsitz sich in Lörrach befindet, engagiert sich nach eigener Aussage für "kritische Bewusstseinsbildung, eine lebendige Demokratie sowie eine vielfältige Gesellschaft". Neben dem Bau für gemeinnützigen Journalismus wird noch ein weiteres Gebäude realisiert.
Schöpflin-Stiftung realisiert das Projekt
In diesem zweiten Neubau soll es darum gehen, Natur und Kultur in Einklang zu bringen und Projekte zu fördern, die sich für einen ökologischen Wandel einsetzen. Das Projekt firmiert unter dem Titel "Spore-Initiative".
Stiftungsgeschäftsführer Tim Göbel sagt über den Neubau für gemeinnützigen Journalismus: "Das Gebäude soll für Meinungsvielfalt und Meinungsfreiheit stehen, neue Gründungen fördern und freien Journalisten einen Platz bieten, an dem sie ohne Druck arbeiten und Netzwerke knüpfen können." Beide Gebäude entstehen in unmittelbarer Nähe zum Friedhofseingang.
Zahlreiche weitere Neubauprojekte im Medienbereich
Der Neubau an der Hermannstraße ist nicht das einzige Neubauprojekt Berlins, welches sich der Medienbranche zuzurechnen ist. Auch die taz hat in Kreuzberg einen spektakulären Neubau errichtet, wie auch deren Konkurrent, die Axel Springer SE, an der Zimmerstraße, ebenfalls in Kreuzberg.
Wenige Meter weiter, im Besselpark, sind in den vergangenen Jahren ebenfalls neue Gebäude mit medialer Nutzung entstanden. Hier sitzen unter anderem Unternehmen wie der competitiononline Verlag oder den Arch + Verlag.
Und an der Torstraße ist im vergangenen Jahr das neue Verlagshaus der Verlagsgruppe Suhrkamp fertiggestellt worden. Noch nicht im Bau, aber schon in Planung, ist die Errichtung des neuen RBB Medienhauses an der Masurenallee in Charlottenburg.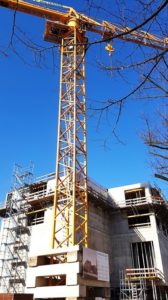 The Schöpflin Foundation is constructing a new building for non-profit journalism at Hermannstrasse 84-90 in Berlin-Neukölln. The building is already under construction.
Two buildings are being constructed on the edge of the "Jerusalem V" cemetery. The original owner of the land directly adjacent to the cemetery was the Protestant cemetery association, which in recent years has sold off many areas that are no longer needed for burials.
LAND ORIGINALLY BELONGED TO THE EVANGELICAL CHURCH
For example, a new building is also being constructed across the street from the new building: a training center for the Federal Association of German Garden Friends. The new building of the Schöpflin Foundation has a completely different background.
According to its own statement, the Schöpflin Foundation, whose headquarters are in Lörrach ,n is committed to "critical consciousness-raising, a living democracy, and a diverse society." In addition to the building for non-profit journalism, another building is being realized.
SCHÖPFLIN FOUNDATION REALIZES THE PROJECT
This second new building is intended to bring nature and culture into harmony and to promote projects that are committed to ecological change. The project goes under the title "Spore Initiative".
Foundation Managing Director Tim Göbel says of the new building for non-profit journalism: "The building is intended to stand for diversity of opinion and freedom of expression, promote new start-ups and offer freelance journalists a place where they can work and network without pressure."
NUMEROUS OTHER NEW CONSTRUCTION PROJECTS IN THE MEDIA SECTOR
The new building on Hermannstrasse is not the only new construction project in Berlin that can be attributed to the media sector. The taz newspaper has also built a spectacular new building in Kreuzberg, as has its competitor, Axel Springer SE, on Zimmerstrasse, also in Kreuzberg.
A few meters away, in Besselpark, new buildings with media use have also been built in recent years. Companies such as competitiononline Verlag and Arch + Verlag are based here.
And on Torstrasse, the new publishing house of the Suhrkamp publishing group was completed last year. Not yet under construction, but already in the planning stage, is the construction of the new RBB Medienhaus on Masurenallee in Charlottenburg.