Am Schlossplatz wird seit wenigen Tagen der lang erwartete Rückbau der Gerüste an der Kuppel und am Eosanderportal vollzogen. Erstmals ist nun also ein freier Blick auf die rekonstruierte Kuppel des 1950 gesprengten und vollständig abgeräumten, einstigen Berliner Stadtschlosses zu sehen.
Die Kuppel wird noch eine Laterne und ein Kreuz erhalten
Wie geplant soll der Bau der Kuppel im Mai abgeschloss werden. Nach historischem Vorbild wird die bronzeverkleidete Kuppel auch die sogenannte "Laterne" und ein Kreuz erhalten. Um die Installation eines christlichen Kreuzes hatte es lange, öffentliche Diskussionen gegeben, da viele Bürger und Verbände die Anbringung eines religiösen Symbols an einem öffentlichen Museumsbau als unpassend empfanden.
Letztlich setzen sich die Traditionalisten in diesem Punkt durch. Da die Kuppel rein durch private Spenden finanziert wird, gab es wenige wirklich stichhaltige Argumente gegen die historisch korrekte Rekonstruktion.
Fortschritt auf der Baustelle, aber Verzögerung durch Corona
Wie wir bereits in der vergangenen Woche berichtet hatten, ist der Fortschritt auf der Schloss-Baustelle also immer deutlicher sichtbar, dennoch wird es eine verzögerte Eröffnung des Projekts geben, bedingt durch die Corona-Krise. Wie das rekonstruierte Schloss zukünftig aussehen wird, kann man sich nun aber umso besser vorstellen.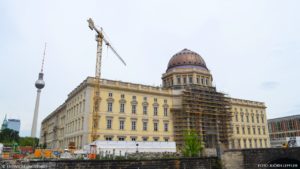 On Schlossplatz, the long awaited dismantling of the scaffolding on the dome and the Eosander portal has been underway for a few days now. For the first time, a clear view of the reconstructed dome of the former Berliner Stadtschloss, which was blown up and completely cleared away in 1950, can now be seen.
THE DOME WILL STILL HAVE A LANTERN AND A CROSS
As planned, the construction of the dome should be completed in May. Following the historical model, the bronze-clad dome will also receive the so-called "lantern" and a cross. There had been long, public discussions about the installation of a Christian cross, as many citizens and associations found it inappropriate to attach a religious symbol to a public museum building.
In the end, the traditionalists prevailed on this point. Since the dome is financed purely by private donations, there were few really valid arguments against the historically correct reconstruction.
PROGRESS ON THE CONSTRUCTION SITE, BUT DELAY DUE TO CORONA
So, as we reported last week, progress on the castle construction site is becoming increasingly visible, but there will still be a delayed opening of the project due to the corona crisis. However, it is now even easier to imagine what the reconstructed castle will look like in the future.