Schon in unseren Artikeln vom 5. Juni und 9. September hatten wir über ein hohes Bauaufkommen am Moabiter und Charlottenburger Spree-Ufer berichtet. Ein bereits fertiggestelltes Projekt ist das Wohn- und Geschäftshaus "Spree One" am Salzufer.
Nöfer Architekten entwarfen das "Spree One"
Wo Land­wehr­ka­nal und Spree zusammenfließen, im nörd­li­chen Teil Char­lot­ten­burgs, ist das Neubauprojekt nach Plänen des Architekturbüros Nöfer entstanden. Das ge­mischt ge­nutz­te Haus mit 155 Woh­nun­gen, Bü­ros, Lä­den und ei­ner Kin­der­ta­ges­stät­te er­setzt ei­nen Bau aus den 60er Jah­ren, der für das Projekt weichen musste.
Das ursprünglich voll­stän­dig über­bau­te Grund­stück wurde im Rahmen des Umbaus ent­sie­gelt und er­hielt ei­ne abwechslungsreichere, städ­te­bau­li­che Fi­gur, die neue Stadt­räu­me ent­ste­hen lassen soll.
Bau aus den 60er Jahren wurde abgerissen
Im Erdgeschoss, welches an der Dovestraße liegt, ist ein Supermarkt eingezogen. Auf dessen Dach wurde ein begrünter Innenhof angelegt. Ein weiterer Garten ist auf der Westseite des Grundstücks entstanden.
Die ho­ri­zon­ta­le Glie­de­rung der Fas­sa­de wird von hochwertigen, gel­ben Zie­gel­bän­dern ge­prägt, die mit ver­putz­ten Ge­sim­sen al­ter­nie­ren. Nachts wird das Gebäude teilweise illuminiert, was neue Perspektiven ermöglicht.
Insgesamt sind in dem Gebäude, welches zwischen 2014 und 2018 entstanden ist, 21.000 Quadratmeter Bruttogeschossfläche entstanden. Nicht nur architektonisch, sondern auch durch die gemischte Nutzung der Gebäudeteile ist das "Spree One" ein Gewinn für den umliegenden Stadtteil.
Bilder: © Maximilian Meisse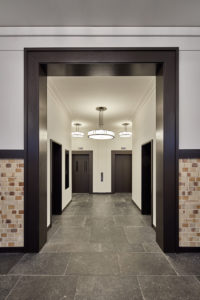 In our articles of June 5 and September 9 we had already reported on a high level of construction activity on the banks of the Spree in Moabit and Charlottenburg. An already completed project is the residential and commercial building "Spree One" on the Salzufer.
NÖFER ARCHITECTS DESIGNED THE "SPREE ONE"
Where the Landwehrkanal and the Spree flow together, in the northern part of Charlottenburg, the new building project was designed by the architectural office Nöfer. The mixed-use building with 155 apartments, offices, stores and a daycare center for children replaces a building from the 1960s that had to make way for the project.
The originally completely overbuilt site was unsealed in the course of the conversion and was given a more varied, urbanistic figure, which is intended to create new urban spaces. 
BUILDING FROM THE 60S WAS DEMOLISHED
On the first floor, which is located on Dovestraße, a supermarket has moved in. On its roof, a green inner courtyard was created. Another garden has been created on the west side of the property. 
The horizontal structure of the facade is characterized by high-quality yellow brick bands alternating with plastered cornices. At night, the building is partially illuminated, which allows new perspectives. 
A total of 21,000 square meters of gross floor area have been created in the building, which was constructed between 2014 and 2018. Not only architecturally, but also due to the mixed use of the building sections, the "Spree One" is an asset for the surrounding district.