ENGLISH VERSION: BELOW
Auf dem Gelände des ehemaligen "Eiswerk" an der Köpenicker Straße 40/41 errichtet das Unternehmen Trockland ein Gebäudeensemble, welches sich von der Köpenicker Straße bis zur Spree erstrecken wird. Das Projekt wird direkt an der Bezirksgrenze zwischen Mitte und (Friedrichshain-)Kreuzberg umgesetzt, liegt aber auf dem Gebiet des Bezirks Mitte.
Auf dem einstigen Industrie-Areal entstehen drei Gebäudekörper nach Plänen des Architekturbüros "Graft", in denen Büroräume, Wohnungen und Gewerbeflächen entstehen sollen. Die Kooperation der zwei Unternehmen, die in Berlin noch weitere, spannende Projekte umsetzen oder umgesetzt haben, ist eine komplette Neuerfindung für das seit 1995 brachliegende Areal.
Wohnungen, Büros und Gewerbeflächen entstehen
Die insgesamt 11.000 Quadratmeter große Gesamtanlage bestand aus zwei Höfen mit Wohn- und Fabrikanlage. In der Eisfabrik wurde seit 1896 künstliches Eis produziert, seit 1914 mit einer Eismaschine der Halleschen Maschinenfabrik und Eisengießerei "Stangeneis", was für die damals rasant wachsende Stadt Berlin von nicht zu unterschätzender Bedeutung war.
Bis Mitte der 90er Jahre wurde auf dem längst marode gewordenen Fabrikgelände noch Eis produziert, seitdem stand das unter Denkmalschutz stehende Gelände leer. Ursprüngliche Pläne sahen vor, die noch verbliebenen Gebäude abzureißen.
Abrisspläne wurden nicht verwirklicht
Dies ist glücklicherweise nicht passiert. Das derzeit von "Trockland" und "Graft" vorangetriebene Projekt mit dem Namen "EISWERK" dehnt sich über die ehemals verlassene Grundstücksfläche der historischen Eisfabrik aus.
Das zu entwickelnde Areal besteht aus einem ehemaligen Kühlhaus sowie einem Wohngebäude mit Seiten- und Mittelflügel. Die eigentliche Eisfabrik mit dem markanten Schornstein, die dem Projekt und dem Areal ihren Namen gibt, gehört hingegen nicht zum Grundstück.
Ein Teil des Projekts ist fertiggestellt: "Techspace" ist erster Mieter
Ein Teil des Projekts ist bereits fertiggestellt und hat schon den ersten Ankermieter gefunden. Eingezogen ist der Coworkinganbieter Techspace. Das britische Unternehmen mit Sitz in London hat im "Techspace Eiswerk" Platz für 700 Menschen.
Die Arbeiten am Projekt gehen allerdings noch weiter, denn es entstehen im "EISWERK" nicht ausschließlich Büroflächen. Im einstigen, historischen "Kühlhaus", welches in den Neubau integriert wird, entstehen loftartige Flächen für die Kultur- und Kreativwirtschaft. Direkt an der Köpenicker Straße entsteht zudem das bereits erwähnte Wohnhaus.
Geplante Fertigstellung: 2022
Die für das Projekt verantwortlichen Architekten des Büros "Graft" haben sich bei der Konzeption des Gebäudeensembles von der Geschichte der ehemaligen Eisfabrik und vom Dialog zwischen Historie und Moderne leiten lassen, was diesem spannenden Projekt an vielen Stellen deutlich anzumerken ist. Die Fertigstellung des gesamten Projekts ist für das Jahr 2022 geplant.
Wer mehr über die Arbeit des Architekturbüros "Graft" erfahren möchte, kann dies im kürzlich erschienen Buch "Identity: New Commercial, Cultural and Mobility Architecture" tun.
© Grafiken / Fotos: Graft Gesellschaft von Architekten mbH / Trockland Management GmbH 
Bilder von der Baustelle: Noch wird bis 2022 gebuddelt und gebaut, bis das gesamte Projekt fertiggestellt ist.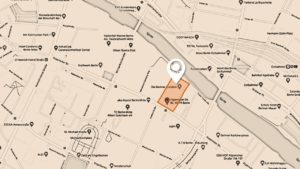 On the site of the former "Eiswerk" at Köpenicker Straße 40/41, the company "Trockland" is constructing an ensemble of buildings that will extend from Köpenicker Straße to the Spree River. The project will be implemented directly on the district border between Mitte and (Friedrichshain-)Kreuzberg, but is located in the area of the Mitte district.
On the former industrial site, three building structures are being constructed according to plans by the architectural firm "Graft", in which office space, apartments and commercial areas are to be created. The cooperation of the two companies, which are realizing or have realized other exciting projects in Berlin, is a complete reinvention for the area, which has lain fallow since 1995.
APARTMENTS, OFFICES AND COMMERCIAL SPACE TO BE BUILT
The total 11,000-square-meter site consisted of two courtyards with residential and factory facilities. Artificial ice had been produced in the ice factory since 1896, since 1914 with an ice machine from the Hallesche Maschinenfabrik und Eisengießerei "Stangeneis", which was of no small importance for the then rapidly growing city of Berlin.
Ice was still produced on the factory site, which had long since fallen into disrepair, until the mid-1990s, since when the listed site has stood empty. Original plans called for the remaining buildings to be demolished.
DEMOLITION PLANS WERE NOT REALIZED
Fortunately, this did not happen. The project currently being pushed forward by "Trockland" and "Graft", called "EISWERK", extends over the formerly abandoned site of the historic ice factory.
The area to be developed consists of a former cold store and a residential building with side and middle wings. The actual ice factory with its distinctive chimney, however, which gives the project and the area its name, is not part of the property.
PART OF THE PROJECT IS COMPLETED: "TECHSPACE" IS THE FIRST TENANT
Part of the project has already been completed and has already found its first anchor tenant. The coworking provider Techspace has moved in. The British company, based in London, has space for 700 people in the "Techspace Eiswerk."
Work on the project continues, however, because the "EISWERK" will not be exclusively office space. In the former, historic "Kühlhaus," which will be integrated into the new building, loft-like spaces for the cultural and creative industries are being created. The residential building mentioned above is also being built directly on Köpenicker Strasse.
Planned Completion: 2022
The architects of the office "Graft", who are responsible for the project, have been guided by the history of the former ice factory and the dialogue between history and modernity in the conception of the building ensemble, which is clearly noticeable in many places of this exciting project. Completion of the entire project is scheduled for 2022.
Those who would like to learn more about the work of the architecture firm "Graft" can do so in the recently published book "Identity: New Commercial, Cultural and Mobility Architecture".