Es ist ja nicht so, dass Berlin arm an Museen oder Kultureinrichtungen wäre. Berlin ist die einzige Stadt der Welt, die sich drei Opernhäuser leistet und bietet seinen Einwohnern und Besuchern mit der Museumsinsel schon heute einen der bedeutsamsten Museumsstandorte der Welt an.
Damit aber nicht genug. Direkt nebenan entsteht schon der nächste Kulturtempel, das Humboldt-Forum im Mantel der einstigen Stadtschloss-Fassaden. Trotz Corona-Krise und Brand-Zwischenfall geht man noch immer von einer Eröffnung dieses prestigeträchtigen sowie umstrittenen Projekts bis Ende 2020 aus.
Umstrittenstes Kulturprojekt der letzten Jahre
Umstritten sind in Berlin viele Bauprojekte, womit hier ausdrücklich nicht der allzu oft bemühte "BER"-Neubau in Schönefeld gemeint ist.  Es ist vielmehr die Rede vom "Museum der Moderne", welches sich anschickt, Berlins nächstes Mega-Kulturprojekt zu werden. Wenn das Humboldtforum nach jahrzehntelanger Planung im Herbst 2020 endlich eröffnen wird, wird einige Kilometer weiter – auf dem Kulturforum, direkt hinter dem Potsdamer Platz – der Bau des nächsten Museums der Superlative in Angriff genommen.
Geplant ist, im zukünftigen "Museum der Moderne" international bedeutende Bestände erstmals dauerhaft und gemeinsam zu präsentieren: die Bestände der Nationalgalerie zur Kunst des 20. Jahrhunderts, die Sammlungen Marx und Pietzsch, Teile der bei den Staatlichen Museen verankerten Sammlung Marzona sowie Werke aus dem Kupferstichkabinett.
Der Neubau wird als Ergänzung der Neuen Nationalgalerie funktionieren
Dabei sollen die Werke sowohl im Sockelgeschoss der Neuen Nationalgalerie (die noch in diesem Jahr nach fünfjähriger Grundsanierung wiedereröffnet wird) als auch und vor allem in den Ausstellungsräumen des Neubaus ausgestellt werden.
Der Neubau, der vom Architekturbüro Herzog de Meuron konzipiert wurde, fungiert also gewissermaßen als Erweiterung der von Ludwig Mies van der Rohe entworfenen Neuen Nationalgalerie, die als einer der bedeutendsten Museumsbauten der Nachkriegszeit gilt.
Herzog de Meuron gewann den Architekturwettbewerb
Der flache Entwurf von Herzog de Meuron, die in Berlin unter anderem das neue Viertel "Am Tacheles" entworfen haben, welches aktuell gebaut wird, wurde in den Medien und der Öffentlichkeit heftig diskutiert.
Das Büro selbst äußert sich zum Projekt wie folgt: "Das Museum der Moderne wird die Neue Nationalgalerie ergänzen. Beide Häuser werden in Zukunft ein angemessen großer Standort für die Kunst des 20. Jahrhunderts sein. Mit dem Neubau werden die Voraussetzungen dafür geschaffen, dass die international bedeutenden Bestände der Nationalgalerie gezeigt (…) werden können."
Inzwischen hat auch der Künstler Gerhard Richter zugesagt, eine große Zahl an Werken für einen eigenen Richter-Saal im neuen Museum zur Verfügung zu stellen, was dem Projekt zusätzlichen Aufwind gibt.
Diskutable Kostenplanung – Fertigstellung bis 2026
Um die Kostenplanung für das Museum hatte es lang anhaltende Diskussionen gegeben, da die ersten Kostenschätzungen deutlich zu gering angesetzt waren. Die jetzt vorliegende Berechnung geht von Baukosten in Höhe von 364 Mio. Euro für den Neubau aus. Auf Basis dieser Planungen ist die Fertigstellung des Gebäudes für das Jahr 2026 vorgesehen. Der erste Spatenstich ist im Herbst 2019 erfolgt.
Mit freundlicher Genehmigung der Stiftung Preußischer Kulturbesitz sowie des Architekturbüros Herzog de Meuron zeigen wir hier eine ausführliche Visualisierung des zukünftigen Museumsbaus, der das bis heute unvollendet und unstrukturiert wirkende Kulturforum komplettieren soll.
© Sämtliche Grafiken: Stiftung Preußischer Kulturbesitz / Herzog de Meuron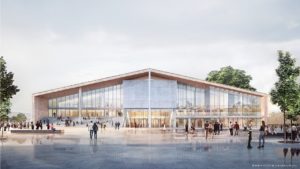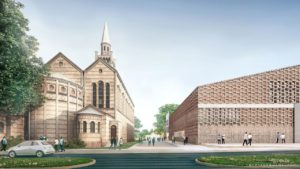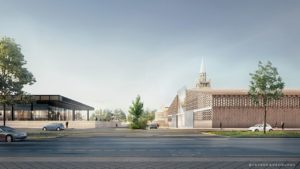 It's not that Berlin is poor in museums or cultural institutions. Berlin is the only city in the world that can afford three opera houses and already offers its inhabitants and visitors one of the most important museum locations in the world, the Museum Island.
But that is not all. Right next door, the next temple of culture is already under construction, the Humboldt Forum in the mantle of the former Stadtschloss facades. Despite the corona crisis and fire incident, this prestigious and controversial project is still expected to open by the end of 2020.
MOST CONTROVERSIAL CULTURAL PROJECT OF RECENT YEARS
There are many controversial building projects in Berlin, which explicitly does not refer to the "BER" new building in Schönefeld, which has been attempted all too often.  Rather, we are talking about the "Museum of Modernity" / "Museum der Moderne", which is about to become Berlin's next mega-cultural project. When the Humboldtforum finally opens in autumn 2020, after decades of planning, the construction of the next museum of superlatives will begin a few kilometres away – at the Kulturforum, directly behind Potsdamer Platz.
The plan is to present internationally important holdings for the first time permanently and jointly in the future "Museum der Moderne": the National Gallery's holdings of 20th century art, the Marx and Pietzsch Collections, parts of the Marzona Collection, which is firmly anchored in the National Museums, and works from the Museum of Prints and Drawings.
THE NEW BUILDING WILL FUNCTION AS AN ADDITION TO THE NEue NATIONALGALERIE
The works are to be exhibited both on the base floor of the Neue Nationalgalerie (which will reopen this year after five years of extensive renovation) and, above all, in the exhibition rooms of the new building.
The new building, which was designed by the architectural firm Herzog de Meuron, thus functions in a sense as an extension of the Neue Nationalgalerie designed by Ludwig Mies van der Rohe, which is considered one of the most important museum buildings of the post-war period.
Herzog DE MEURON WON THE ARCHITECTURAL COMPETITION
The flat design by Herzog de Meuron, who designed the new quarter "Am Tacheles" in Berlin, which is currently under construction, among other things, was the subject of heated debate in the media and among the public.
The office itself comments on the project as follows: "The Museum will complement the Neue Nationalgalerie. In the future, both buildings will be an appropriately large location for 20th century art. The new building will create the prerequisites for the internationally important holdings of the National Gallery to be shown (…)".
In the meantime, the artist Gerhard Richter has also agreed to make a large number of works available for a separate Richter Hall in the new museum, which gives the project additional impetus.
DISCUSSABLE COST PLANNING – COMPLETION BY 2026
There had been long-lasting discussions about the cost planning for the museum, as the initial cost estimates were clearly underestimated. The calculation now available assumes construction costs of 364 million euros for the new building. On the basis of these plans, the building is scheduled for completion in 2026. The ground-breaking ceremony took place in autumn 2019.
With the kind permission of the Prussian Cultural Heritage Foundation and the architectural office of Herzog de Meuron, we present here a detailed visualisation of the future museum building, which is intended to complete the Kulturforum, which still appears unfinished and unstructured today.
© All graphics: Stiftung Preußischer Kulturbesitz / Herzog de Meuron