Das Entwicklungsgebiet rund um die Mercedes-Benz-Arena gehört zu den am schnellsten wachsenden Arealen der Stadt. Innerhalb weniger Jahre sind hier vornehmlich Büro- und Gewerbeflächen entstanden. Zudem haben sich neben der bis zu 17.000 Zuschauer fassenden Arena weitere Entertainment-Angebote wie die kleinere Verti Music Hall, ein Multiplex-Kino und diverse Gastronomie-Angebote angesiedelt. Zudem wurde im vergangenen Jahr ein Einkaufszentrum mit dem Namen "East Side Mall" eröffnet.
Büroflächen, Entertainment, Gastronomie – und einige Wohnungen
Das Unternehmen Zalando besetzt einen Großteil der verfügbaren Büroflächen, mehrere tausend Mitarbeiter arbeiten hier täglich – und es werden mehr. Beim Streifzug durch die funktional gestalteten Gebäude wird deutlich, dass die aufsehenerregendsten Projekte erst noch kommen werden.
Das Hochhaus-Projekt Max & Moritz wird das Gelände genauso dominieren wie der 90 Meter hohe Neubau "Stream", welcher direkt neben der Mercedes-Benz-Arena entsteht. Das mit Abstand größte und prominenteste Projekt jedoch wird der Neubau des Towers "EDGE East Side Berlin", welcher zwischen East Side Mall und Warschauer Brücke entsteht und 140 Meter hoch werden soll.
Umstritten ist das gesamte Areal, wie auch viele einzelne Bauprojekte
Genauso umstritten wie dieses Gebäude ist das Neubauprojekt "Pier 61 | 63", welches direkt auf dem einstigen Mauerstreifen entsteht. "Umstritten" ist überhaupt eine passende Überschrift für das gesamte Areal. Während viele Bewohner der angrenzenden Friedrichshainer und Kreuzberger Kieze das neu geschaffene Areal ablehnen, bedeutet es für den Bezirk, dass hier attraktive Arbeitsplätze auf einem zuvor rudimentär genutzten Gelände entstanden sind.
Wenige alte Gebäude werden auf dem riesigen Gelände zwischen Ostbahnhof, Spree und Warschauer Brücke von neuen, meist kubusförmigen und sachlichen Neubauten eingefasst und mitunter beinahe verdrängt. An einigen Stellen funktioniert das Zusammenspiel zwischen Alt und Neu recht gut – wie etwa am Alten Postbahnhof. An anderen Stellen ist die Nüchternheit der Gebäude geradezu erdrückend.
Nüchternheit dominiert das Viertel
Es wird interessant zu beobachten sein, wie das neu entstehende Viertel wirken wird, wenn die kommenen Hochhausprojekte abgeschlossen und die letzten verbliebenen Lücken komplettiert sind. Aus heutiger Sicht wird klar, dass dem neuen Areal noch Seele und markante Orientierungspunkte fehlen. Nichtsdestotrotz finden sich in der Fülle der Neubauten auch gelungene Werke.
Eines wird beim Durchstreifen des Viertels deutlich: Ein Ende der Bautätigkeiten scheint längst nicht in Sicht zu sein. Viele Objekte sind noch im Bau, und einige wenige Baufelder sind noch unbebaut. Es wird sicher nicht lange so bleiben.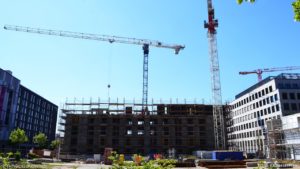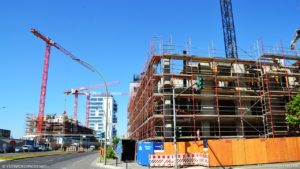 The development area around the Mercedes-Benz Arena is one of the fastest growing areas in the city. Within a few years, mainly office and commercial space has been created here. In addition to the arena, which can hold up to 17,000 spectators, other entertainment facilities such as the smaller Verti Music Hall, a multiplex cinema and various catering facilities have been established. In addition, a shopping centre called "East Side Mall" was opened last year.
OFFICE SPACE, ENTERTAINMENT, GASTRONOMY – AND SOME APARTMENTS
The Zalando company occupies a large part of the available office space, several thousand employees work here every day – and the number is growing. When strolling through the functionally designed buildings, it becomes clear that the most sensational projects are yet to come.
The high-rise Max & Moritz project will dominate the site, as will the 90-meter-high new "Stream" building, which is being constructed directly next to the Mercedes-Benz Arena. By far the largest and most prominent project, however, will be the new "EDGE East Side Berlin" tower, which is being built between the East Side Mall and the Warsaw Bridge and will be 140 metres high.
THE ENTIRE AREA IS CONTROVERSIAL, AS ARE MANY INDIVIDUAL CONSTRUCTION PROJECTS
Just as controversial as this building is the new construction project "Pier 61 | 63", which is being built directly on the former strip of wall. "Controversial" is even a fitting title for the entire area. While many residents of the neighboring Friedrichshain and Kreuzberg neighborhoods reject the newly created area, for the district it means that attractive jobs have been created here on a previously rudimentarily used site. 
A few old buildings are now surrounded by new, mostly cube-shaped and functional new buildings on the huge site between Ostbahnhof, Spree and Warschauer Brücke, and sometimes almost displaced. In some places the interplay between old and new works quite well – such as at the Alter Postbahnhof. In other places, the sobriety of the buildings is almost overwhelming.
SOBRIETY DOMINATES THE QUARTER
It will be interesting to see how the newly emerging district will look when the upcoming high-rise projects are completed and the last remaining gaps are filled in. From today's perspective, it is clear that the new area still lacks soul and distinctive landmarks. Nonetheless, the abundance of new buildings also includes successful works.
One thing becomes clear as one wanders through the quarter: there seems to be no end in sight to the building activities. Many objects are still under construction, and a few building plots are still undeveloped. It will certainly not remain so for long.