Wie wir bereits am 7. Oktober berichtet hatten, wird in unmittelbarer Nähe zur Klosterruine in der Littenstraße derzeit ein privat finanziertes Jugendhilfe-Haus errichtet. Der Projektentwickler hat uns nun die Visualisierung des neu entstehenden Gebäudes zur Verfügung gestellt.
Initiator des Neubaus ist eine Jugendhilfe-Stiftung
Initiator des Neubaus ist die EmMi LuebesKind Stiftung. Ihr geht es um Kinder, die nicht in ihren Ursprungsfamilien, sondern in Pflegefamilien oder Wohngruppen aufgewachsen sind. Mit Erreichen des 18. Geburtstages enden für diese jungen Menschen zahlreiche Maßnahmen der Kinder- und Jugendhilfe. Dann müssen sie, häufig sehr kurzfristig, ihr bisheriges Lebensumfeld verlassen.
Aufgrund der exponierten Lage des Neubaus – direkt neben der Ruine der einstigen Klosterkirche – hatte das Landesdenkmalamt erhebliche Bedenken gegen die Realisierung des Neubaus. Das Projekt wird nun aber wie geplant umgesetzt.
Historisierende Fassadengestaltung
Der entstehende Neubau soll sich, das wird bei der Visualisierung des Projektes deutlich, durch seine historisierende Fassadengestaltung harmonisch in die Umgebung aus überwiegend historischem Gebäudebestand einfügen.
Im neuen Haus soll es Räume für Beratung und Beschäftigung geben, im Turm mehrere Wohngemeinschaften für junge Leute. Die Stiftung entwickelt das Gebäude komplett in privater Eigeninitiative und errichtet es ohne öffentliche Mittel.
Prominentes Nachbarprojekt: "Klostergärten" an der Parochialkirche
Es ist nicht der erste Neubau, der in diesem Umfeld entsteht und versucht, historische Gegebenheiten aufzugreifen. In unmittelbarer Nachbarschaft zur Parochialkirche ist das Wohnungsprojekt "Klostergärten" realisiert worden und bildet eine gut funktionierene Symbiose aus bestehenden und neuen Gebäudestrukturen.
Ein weiteres Projekt, welches sich mit der Neugestaltung der historischen Berliner Altstadt auseinandersetzt, ist der Wiederaufbau des Molkenmarktes. Dieses ist langfristig angelegt. Experten rechnen mit einer Projektlaufzeit von rund 20 Jahren.
Sehr viel weiter ist man bereits beim Humboldt Forum, welches am 17. Dezember zum ersten Mal einen Teil seines Ausstellungsbereichs für die Öffentlichkeit zugänglich machen wird.
© Bilder: EmMi LuebesKind Stiftung
Visualisierung: So soll das fertige Jugendhilfe-Haus aussehen
Tiefbau: Die Baugrube in der Littenstraße in Mitte
Historische Stadtmauer in unmittelbarer Nähe des Neubaus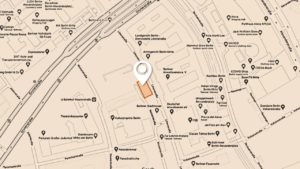 As we already reported on October 7th, a privately financed youth welfare center is currently being built in the immediate vicinity of the monastery ruins in Littenstraße. The project developer has now provided us with a visualization of the newly emerging building.
INITIATOR OF THE NEW BUILDING IS A YOUTH WELFARE FOUNDATION
Initiator of the new building is the EmMi LuebesKind Foundation. The foundation is concerned with children who did not grow up in their original families but in foster families or residential groups. When they reach their 18th birthday, numerous child and youth welfare measures end for these young people. Then they have to leave their previous living environment, often at very short notice.
Due to the exposed location of the new building – directly next to the ruins of the former monastery church – the State Office for Monuments ("Landesdenkmalamt") had considerable reservations about the realization of the new building. However, the project is now being implemented as planned.
HISTORICIZING FAÇADE DESIGN
The emerging new building is to be harmoniously integrated into the environment of predominantly historical buildings through its historicized façade design, as becomes clear in the visualization of the project.
In the new building there will be rooms for consultation and employment, in the tower there will be several flat-sharing communities for young people. The foundation is developing the building entirely on its own private initiative and is constructing it without public funding.
PROMINENT NEIGHBOR PROJECT: "Klostergärten" AT THE PAROCHIAL CHURCH
It is not the first new building to be constructed in this environment and attempts to take up historical facts. The "Klostergärten" housing project has been realized in the immediate vicinity of the Parochial Church and forms a well-functioning symbiosis of existing and new building structures.
Another project that deals with the redesign of the historic old town of Berlin is the reconstruction of the Molkenmarkt. This is a long-term project. Experts expect the project to last around 20 years.
Much further ahead is the Humboldt Forum, which will open part of its exhibition area to the public for the first time on December 17.