Bereits Anfang Juni hatten wir über den Bauboom am Charlottenburger Spreebogen, rund um die Franklinstraße, berichtet. Eines der Bauvorhaben ist ein aufsehenerregender Neubau auf dem Gelände der Gebauer Höfe, der nach Plänen des Architekturbüros Hillig umgesetzt wird.
Ergänzung der Gebauer Höfe in Charlottenburg
Die vom Unternehmen GSG betriebenen Gebauer Höfe wurden im 19. Jahrhundert im typischen Stil der Gewerbearchitektur errichtet. Das  Gelände wird heute für unterschiedliche gewerbliche Zwecke genutzt und sukzessive modernisiert und ergänzt.
Ein solcher Ergänzungsbau entsteht nun direkt am Spreeufer. Zwischen den denkmalgeschützte Hallen der früheren Textil- und Maschinenfabrik wird ein Gebäude entwickelt, das sich mit zunehmender Höhe über das Wasser streckt und dadurch rein optisch aus dem übrigen Gebäudeensemble herausstechen wird.
Das Gebäude neigt sich über die Spree
Das Erdgeschoss ist so geplant, dass ausreichend Abstand zur Uferkante geplant wird, um einen Aufenthaltsbereich mit Terrasse im Freien entstehen zu lassen. So wird der Uferweg erhalten.
In den Obergeschossen neigt sich das Gebäude dann mehr und mehr Richtung Fluss. Ab dem 3. Obergeschoss kragt sich die Fassade über die Wasserlinie aus und liegt in den darüber liegenden Geschossen sogar über der Spree.
Dachterrasse und Fassadenverkleidung aus Metall
Insgesamt wird das Gebäude über fünf Geschosse verfügen und als Büro- und Verwaltungsgebäude dienen. In allen Obergeschossen ist an der Westseite ein Austritt geplant. Im Dachgeschoss wird eine großflächige Dachterrasse angelegt.
Die streifenartige Außenwandverkleidung der Seiten- und Frontfassade besteht in den Stockwerken eins bis vier aus zwei voneinander abgehobenen Metallstrukturen, die sich im Zick-Zack-Muster diagonal über das Gebäude entwickeln.
Ein gewagter und innovativer Entwurf des Architekturbüros Hillig, der sich vom häufig eintönigen Baustil für Büro- und Gewerbeflächen sehr positiv abhebt und dessen Realisierung wir mit Spannung verfolgen.
© Grafiken: Hillig Architekten / Lindenkreuz Eggert GbR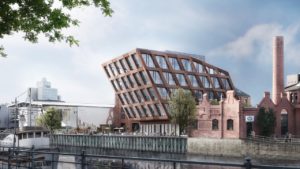 At the beginning of June, we had already reported on the construction boom at Charlottenburger Spreebogen, around Franklinstraße. One of the construction projects is a sensational new building on the grounds of the Gebauer Höfe, which is being implemented according to plans by the Hillig architectural office. 
ADDITION TO THE GEBAUER HÖFE IN CHARLOTTENBURG
The Gebauer Höfe run by the GSG company were built in the 19th century in the typical style of commercial architecture. Today the site is used for various commercial purposes and is gradually being modernised and extended. 
Such an extension is now being built directly on the banks of the Spree. Between the listed halls of the former textile and machine factory, a building is being developed that will stretch over the water as it rises and will thus stand out from the rest of the building ensemble in purely visual terms.
THE BUILDING LEANS OVER THE SPREE
The ground floor is planned to have sufficient distance to the edge of the shore to create a recreation area with an outdoor terrace. In this way the shore path is preserved.
On the upper floors, the building then slopes more and more towards the river. From the 3rd floor onwards, the façade protrudes above the waterline and is even above the Spree on the floors above.
METAL ROOF TERRACE AND FAÇADE CLADDING
The building will have a total of five storeys and serve as an office and administration building. An outdoor area is planned on the west side on all upper floors. A large roof terrace will be created on the top floor.
The strip-like outer wall cladding of the side and front façades will consist of two metal structures on floors one to four, which are lifted from each other and develop diagonally across the building in a zigzag pattern.
A daring and innovative design by the Hillig architectural office, which stands out very positively from the often monotonous architectural style for office and commercial space, and whose realisation we are following with great interest.