Die Ausmaße des Neubaus an der Kynaststraße direkt an der Rummelsburger Bucht sind beeindruckend: Beinahe 300 Meter lang und bis zu 11 Stockwerke hoch wird das Büro- und Gewerbegebäude in Lichtenberg werden. Dabei entsteht eine Bürofläche von annähernd 50.000 Quadratmetern.
Erstaunliches Projekt in Zeiten großer Wohnungsknappheit
In Zeiten großer Wohnungsknappheit darf es schon verwundern, dass es sich das Land Berlin leistet, eine derart große Fläche zur reinen Gewerbebebauung nutzbar zu machen.
Das Immobilienunternehmen Colliers International wurde mit der Vermietung des Projekts mit dem Namen "B:Hub" beauftragt. Marcus Lehmann, der die Vermietung für das Unternehmen Colliers International verantwortet, sagt zum Projekt: "Der B:Hub wird die kommende Adresse für Start-up- und Firmenniederlassungen." Eigentümer ist die SGI Immobilien Entwicklung und Verwaltung GmbH.
Büros, Restaurants, ein Supermarkt und Stellflächen für Autos und Fahrräder
Neben der Errichtung von Büroflächen sind auch ein 700 Quadratmeter großes Restaurant und ein Supermarkt sowie Terrassen und Außenanlagen geplant. Außerdem soll es Platz für 600 Fahrräder sowie eine Tiefgarage und Außenstellflächen für 120 Autos geben.
Insgesamt könnten im "B:Hub" ab Ende 2020 über 3.000 Menschen arbeiten. Die Wege entlang der Bucht sollen weiter öffentlich zugänglich bleiben. Dies war eine Vorgabe des Bezirks.
Die HOWOGE baut direkt nebenan 170 Mietwohnungen
Baustadtrat Florian Schmidt von der Partei Bündnis90/Die Grünen äußert sich kritisch zum Gewerbeprojekt: "Die Entscheidung, die Fläche zu verkaufen, würde man heute anders treffen und versuchen, genossenschaftliches Gewerbe mit niedrigen Mieten aufzubauen."
Immerhin baut das landeseigene Wohnungsunternehmen HOWOGE, welches derzeit auch einen Wohnturm an der Frankfurter Allee Ecke Möllendorffstraße realisiert, direkt neben dem "B:Hub" 170 Mietwohnungen und eine Kita mit 48 Plätzen. Die Wohnungen werden eine Größe von 1-5 Zimmern haben. Auch diese Bauten werden direkt am Wasser liegen.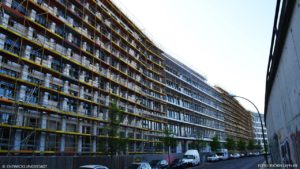 The dimensions of the new building on Kynaststraße directly on the Rummelsburger Bucht are impressive: The office and commercial building in Lichtenberg will be almost 300 metres long and up to 11 storeys high. This will create office space of almost 50,000 square metres. 
Astonishing PROJECT IN TIMES OF GREAT HOUSING SHORTAGE
In times of great housing shortage, it comes as a surprise that the state of Berlin can afford to make such a large area available for purely commercial development. 
The real estate company Colliers International has been commissioned to lease the project, which is called "B:Hub". Marcus Lehmann, who is responsible for leasing for the company Colliers International, says of the project: "The B:Hub will be the coming address for start-up and company branches". The owner is SGI Immobilien Entwicklung und Verwaltung GmbH. 
OFFICES, RESTAURANTS, A SUPERMARKET AND PARKING SPACES FOR CARS AND BICYCLES
In addition to the construction of office space, a 700 square metre restaurant and a supermarket as well as terraces and outdoor facilities are also planned. There will also be space for 600 bicycles as well as an underground car park and outdoor parking for 120 cars.
In total, more than 3,000 people could work in the "B:Hub" from the end of 2020. The paths along the bay are to remain publicly accessible. This was a requirement of the district. 
HOWOGE BUILDS 170 RENTAL APARTMENTS RIGHT NEXT DOOR
Building councillor Florian Schmidt from the Bündnis90/Die Grünen party is critical of the commercial project: "The decision to sell the area would be taken differently today and an attempt would be made to build up cooperative trade with low rents. 
After all, the state-owned housing company HOWOGE, which is currently also building a residential tower at the corner of Frankfurter Allee and Möllendorffstraße, is building 170 rental apartments and a daycare center with 48 places directly next to the "B:Hub". The apartments will have a size of 1-5 rooms. These buildings will also be located directly on the waterfront.