ENGLISH VERSION: BELOW
Am 17. Dezember wurde das Humboldt Forum in Berlins historischer Mitte in Teilen eröffnet. Der Wiederaufbau des 1950 zerstörten Berliner Stadtschlosses in der von Architekt Franco Stella konzipierten Variante hat nicht nur in Berlin, sondern ebenso bundesweit sowie international ein ambivalentes Presseecho hervorgerufen.
Wir haben eine Auswahl der Medienstimmen zusammengestellt:
New York Times, USA
"Mit einer bescheidenen Zeremonie wurde das angeschlagene Museum eingeweiht, eines der teuersten und ambitioniertesten Kulturprojekte Europas. Nur hineingehen kann man nicht. (…) Selbst nach der Einweihung, 18 Jahre nach ihrer ursprünglichen Konzeption, kämpfen die Protagonisten noch damit, die Skepsis zu überwinden und die deutsche Öffentlichkeit zu begeistern."
Le Monde, Frankreich
"Die monumentale Anlage, eine identische Kopie des ehemaligen Schlosses der preußischen Könige, wurde am Mittwoch erstmals auf einem virtuellen Rundgang vorgestellt. Es war die Quelle jahrzehntelanger Kontroversen und wird Objekte ausstellen, die aus Plünderungen stammen."
Le Figaro, Frankreich
"Im teilweise rekonstruierten ehemaligen Palast der preußischen Könige sind einige Bereiche als Museum eingerichtet. Im Herzen der deutschen Hauptstadt gelegen, wurde der Komplex diese Woche praktisch eingeweiht. Zwischen den schmerzhaften Stigmata der Vergangenheit und dem kolonialen Inhalt regt es bereits Kontroversen an."
La Repubblica, Italien
"Das auf dem Gelände des abgerissenen Palastes der Republik der DDR eingeweihte Forum wird im Osten als Repressalie gegen die Erinnerung an das kommunistische Deutschland empfunden. Auch die Feier der kolonialen Vergangenheit ist umstritten. Viele afrikanische Länder bitten um Rückgabe von Arbeiten."
Kurier, Österreich
"Mit dem Humboldt Forum hat am Mittwochabend in Berlin eines der international ambitioniertesten Kulturprojekte eine erste Eröffnungsetappe absolviert. (…) Zur Eröffnung sprachen sich Verantwortliche für eine offensive Aufarbeitung der deutschen Kolonialgeschichte im Humboldt Forum aus. Kulturstaatsministerin Monika Grütters sieht mit dem Forum "Raum im Herzen der deutschen Hauptstadt" für einen "gleichberechtigten Dialog der Kulturen"."
Frankfurter Allgemeine Zeitung
"Viele gute Ideen blieben beim Bau des Humboldt-Forums auf der Strecke. Bei der digitalen Eröffnung am Mittwoch gibt es nur einen Vorgeschmack auf das, was im kommenden Jahr zu sehen sein wird. (…) Wie viel Substanz wirklich unter der Hülle steckt, wird sich erst im nächsten Jahr erweisen. Dann muss sich zeigen, ob der Blick in die Welt dem Blick der Welt standhalten kann."
Süddeutsche Zeitung
"Mit dem Humboldt Forum hat am Mittwoch in Berlin eines der international ambitioniertesten Kulturprojekte eine erste Eröffnungsetappe absolviert. (…) Das Humboldt Forum nutzen künftig zwei Museen der Stiftung Preußischer Kulturbesitz, das Land Berlin und die Humboldt-Universität. Gezeigt werden sollen Exponate etwa aus Asien, Afrika, Amerika und Ozeanien sowie Objekte zur Geschichte Berlins."
Die Zeit
"Schmerzhaft trat der Kern der Schwierigkeit zutage, in dieser Zeit der übereinanderpurzelnden Bilder und Denkmäler ein Museum zu eröffnen (zumal ein Weltkulturenmuseum (zumal ein Weltkulturenmuseum mit kolonialer Raubkunst (zumal ein Weltkulturenmuseum mit kolonialer Raubkunst in einem Schloss aus der Kolonialzeit (zumal ein Weltkulturenmuseum mit kolonialer Raubkunst in einem Schloss aus der Kolonialzeit, das immer noch so tut, als könne man die europäischen Sammlungen aus der vergleichenden Betrachtung ausnehmen, als handle es sich bei ihnen um nichts Exotisches))))."
Der Spiegel
"Für die einen ist das neue Humboldt Forum ein Ort der Sehnsucht, andere sprechen von »Fake History« und einer Blamage für Deutschland. Was stimmt?"
Die Welt
"Seit fast drei Jahrzehnten wird um den Ort gestritten, an dem aus einer Sumpfwiese ein Stadtteil erwuchs, Dominikaner ein Kloster errichteten, ein Renaissanceschloss als Vorläufer der späteren Barockversion stand. Die Zerstörungen des Zweiten Weltkriegs waren leichte Begründung für die DDR-Oberen, die Schlossruine 1950 zu sprengen. Als ähnlich vordergründig empfanden es zahlreiche Ostdeutsche, dass der in den 70er Jahren errichtete Palast der Republik in der Nachwendezeit nach asbestbedingtem Rückbau völlig abgerissen wurde."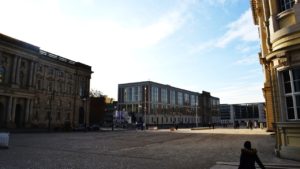 On December 17, parts of the Humboldt Forum were opened in Berlin's historic center. The reconstruction of the Berlin City Palace, which was destroyed in 1950, in the version designed by architect Franco Stella, has generated an ambivalent press response not only in Berlin, but also throughout Germany and internationally.
We have compiled a selection of the media voices:
NEW YORK TIMES, USA
"A modest ceremony inaugurated the stricken museum, one of Europe's most expensive and ambitious cultural projects. Only you can't go inside. (…) Even after the inauguration, 18 years after its original conception, the protagonists are still struggling to overcome skepticism and excite the German public."
LE MONDE, FRANCE
"The monumental complex, an identical copy of the former palace of the Prussian kings, was unveiled for the first time Wednesday on a virtual tour. It has been the source of decades of controversy and will display objects taken from looting."
LE FIGARO, FRANCE
"In the partially reconstructed former palace of the Prussian kings, some areas have been set up as a museum. Located in the heart of the German capital, the complex was practically inaugurated this week. Between the painful stigmas of the past and the colonial content, it is already stirring controversy."
LA REPUBBLICA, ITALY
"Inaugurated on the site of the demolished Palace of the Republic of the GDR, the forum is perceived in the East as a reprisal against the memory of communist Germany. The celebration of the colonial past is also controversial. Many African countries are asking for works to be returned."
KURIER, AUSTRIA
"With the Humboldt Forum, one of the most internationally ambitious cultural projects completed a first opening stage on Wednesday evening in Berlin. (…) At the opening, officials spoke out in favor of an offensive reappraisal of German colonial history at the Humboldt Forum. State Minister of Culture Monika Grütters sees the Forum as providing "space in the heart of the German capital" for an "equal dialogue of cultures.""
FRANKFURTER ALLGEMEINE ZEITUNG
"Many good ideas fell by the wayside during the construction of the Humboldt Forum. At the digital opening on Wednesday, there is only a foretaste of what will be on display next year. (…) How much substance there really is under the shell will only become clear next year. Then it will have to be seen whether the view of the world can withstand the view of the world."
SÜDDEUTSCHE ZEITUNG
"With the Humboldt Forum, one of the most internationally ambitious cultural projects completed a first opening stage in Berlin on Wednesday. (…) In the future, the Humboldt Forum will be used by two museums of the Prussian Cultural Heritage Foundation, the State of Berlin and the Humboldt University. On display will be exhibits from Asia, Africa, America and Oceania, for example, as well as objects on the history of Berlin."
DIE ZEIT
"Painfully, the core of the difficulty of opening a museum in this time of images and monuments tumbling over each other (especially a world culture museum (especially a world culture museum with colonial looted art (especially a world culture museum with colonial looted art in a castle from the colonial era (especially a world culture museum with colonial looted art in a castle from the colonial era, which still pretends that European collections can be excluded from comparative consideration, as if they were nothing exotic)))). "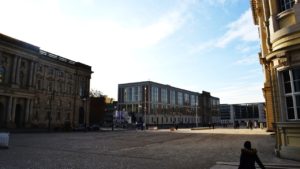 DER SPIEGEL
"For some, the new Humboldt Forum is a place of longing, others speak of "fake history" and an embarrassment for Germany. Which is true?"
DIE WELT
"For almost three decades, there has been a dispute over the site where a district grew out of a marshy meadow, Dominicans built a monastery, and a Renaissance palace stood as a precursor to the later Baroque version. The destruction of the Second World War was an easy justification for the GDR authorities to blow up the castle ruins in 1950. Many East Germans found it similarly superficial that the Palace of the Republic, built in the 1970s, was completely demolished in the post-reunification period after being deconstructed due to asbestos."