Am Alexanderplatz plant die Signa-Gruppe einen 130-Meter-Turm neben dem bestehenden Kaufhof-Gebäude. Das vom Senat lange kritisch betrachtete Projekt steht offenbar kurz vor der Umsetzung.
Berliner Senat und Signa einigten sich vor wenigen Wochen in einem sogenannten "Letter of Intent" darauf, dass Signa für den Bau eines Hochhauses neben dem Kaufhof am Alexanderplatz schnellstmöglich Baurecht bekommt.
Hochhauspläne für den Alexanderplatz und den Kurfürstendamm
Neben dem Hochhausprojekt am Alexanderplatz sollen auch am Kurfürstendamm und am Hermannplatz Neubauprojekte rund um bestehende Signa-Immobilien entstehen. Die Pläne stießen in Berlin bislang auf wenig Gegenliebe, aber die mögliche Schließung mehrerer Karstadt- und Kaufhof-Filialen in Berlin hat die Sachstandslage signifikant verändert.
Die Signa-Gruppe hält alle Anteile an der Warenhausgruppe Galeria Karstadt Kaufhof. Bis zu 80 der gut deutschlandweit 170 Filialen der Warenhauskette droht die Schließung, auch ein signifikanter Stellenabbau ist geplant. Davon wären auch mehrere Häuser in Berlin betroffen.
"Letter of Intent" zwischen Berliner Senat und Signa-Gruppe
Senat und Signa haben sich offenbar auf einen Kuhhandel geeinigt. Die Gegenleistung des österreichischen Immobilienkonzerns für eine Freigabe der Bauprojekte soll wie folgt aussehen: Vier Warenhäuser, die ursprünglich geschlossen werden sollten, werden weiter betrieben. Zudem sollen drei der vier Häuser für mindestens weitere drei Jahre offen bleiben, eines sogar für fünf Jahre. Dies würde eine Menge Arbeitsplätze im Einzelhandelssektor sichern, zumindest mittelfristig.
Verteidigt wird diese Vereinbarung zwischen Signa und dem Senat von der stadtentwicklungspolitischen Sprecherin der Grünen-Fraktion Daniela Billig. "Am Alexanderplatz wurde nur das festgehalten, was ohnehin schon Stand der Verhandlungen war." Auch die Hochhauspläne am Kurfürstendamm werden aller Voraussicht nach umgesetzt. Dennoch sollen die Inhalte dieses "Letter of Intent" durch das Berliner Abgeordnetenhaus einer intensiven Prüfung unterzogen werden.
Karstadt-Projekt am Hermannplatz ist umstritten
Das Projekt am Hermannplatz, bei dem die Signa-Gruppe plant, das legendäre Warenhaus aus den 20er Jahren in seinen historischen Dimensionen wieder aufzubauen, steht im Gegensatz zu den Projekten am Alexanderplatz und am Kurfürstendamm noch am Anfang des Umsetzungsprozesses und wird äußerst kontrovers diskutiert.
Am Alexanderplatz hingegen ist das Signa-Projekt nur eines von mehreren Hochhausprojekten, die derzeit bereits im Bau oder in der Planung sind. Neben dem Einkaufszentrum Alexa entsteht derzeit der 150 Meter hohe Monarch Tower.
Mehrere Hochhausprojekte am Alexanderplatz
Zwischen Saturn und dem Hotel Park Inn entsteht ein weiteres Gebäude. Das Architekturbüro Sauerbruch & Hutton hatte 2018 sich in einem international ausgeschriebenen Architekturwettbewerb mit seinem Entwurf für ein 130 Meter hohes Gebäude durchgesetzt.
Kurz vor dem Abschluss steht bereits das zwischen Alexa und Jannowitzbrücke errichtete Projekt "Grandaire Berlin". Hier sind 164 Eigentums- und 105 Mietwohnungen entstanden. Die Signa-Gruppe treibt auch an anderen Standorten Bauprojekte voran. Am Ostbahnhof wird das einstige, in den 70er Jahren errichtete Kaufhof-Kaufhaus derzeit in ein hochmodernes Bürogebäude umgebaut.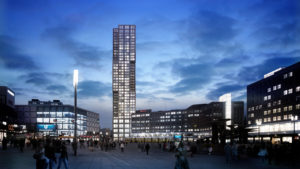 Weiteres Hochhausprojekt am Alexanderplatz: Der 150-Meter-Turm "Monarch Tower"
Ist direkt angrenzend an das "Alexa" Einkaufszentrum entstanden: Das Projekt "Grandaire Berlin"
Am Ostbahnhof wird aus dem ehemaligen Kaufhof-Gebäude ein hochmoderner Bürokomplex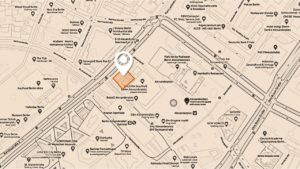 At Alexanderplatz, the Signa Group is planning a 130-meter tower next to the existing Kaufhof building. The project, which has long been viewed critically by the Senate, is apparently about to be implemented.
A few weeks ago, the Berlin Senate and Signa agreed in a so-called "Letter of Intent" that Signa will receive building rights as quickly as possible for the construction of a high-rise building next to the Kaufhof department store on Alexanderplatz.
HIGH-RISE PLANS FOR ALEXANDERPLATZ AND KURFÜRSTENDAMM
In addition to the high-rise project on Alexanderplatz, new construction projects are also to be built around existing Signa properties on Kurfürstendamm and Hermannplatz. The plans have met with little approval in Berlin so far, but the possible closure of several Karstadt and Kaufhof stores in Berlin has significantly changed the current situation.
The Signa Group holds all shares in the Galeria Karstadt Kaufhof department store group. Up to 80 of the department store chain's 170 stores across Germany are threatened with closure and significant job cuts are also planned. This would also affect several stores in Berlin. 
"LETTER OF INTENT" BETWEEN BERLIN SENATE AND SIGNA GROUP
The Senate and Signa have apparently agreed to horse trade. The consideration of the Austrian real estate company for a release of the building projects is to look as follows: Four department stores, which were originally to be closed, will continue to operate. In addition, three of the four stores are to remain open for at least another three years, one even for five years. This would secure a lot of jobs in the retail sector, at least in the medium term.
This agreement between Signa and the Senate is defended by Daniela Billig, the spokeswoman for urban development policy of the Green parliamentary group. "At Alexanderplatz, only what was already the status of the negotiations was retained". The high-rise plans on Kurfürstendamm are also likely to be implemented. Nevertheless, the contents of this "Letter of Intent" are to be subjected to an intensive examination by the Berlin House of Representatives.
KARSTADT PROJECT ON HERMANNPLATZ IS CONTROVERSIAL
The project on Hermannplatz, where the Signa Group plans to rebuild the legendary department store from the 1920s in its historical dimensions, is, in contrast to the projects on Alexanderplatz and Kurfürstendamm, still in the early stages of implementation and is the subject of extremely controversial discussion.
At Alexanderplatz, on the other hand, the Signa project is only one of several high-rise projects that are currently under construction or in the planning stage. Next to the Alexa shopping center, the 150-meter-high Monarch Tower is currently under construction.
SEVERAL HIGH-RISE PROJECTS AT ALEXANDERPLATZ
Another building is being constructed between Saturn and the Park Inn Hotel. The architectural firm Sauerbruch & Hutton won an international architectural competition in 2018 with its design for a 130-meter high building.
The "Grandaire Berlin" project between Alexa and Jannowitz Bridge is already nearing completion. Here, 164 condominiums and 105 rental apartments have been created. The Signa Group is also pushing ahead with construction projects at other locations. At Ostbahnhof station, the former Kaufhof department store built in the 1970s is currently being converted into a state-of-the-art office building.