Durch seine innenstadtnahe Lage und die vergleichsweise erschwinglichen Mietpreise ist Lichtenberg in den vergangenen Jahren zu einem attraktiven Wohnbezirk für Einwohner*innen avanciert, die sich das Mietniveau in Szenebezirken wie etwa dem angrenzenden Friedrichshain-Kreuzberg nicht mehr leisten können oder wollen.
Nachverdichtung wird forciert: HOWOGE entwickelt mehrere Projekte
Aber auch in Lichtenberg ist ein Anstieg des Mietniveaus zu spüren. Durch die vielerorts erfolgende Nachverdichtung und den verstärkten Wohnungsbau wird diesem Trend derzeit entgegengewirkt, insbesondere durch landeseigene Wohnungsunternehmen wie der HOWOGE, die im Bezirk gleich mehrere große Projekte umsetzt.
Zu den von der HOWOGE verantworteten Projekten gehören u.a. der Bau von 251 Mietwohnungen an der Frankfurter Allee Ecke Mierendorffstraße oder das Projekt "Q218″, bei dem direkt am Bahnhof Lichtenberg ein Wohnturm mit 394 Mietwohnungen errichtet wird. Ein weiteres Projekt wird in der Rummelsburger Bucht umgesetzt, wo 170 Mietwohnungen und eine Kita mit 48 Plätzen entstehen.
146 Mikroapartments entstehen an der Einbecker Straße
Ebenfalls in direkter Umgebung zum Bahnhof entstehen derzeit an der Einbecker Straße Ecke Wönnichstraße weitere 146 Mikroapartments. Zielgruppe für dieses Bauvorhaben sind weniger Familien, sondern vielmehr Singles und Studenten.
Vor allem die sehr gute Anbindung an die öffentlichen Verkehrsmittel macht den Standort attraktiv. Die Fertigstellung des Projekts ist für das vierte Quartal 2021 vorgesehen.
Nur wenige hundert Meter weiter, auf der nördlichen Seite der Bundesstraße B1, die den Bezirk fast mittig teilt, sind am Rosenfelder Ring mehrere Wohnhäuser fertiggestellt worden. Die STADT UND LAND Wohnbauten-Gesellschaft mbH, die zu Berlins größten städtischen Wohnungsbaugesellschaften gehört, hat hier einen Eckbau mit 64 Mietwohnungen fertiggestellt.
140 neue Mietwohnungen am Rosenfelder Ring
Die Hälfte der Wohnungen werden durch das Land Berlin gefördert mit Mieten zwischen 6,50 Euro und 8,00 Euro pro Quadratmeter (nettokalt). Die andere Hälfte der Wohnungen wird im Durchschnitt für unter 10 Euro pro Quadratmeter (nettokalt) vermietet. So soll eine gesunde Mietermischung entstehen.
Direkt gegenüber steht ein weiteres Wohnungsbauprojekt direkt vor dem Abschluss: Das Wohnprojekt "ROSA Lichtenberg Living" wird Platz für 76 Wohneinheiten und einen begrünten Innenhof bieten. Auch diese Wohnungen werden durchgehend als Mietwohnungen vergeben.
Das siebengeschossigen Gebäude ist mit Erdgeschoss und Kellergeschoss sowie vier Obergeschossen und einem Staffelgeschoss ausgestattet. Der Einzug der ersten Mieter*innen steht unmittelbar bevor.
An der Einbecker Straße entstehen 146 Mikroapartments
Rosenfelder Ring / Skandinavische Straße: 140 neue Mietwohnungen sind hier in zwei separaten Projekten entstanden.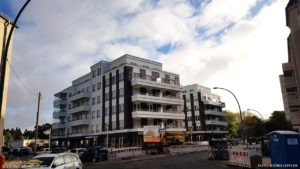 "ROSA Lichtenberg Living" nennt sich der Neubau am Rosenfelder Ring, in dem 76 der dort entstandenen 140 Mietwohnungen untergebracht sind.
Neuba an der Einbecker Straße
Zwei direkt gegenüber liegende Neubauprojekte am Rosenfelder Ring
Due to its location close to the city center and the comparatively affordable rents, Lichtenberg has become an attractive residential district for residents*in recent years, who can no longer afford or do not want to afford the rent level in trendy districts such as the adjacent Friedrichshain-Kreuzberg.
REDENSIFICATION IS ACCELERATED: HOWOGE DEVELOPS SEVERAL PROJECTS
But also in Lichtenberg an increase of the rent level is noticeable. This trend is currently being counteracted by the densification taking place in many places and the increase in residential construction, especially by state-owned housing companies such as HOWOGE, which is implementing several large projects in the district.
Among the projects for which HOWOGE is responsible are the construction of 251 rental apartments on Frankfurter Allee at the corner of Mierendorffstraße or the "Q218″ project, in which a residential tower with 394 rental apartments is being built directly at Lichtenberg station. Another project is being implemented in the Rummelsburger Bucht, where 170 rental apartments and a daycare center with 48 places are being built.
146 MICROAPARTMENTS WILL BE BUILT ON EINBECKER STRASSE
Another 146 micro-apartments are currently being built on Einbecker Straße at the corner of Wönnichstraße, also in the direct vicinity of the train station. The target group for this building project are not so much families, but rather singles and students.
Above all, the very good connection to public transportation makes the location attractive. The project is scheduled for completion in the fourth quarter of 2021.
Only a few hundred meters further on, on the northern side of the B1 federal highway, which divides the district almost in the middle, several apartment buildings have been completed on Rosenfelder Ring. The STADT UND LAND Wohnbauten-Gesellschaft mbH, which is one of Berlin's largest municipal housing associations, has completed a corner building with 64 rental apartments here.
140 NEW RENTAL APARTMENTS ON ROSENFELDER RING
Half of the apartments are subsidized by the state of Berlin with rents between 6.50 euros and 8.00 euros per square meter (net cold). The other half of the apartments are rented out for an average of less than 10 euros per square meter (net cold). This is intended to create a healthy mix of tenants.
Directly opposite, another residential construction project is about to be completed: The residential project "ROSA Lichtenberg Living" will offer space for 76 residential units and a landscaped inner courtyard. These apartments will also be rented out throughout.
The seven-story building will have a first floor and basement, four upper floors and a staggered floor. The first tenants* are about to move in.