ENGLISH VERSION: BELOW
Bereits im Mai 2020 berichteten wir über den Plan des Unternehmens UTB Projekgmanagement GmbH, in unmittelbarer Nähe zum Anhalter Bahnhof ein innovatives Hochhausprojekt umzusetzen.
Diese Pläne werden nun konkretisiert. Aus den ursprünglich geplanten 100 Metern Höhe für das zukünftige Wohngebäude sind nun genau 98 Meter geworden. Der Clou dabei ist: Das Gebäude soll in Holzbauweise entstehen. Es wird Deutschlands bislang höchstes Hochhaus in Holzbauweise.
85 Meter hohes Holzhaus setzt deutschlandweit Maßstäbe
Das Unternehmen UTB steht nach eigener Auskunft für nachhaltige Stadtentwicklung. Mit verschiedenen Projektträgern schafft das Projektentwicklungsunternehmen Quartiere mit unterschiedlichen Wohnungstypologien. Hohe Energieeffizienz, umweltschonende Baumaterialien sowie eine bunte Mischung der Bewohner sollen die Projekte des Unternehmens ausmachen.
Eine "bunte Mischung" der Menschen, die im Wohnturm am Anhalter Bahnhof zukünftig leben sollen, ist auch der Kern des Wohnturm-Projektes. Das Projekt trägt den Namen "WOHO".
Projektentwickler UTB: Nachhaltige Stadtentwicklung
Die UTB selbst kommentiert das Projekt wie folgt: "Die traditionelle und erfolgreiche Berliner Mischung nehmen wir auf, und zwar hochkant. Im WOHO mischen sich Bewohner wie auch Wohnungstypologien: Eigentumswohnungen neben freifinanzierten, genossenschaftlichen und geförderten Mietwohnungen und Wohnen für Soziale Träger. Und on top: Raum und Nutzung für die Berliner Öffentlichkeit, wie zum Beispiel die Dachterrasse mit Café."
Den architektonischen Wettbewerb zur tatsächlichen Umsetzung dieses ambitionierten Projektes hat nun das Osloer Architekturbüro Mad arkitekter für sich entscheiden können.
Osloer Architekturbüro "Mad arkitekter" gewinnt Wettbewerb
Nachdem schon der Neubau des Exilmuseums am Anhalter Bahnhof, nur wenige hundert Meter vom zukünftigen "WOHO" entfernt, ebenfalls nach Plänen eines skandinavischen Architekturbüros umgesetzt wird (Dorte Mandrup, Dänemark), ist dies das zweite Großprojekt in diesem Umfeld, welches eine nordeuropäische Handschrift erhält.
Das UTB-Konzept eines vertikalen, urbanen Quartiers mit vielfältigen Nutzungen ist von der Jury, die sich aus Vertreter*innen des Landes Berlin, des Bezirks, renommierten Fachleuten und der Bauherrenschaft UTB zusammensetzt, durch den Zuschlag für den Entwurf von Mad arkitekter bestätigt und bekräftigt worden. Insgesamt waren 14 Konzepte eingereicht worden.
Konzept eines vertikalen, urbanen Quartiers überzeugt die Jury
"Die differenzierte Gebäudefigur aus vier einzelnen Baukörpern wird aus der typischen Kreuzberger Stadtstruktur abgeleitet und konsequent in der inneren Raumstruktur weiterentwickelt", urteilte Jury.
Von den 18.000 Quadratmetern Nutzfläche sind 15 Prozent für die soziale Infrastruktur geplant, 25 Prozent für gewerbliche Einrichtungen und 60 Prozent für Wohnflächen. Dieses gliedert sich zu je einem Drittel in mietpreisgebundene Wohnungen, bezahlbare genossenschaftliche Wohnungen und Eigentumswohnungen.
Weitere Maßstäbe möchte das "WOHO"-Projekt durch die bewusste Reduzierung des fahrenden Privatverkehrs setzen. Weniger Fahrzeugstellplätze, dafür mehr Raum für vielfältige Mobilitätsalternativen und Sharing-Angebote für Kfz, Fahrräder und Lastenfahrräder sollen umgesetzt werden. Umfassende Auflademöglichkeiten für die E-Mobilität sind geplant, ebenso Fahrradgaragen und Werkstätten.
© Grafiken: UTB Projektmanagement GmbH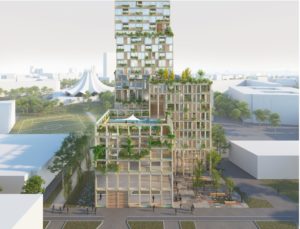 Back in May 2020, we reported on the plan of the company UTB Projekgmanagement GmbH to implement an innovative high-rise project in the immediate vicinity of the Anhalter Bahnhof train station.
These plans are now being concretized. The originally planned 100-meter height for the future residential building has now become 98 meters. The highlight of the project is that the building is to be constructed of wood. It will be Germany's tallest wooden high-rise building to date.
85 METER HIGH TIMBER BUILDING SETS STANDARDS THROUGHOUT GERMANY
According to its own information, UTB stands for sustainable urban development. Together with various project sponsors, the project development company is creating neighborhoods with different housing typologies. High energy efficiency, environmentally friendly building materials and a colorful mix of residents are supposed to characterize the company's projects.
A "colorful mix" of the people who will live in the residential tower at Anhalter Bahnhof in the future is also the core of the residential tower project. The project is called "WOHO."
PROJECT DEVELOPER UTB: SUSTAINABLE URBAN DEVELOPMENT
UTB itself comments on the project as follows: "We are taking the traditional and successful Berlin mix, and doing it on edge. In "WOHO", residents as well as housing typologies mix: condominiums next to privately financed, cooperative and subsidized rental apartments and housing for social institutions. And on top: space and use for the Berlin public, such as the roof terrace with café."
The architectural competition for the actual implementation of this ambitious project has now been won by the Oslo architectural firm Mad arkitekter.
OSLO ARCHITECTURAL OFFICE "MAD ARKITEKTER" WINS COMPETITION
After the new building of the Exilmuseum at the Anhalter Bahnhof, only a few hundred meters away from the future "WOHO", was also realized according to the plans of a Scandinavian architectural office (Dorte Mandrup, Denmark), this is the second large-scale project in this environment which receives a Northern European signature.
The UTB concept of a vertical, urban quarter with a variety of uses was confirmed and reinforced by the jury, which is made up of representatives of the state of Berlin, the district, renowned experts and the developer UTB, by the award of the contract to the design by Mad arkitekter. A total of 14 concepts had been submitted.
CONCEPT OF A VERTICAL, URBAN QUARTER CONVINCES THE JURY
"The differentiated building figure consisting of four individual structures is derived from the typical Kreuzberg urban structure and consistently developed further in the internal spatial structure," was the jury's verdict.
Of the 18,000 square meters of floor space, 15 percent is planned for social infrastructure, 25 percent for commercial facilities and 60 percent for residential space. This is divided into one-third each of rent-controlled apartments, affordable cooperative apartments and condominiums.
The "WOHO" project aims to set further standards by deliberately reducing private vehicle traffic. Fewer vehicle parking spaces, but more space for diverse mobility alternatives and sharing offers for motor vehicles, bicycles and cargo bikes are to be implemented. Extensive charging facilities for e-mobility are planned, as are bicycle garages and workshops.